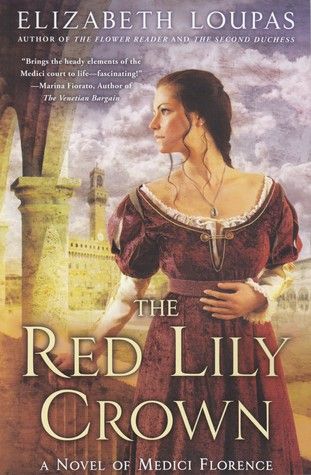 The Red Lily Crown
by
Elizabeth Loupas
Series:
Novels of Medici Florence #1
Published by
NAL Trade
on April 1, 2014
Genres:
Historical Romance
Pages:
418
Goodreads
Buy the Book
Elizabeth Loupas returns with her most ambitious historical novel yet, a story of intrigue, passion, and murder in the Medici Court...

April, 1574, Florence, Italy. Grand Duke Cosimo de' Medici lies dying. The city is paralyzed with dread, for the next man to wear the red lily crown will be Prince Francesco: despotic, dangerous, and obsessed with alchemy.

Chiara Nerini, the troubled daughter of an anti-Medici bookseller, sets out to save her starving family by selling her dead father's rare alchemical equipment to the prince. Instead she is trapped in his household—imprisoned and forcibly initiated as a virgin acolyte in Francesco's quest for power and immortality. Undaunted, she seizes her chance to pursue undreamed-of power of her own.

Witness to sensuous intrigues and brutal murder plots, Chiara seeks a safe path through the labyrinth of Medici tyranny and deception. Beside her walks the prince's mysterious English alchemist Ruanno, her friend and teacher, driven by his own dark goals. Can Chiara trust him to keep her secrets…even to love her…or will he prove to be her most treacherous enemy of all?

Betsy: The Red Lily Crown is in the very best vein of historical fiction. It takes place in the 16th century Tuscan world of the Medici. Set in Florence, it is filled with political intrigue, dangerous alliances, burgeoning science and alchemical experiments, and unmatched hedonism. In short, the world of the Medici in full bloom, where no one is safe in the quicksand of shifting favor.
Many of the characters are historical figures and the author has been very careful to weave historical fact with supposition. She has done this brilliantly with careful research and sensible conjecture.
We are introduced to our very heroic pair, Chiara Nerini, a desperate bookseller's daughter and Ruan Pencarron (dell'Inghilterra), a Cornish metallurgist and alchemist as they are drafted to form a magical triumvirate in Francesco de Medici's quest for the Philosopher's Stone.
Loupas has created some very vivid characters and I had a hard time letting them go. Chiara, despite her circumstances and relatively low birth, is an amazingly strong young woman who uses her very good brain to get by in a world where any slight misstep can mean not just disaster but death. She gets through many trials and tribulations by force of will and a sharp wit. Her counterpart, Ruan, is equally gifted with strength of will and cunning that has kept him from disaster through the courts of Europe and the creepy world of the Medici.
Loupas has also fleshed out the historical figures in a way that makes them less evil caricatures, but real people with both good and bad, really bad within them. Their behavior, given context, makes them come alive, even when you cringe at the inhumanity and sadistic behavior. One of my favorite characters is the wife of Francesco de Medici, Giovanna (Joanna), a younger daughter of Ferdinand I, Holy Roman Emperor of Austria. She keeps herself above the fray, is true to her faith and her belief in kindness and human decency in a world that is nearly entirely bereft of these qualities.
The science and alchemy of this era is fascinating. I found myself googling lots of things regarding medicine, science and alchemy while reading. It was almost a secondary character in the story and the quest for the Philosopher's Stone was the driving force and the saving grace for the two main characters. Francesco's fixation on the discovery and his belief that both Ruan and Chiara were integral in the experimentation kept both of them alive, even when disaster struck. And did it ever strike. No spoilers, but holy wow, both characters were lucky in so many ways to have survived despite the brutal aftermath.
Speaking of brutality, the Medici world brings new meaning to the word. Violence is a daily occurrence. Think Game of Thrones Italian style. If you can't handle violence, this will be a hard read for you.
There is a beautiful, understated and somewhat desperate romance in the story. It was at times amazing, heart-swelling and then gut-wrenching sadness. The ultimate resolution was full of all those feelings that make a book terrific. There is steam, but it's not explicit. Instead, it's filled with quiet moments of heat and a true love forged in dangerous times. It read perfectly.
If you love well-written historical fiction with lots of heart-stopping moments and lovely romance, then I heartily recommend you read this book. I know I will look forward to reading more by this author.
Report Card
Cover
Characters
Plot
Writing
Steam
Overall:
4
Related Posts