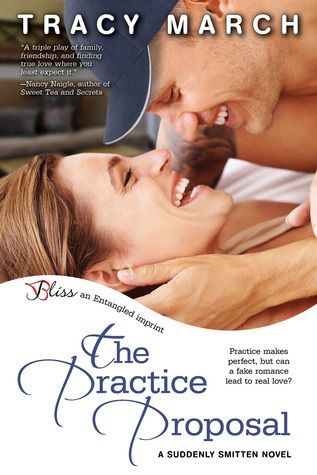 The Practice Proposal
by
Tracy March
Also by this author:
The Marriage Match
Series:
Suddenly Smitten #1
Also in this series:
The Marriage Match
Published by
Entangled: Bliss
on March 11, 2013
Genres:
Contemporary Romance
Pages:
229
Goodreads
Buy the Book
Liza Sutherland isn't looking for love. Not from a charity-auction date she didn't even bid on and especially not with Nationals first baseman Cole Collins, the guy she obsessed over as an awkward teenager. She won't get involved with a notorious player, no matter how attractive Cole is.

Cole Collins is up for contract renegotiation, but after too many late-night parties, he'll need some positive publicity before he can make the roster. His agent, Frank, pitches Liza as the perfect prop…only Cole didn't account for Liza no longer being just a teenager with a crush. She's gorgeous and smart and he's instantly hooked.

When Frank makes Liza a deal she can't refuse—a bet she will fall in love with Cole or a cool half mil goes to charity—the game is on. But neither bet on the real feelings that surface. Could a fake fling turn into an official forever?

Kassiah: The daughter of a famed baseball player, Liza Sutherland has grown up around the sport her whole life. When her mother enters a charity auction bid in Liza's name for a date, she's less than thrilled.
"I didn't even bid. There has to be a mistake," she said, but the only person who heard her above the noise was her mother, who sat next to her.

Sylvia Sutherland's knowing look immediately solved the mystery for Liza. "You. Did. Not."
Liza's still reeling from the death of her fiancé and isn't looking for love, even with her childhood crush, Cole Collins. Before he became the bad-boy baseball superstar he is today, he attended Liza's dad's baseball camp, and the two struck up a friendship. Being raised by a single mother (and then his grandmother), Cole's been through a lot and has a reputation for being a party boy. In an effort to shed his image, Cole's manager tells him it's time to settle down (or at least make it appear that he's settling down), and Liza's the perfect candidate. She's not interested in dating, but when Cole's manager offers a generous donation to the charitable organization that she works for–exceeding her fundraising goals and securing her job–she agrees to go out with Cole.
Neither of them count on their relationship becoming real, and neither of them wants the other to find out about the the initial arrangements that got them together in the first place. You guys all know this story–the bad boy player falls for the good girl and they live happily ever after, right?
Right. But here's the thing about this story: even though the storyline is somewhat cliché, I still loved it. There are some definite twists and turns and a little mystery thrown in to the mix. It's a fun, sweet story, with a sexy boy and a girl I found myself rooting for:
Liza narrowed her eyes at him and opened the console. Inside was a box filled with several stacks of personally autographed Cole Collins baseball cards.

"For the boys at your BADD camps," he said. "And an extra one for you. I even put a girlie little heart after my name."
I loved the anticipation in this story. You should remember that the Entangled Bliss titles are Fade to Black, so there's nothing explicit, but it's still hot. The writing was great, the story was sweet, and I think you'll like it. I loved the proposal(s), I loved Cole (and Liza), and I loved his tweets:
Cole Collins @ColeCollins @LizaSutherland Comfort zone = not so comfortable. Wish you were riding shotgun. #wantyouwithme
My main complaint about this book (besides the fact that I wouldn't have minded not fading to black) is the ending. I wish there was a little bit more. I hate it when the conflict is resolved and then just… the end. Regardless, I still loved The Practice Proposal and think you will, too.
Related Posts