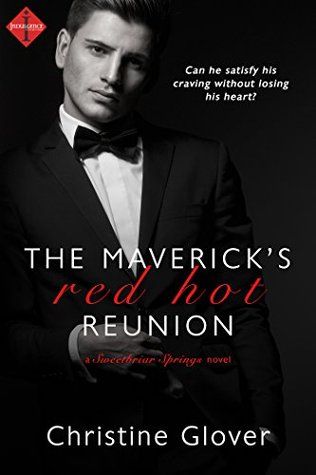 The Maverick's Red Hot Reunion
by
Christine Glover
Also by this author:
The Movie Star's Red Hot Holiday Fling
Series:
Sweetbriar Springs #1
Also in this series:
The Movie Star's Red Hot Holiday Fling
Published by
Entangled: Indulgence
on June 30, 2014
Genres:
Contemporary Romance
Pages:
235
Goodreads
Buy the Book
Can he satisfy his craving without losing his heart?

Corporate Maverick Zach Tanner returns to North Carolina to rebuild his dying friend's resort. He's got the money, the power, and the will to transform Sweetbriar Springs into a premier spa for the glamorous, but he doesn't count on the woman he once loved and lost to handle the construction contract. Zach thought he'd buried his desire for Kennedy five years ago, but he's still drawn to her. He's determined to satisfy his craving to get her out of his system...

Construction company owner Kennedy Gibson is eager to restore Sweetbriar Springs, but when she realizes Zach is her new boss she's terrified he'll learn the truth about their breakup. She agrees to work with the one man she vowed never to hurt again, but can't deny the passion he reignites in her. Soon she believes she has a chance for a different future with Zach, but her secret threatens to destroy their red-hot reunion.
Kassiah: Ya'll know I love reunion stories and I love Entangled, so I jumped at the chance to join up with the blog tour for The Maverick's Red Hot Reunion by debut author Christine Glover. This story begins right in the thick of things with Kennedy Gibson in the process of rebuilding a resort to help bolster the economy of Sweetbriar Springs. Her best friend and partner, Michael, gets a diagnosis that's going to prevent him from helping Kennedy with the project, so he calls his other best friend–and Kennedy's former flame–Zach Tanner. Zach runs a multi-billion dollar conglomarate and drops everything to help when his friend calls.
Five years ago, they were blissfully in love and planning a wedding. Then, Kennedy broke Zach's heart when she left him, seemingly without reason. Sparks fly between them, but there's too much hurt for them to consider acting on it. When Michael's health takes a turn for the worse, they concoct a plan to let Michael (and everyone else) thing they're back together. They have no idea what they're getting themselves into.
"You might not love me, Kennedy, but you still want me."
In the beginning of this book, I had a hard time connecting to these characters. Their chemistry was palpable–I got that they wanted each other. I just didn't understand why. As the story progressed, I liked them more and more and was definitely rooting for them to work it out. Christine Glover drops us straight into the action–there isn't a lot of extraneous world-building going on, and that's one of the things that I loved the most about The Maverick's Red Hot Reunion.
I also loved the dirty talk.
"The only mess I expect is twisted sheets coiling around our hot, sleek bodies when I drive into you."
The ending was a little abrupt for me, and I would have liked to know more about what's going on with them in the future. Hopefully, we'll see more of Zach and Kennedy in future books in this new series.
A steamy romance with tons of drama, The Maverick's Red Hot Reunion does not disappoint. Pick it up today for only 99¢!
Report Card
Cover
Characters
Plot
Writing
Steam
Overall:
3
***About Christine Glover***
Christine Glover is a contemporary romance author of sensual, sizzling, emotional contemporary romances. Her tough, no-nonsense heroines aren't easily swayed by great looks and killer abs, but they surrender their hearts to their heroes when they discover these Alpha men deserve love. She still has to figure out how to apply makeup or style her hair without someone popping into her head to give her another scene to write. Ultimately, she sits down to write about two lost souls finding each other, discovering home, and giving her romance characters the happily-ever-after endings they deserve.
Born in the Netherlands, Christine's parents immigrated to Canada where she spent her formative years. After meeting her own real life hero, she married her Texan Alpha man and moved to the United States where she's lived both north and south of the Mason Dixon line. Now Christine lives in Alabama with her husband the Physicist, her wonderful daughter, and two insanely adorable cats. She enjoys finding the silly in the serious, making wine out of sour grapes, and giving people giggle fits along with heartfelt hugs. When she's not writing, you can find her traveling the world, cooking gourmet food, and desperately seeking a corkscrew.
Find Christine Here: Website | Facebook | Twitter | Goodreads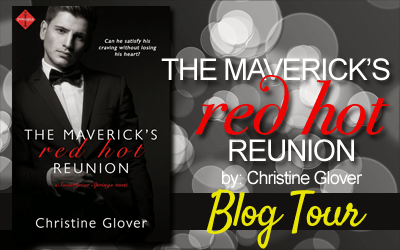 ***GIVEAWAY***
Win a Kindle Paperwhite
a Rafflecopter giveaway
Good luck!
Related Posts