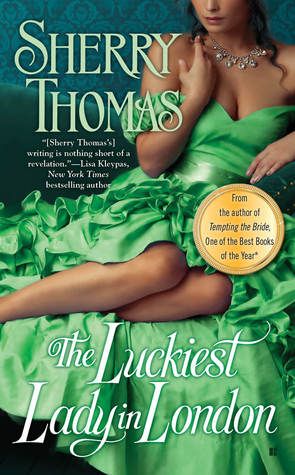 Luckiest Lady in London
by
Sherry Thomas
Also by this author:
The Hidden Blade
,
My Beautiful Enemy
Published by
Berkley
on November 5, 2013
Genres:
Historical Romance
Pages:
276
Goodreads
Buy the Book
Felix Rivendale, the Marquess of Wrenworth, is The Ideal Gentleman, a man all men want to be and all women want to possess. Felix himself almost believes this golden image. But underneath is a damaged soul soothed only by public adulation.

Louisa Cantwell needs to marry well to support her sisters. She does not, however, want Lord Wrenworth—though he seems inexplicably interested in her. She mistrusts his outward perfection and the praise he garners everywhere he goes.But when he is the only man to propose at the end of the London season, she reluctantly accepts.

Louisa does not understand her husband's mysterious purposes, but she cannot deny the pleasure her body takes in his touch. Nor can she deny the pull this magnetic man exerts upon her. But does she dare to fall in love with a man so full of dark secrets, anyone of which could devastate her, if she were to get any closer?

Betsy: People who know me and my reading tastes know I'm very partial (read slightly obsessed here) to well-written historical romances. Not the bodice rippery, Fabio covered books though. That's fine if it's your thing, but I prefer the less formulaic, more gritty stories. That is exactly what Sherry Thomas delivers in this fabulous novel. Romance, super steam, well-rounded characters with all their edges exposed, and angsty conflict, which is resolved beautifully.
The set up is brilliant. We have unremarkable, practical Louisa Cantwell who must marry well to provide for a bevy of sisters who can't take care of themselves. She is promised a London season by a well-placed relative for this exact purpose: capture the heart and the proposal of a man of means. Unfortunately for our heroine, she finds herself hopelessly and distressingly (for Louisa) attracted to Felix Rivenwell, the Marquess of Wrenworth aka 'The Ideal Gentleman.'
Felix is a paradox. Outwardly, the perfect man who never puts a foot wrong, whose company is sought by all of society, particularly the females, he hides behind this façade and no one is ever allowed behind the palisades he has erected to protect himself. He is so good at enacting 'The Ideal Gentleman' that he has lost the person inside.
Felix is intrigued by Miss Cantwell, recognizes her attraction to him and the fact that it appears to be painful to her. He engages her and is constantly surprised at her candor and her inability to engage in subterfuge. He likes her despite himself and is drawn to her.
The action and narrative is also cleverly woven around the metaphor of star-crossed lovers who are also amateur astronomers. This is exposed quite brilliantly in their choices of a favorite star: Algor and the North Star (each pick is very revealing of their inner natures).
There is incredible UST building almost from their first interactions. Lots of highly inappropriate conversations and then an offer is made, but it is not for marriage. Louisa is lost. Reputations and hearts are on the line here. How will she resist him?
I won't go further because I don't want to spoil. But let me assure you, steamy readers, there is a whole heap of steam in this thing, with a healthy dollop of angst and conflict to round out the action. Sherry Thomas has delivered a truly different, sexy historical romance that I will no doubt read again.
Report Card
Cover
Characters
Plot
Writing
Steam
Overall:
4.5
Related Posts