We're so excited to participate in the tour for The Hierarchy of Needs, the latest book in the Portland Rebels Series by Rebecca Grace Allen. We've got a great giveaway to share with you today as well as our thoughts on the book (We it!), but first, here's the 411 on The Hierarchy of Needs by Rebecca Grace Allen:
The Hierarchy of Needs
by
Rebecca Grace Allen
Also by this author:
His Contract
,
The Theory of Deviance
Series:
The Portland Rebels #2
Also in this series:
The Theory of Deviance
Published by
Samhain Publishing
on July 7, 2015
Genres:
Contemporary Romance
,
Erotica
Pages:
163
Goodreads
Buy the Book
Jamie Matthews is stuck in a rut. After hitting a wall with her dream career, she's back in her hometown, living a life as monotonous as swimming laps in the neighborhood pool.

Being surrounded by her perfect brothers is a painful reminder of her failure to launch. The last bonfire of the summer is an ideal way to let off steam, especially when she runs into Dean Trescott, the playboy friend she had one hot-as-hell night with back in high school.

Since the day Dean met Jamie, he's loved her beauty, talent, and smile that lit up the whole damn block. But dating isn't an option. She has a bright future ahead of her, and he refuses to chain her to his—helping run the family business that's barely staying afloat.

A "what-happens-in-Vegas" weekend was supposed to get their craving for each other out of their systems. But neither counted on the past repeating itself, drawing them together in even hotter and dirtier ways and dangling the possibility they might both be able to get exactly what they need…

Warning: A friends-to-lovers twice over story that contains some hot 'n' heavy kissing in the waves, hair pulling, and a man who knows how to use his hands. It may also feature a few practical jokes—only the fun kind, of course.
Kassiah: I've been a fan of Rebecca Grace Allen's writing for a long time now, and I think The Hierarchy of Needs might be my favorite so far. It had everything I love in a story–smart, fun characters who are relatable and a realistic (and hot!) story. Best friends to more is one of my favorite genres, and Jamie and Dean were off-the-charts.
Jamie is the youngest of four siblings, the only girl, and the only one in her family who doesn't have a clear direction in life (her brothers are all doctors, I think), so she's viewed as a bit flightly and doesn't have it all together like everyone else.
Dean was just fun. He doesn't think he's good enough for Jamie and feels trapped by his family's business. He was a stand-up guy, a hard worker, and even though I wanted to yell at both of them to just tell each other at times, I loved his character.
Of course, they've had feelings for each other since high school. They fought it for years–until they can't anymore. They both want more but don't tell each other what they really need. I don't want to give away too much, but I will suffice it to say that these two are hot. Even more than that, the way their characters and relationship develop is just lovely to experience. They care about each other, and it shows.
I loved pretty much everything about this book. The banter, the sexy times, the characters, the story. If I had to pick something that I didn't like, it would be that I wanted more. But that's always what I say, isn't it Also, I don't know that I would classify this as New Adult, but whatever.
If you didn't read the first book in The Portland Rebels series, have no fear! You can totally read this one as a standalone. I do recommend that you read the first book, The Duality Principle, because it's awesome and should not be missed. Readers will be happy to see Gabriella and Connor here, too.
With sizzling hot chemistry, a sweet storyline, and characters that you'll fall for, The Hierarchy of Needs by Rebecca Grace Allen is a fast, fun read. You won't be sorry when you give this author a try. In fact, you'll wonder why you waited so long!
Report Card
Cover
Characters
Plot
Writing
Steam
Overall:
5
***About Rebecca Grace Allen***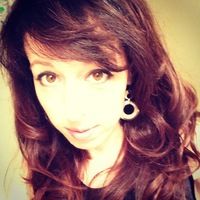 Rebecca Grace holds a Bachelor of Arts in English with a double concentration in Creative Writing and Literary Comparison, which seemed like a good idea at the time. After stumbling through careers in entertainment, publishing, law and teaching, she's returned to her first love: writing. A self-admitted caffeine addict and gym rat, she currently lives in upstate New York with her husband, two parakeets, and a cat with a very unusual foot fetish.
Find Rebecca Grace Here: Website | Facebook | Twitter | Goodreads
***GIVEAWAY***
Win one of these awesome prizes!
An e-copy of The Hierarchy of Needs, a signed paperback copy of The Duality Principle, Portland Rebels swag and a $10 Amazon gift card.
Second prize: An e-copy of The Hierarchy of Needs, Portland Rebels swag and a $5 Amazon gift card.
Third prize: An e-copy of The Hierarchy of Needs and Portland Rebels swag.
a Rafflecopter giveaway
Good luck and don't forget to check out the other stops on the blog tour for The Hierarchy of Needs by Rebecca Grace Allen!
Related Posts