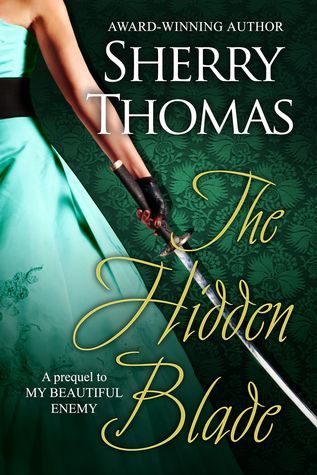 The Hidden Blade
by
Sherry Thomas
Also by this author:
Luckiest Lady in London
,
My Beautiful Enemy
Series:
The Heart of Blade Duology #1
Also in this series:
My Beautiful Enemy
Published by
Self-Published
on July 20, 2014
Genres:
Historical Romance
Pages:
350
Goodreads
Buy the Book
In the waning days of the last dynasty, in a quiet, beautiful corner of imperial Peking, a young girl's blissful ignorance is shattered when she learns that she is the illegitimate daughter of an English adventurer and a Chinese courtesan. What future is there for such a girl? But a mysterious figure steps forward and offers to instruct her in the highest forms of martial arts--a path to a life of strength and independence.

Half a world away in England, a young boy's idyllic summer on the Sussex downs implodes with the firing of a single bullet. Torn from his family, he becomes the hostage of a urbanely sadistic uncle. He dreams of escaping to find his beloved friend--but the friend is in China, ten thousand miles away.

The girl trains to be deadly. The boy flees across continents. They do not know it yet, but their lives are already inextricably bound together, and will collide one fateful night when they least expect it.

'Crouching Tiger Hidden Dragon' meets 'Downton Abbey,' this remarkable tale of friendship, danger, and coming of age will stay with you long after you have finished the last page.
Betsy: I love Sherry Thomas. Full Stop. So I was very happy to get a chance to read both this prequel and the main book, My Beautiful Enemy (review to come). This full-length novel was no disappointment either.
This is the tale of two children whose paths will eventually cross as fate wills. Ying-Ying is young girl of mixed parentage. Her father was a 'foreign devil' and her mother the current favorite concubine of the current emperor's uncle. She grows up in a world where is invisible except to her beloved amah, who carries some deadly secrets.
Leighton Atwood is a young English boy growing up in bucolic splendor of rural England. His early life is idyllic as he wiles away his days with his father, Nigel and Nigel's best friend, Herb Gordon. His mother is lovely but frequently absent with his younger brother, Marland, visiting ailing relatives.
The scene setting is terrific in both places. Beautiful description and cultural backdrop that makes you feel like you are there.
The secondary characters particularly Amah and Herb are terrific. They each form the single support system for Ying-Ying and Leighton. Amah's support is direct and sets Ying-Ying on her future path as a martial arts expert. Leighton uses his memories of Herb and what he taught him to get through an excruciatingly awful time under the aegis of his evil-to-the-bone uncle and guardian.
There is mystery, deaths, danger, martial arts, kidnapping and imprisonment. These two children go through the fire and come out the other side strong and resourceful and ready for what life will throw their way. Their paths cross, well nearly cross (you'll see if you read and you really should) at a pivotal point for both of them. Fate will bring them together again, spectacularly.
The story weaves back and forth from both perspectives. Throughout the book, I was waiting for their paths to cross because it seemed inevitable. The near miss was incredibly bittersweet but you just know that it will happen.
So as to steam etc. There is none. They are children. There is love, but it's familial. And you know what…I did not care at all. A well told tale that was definitely worth the read and made me want to jump right into the next book (oh and I did too). Is it necessary to read in order to understand the next book? Well, no. But it definitely added to the richness of the story and the understanding of the characters as adults. Go read, my friends.
Report Card
Cover
Characters
Plot
Writing
Overall:
5
Related Posts