We Christina Lee and couldn't wait to participate in the release blitz for The Hardest Fall, the third book in her Roadmap to Your Heart series.
***About the Book***
The Hardest Fall
by
Christina Lee
Also by this author:
All of You
,
There You Stand
,
Two of Hearts
,
The Darkest Flame
,
Three Sacred Words
,
Touch the Sky
,
The Deepest Blue
,
Twelve Truths and a Lie
Series:
Roadmap to Your Heart #3
Also in this series:
The Darkest Flame
,
The Deepest Blue
Published by
Self-Published
on June 23, 2016
Genres:
Contemporary Romance
,
M/M Romance
,
Opposites Attract
Pages:
255
Goodreads
Buy the Book
Lee trades country ballads for show tunes in the next standalone book of her Roadmap to Your Heart series.

After licking his wounds from a painful relationship, Tate Sullivan is ready to move back home. He picks up where he left off as drag queen extraordinaire Frieda Love in a West Village bar in New York City. He doesn't expect to be drawn to the mysterious man with the dark eyes who shows up to every single performance—flirtatiously eyeing Tate one second and disappearing on him the next. Why mess around with a guy who is clearly giving him mixed signals?

Sebastian Clark is on a mission the first night he shows up at Ruby Redd's. He doesn't anticipate his plan being flipped on its head by the charismatic drag queen and even more so by the mesmerizing man beneath the makeup. But the more he learns about the vibrant and brash Tate Sullivan the more intrigued he becomes. So he pushes aside his guilt about why he sought out the bar in the first place in order to get to know the guy behind the stilettos.

They're opposites on many levels, but as Tate spends time volunteering with Sebastian at the shelter, he begins to feel good about himself in ways he hadn't before. For Sebastian, Tate represents a sense of fun and freedom that is completely fresh and invigorating. Before they know it, their easy companionship catches fire, and Sebastian is kissing a man for the first time, while Tate is opening his heart to new possibilities. But Sebastian is still keeping a secret, and Tate will have to decide if he can trust again, or if the betrayal he feels from Sebastian's confession is too much to overcome.
***About Christina Lee***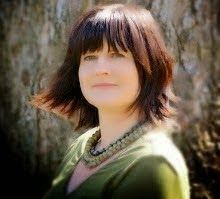 Once upon a time, Christina lived in New York City and was a wardrobe stylist. She spent her days shopping for photo shoots, getting into cabs, eating amazing food, and drinking coffee at her favorite hangouts.
Now she lives in the Midwest with her husband and son—her two favorite guys. She's been a clinical social worker and a special education teacher. But it wasn't until she wrote a weekly column for the local newspaper that she realized she could turn the fairytales inside her head into the reality of writing fiction.
Christina writes Adult, New Adult, and M/M Contemporary Romance. She's addicted to lip gloss and salted caramel everything. She believes in true love and kissing, so writing romance novels has become a dream job.
Find Christina Here: Website | Facebook | Twitter | Goodreads
***Our Thoughts***
Erin: Christina Lee is one of our favorites here at Pretty Sassy Cool and we were SO excited to get a new book in her Roadmap to Love Series. And when we found out Tate was going to be one of the main characters? Well, our squeals of joy were very loud indeed. The Hardest Fall is book 3 of the series, but it's definitely able to be read as a standalone. We'd recommend reading the first two books though, just because they're so good. This book is all things we love: fabulously developed characters, lots of witty dialog, and there are some pretty hot sex scenes, too!
Tate Sullivan is a drag queen … and proud of it. He's sassy and spunky and beautiful inside and out. As Freida Love, Tate is brash and confident, but it's when the make-up and the costumes come off that we get to see deep into the heart of who Tate is. He's been terribly hurt before, by a man who wanted nothing other than to hide him and then use him. When Sebastian Clark shows up at one of his drag shows, then shows up again and again, Tate can't help but be intrigued by the man he has labeled Dark Eyes.
Sebastian is on a mission, or it starts that way at first. The man who hurt Tate so badly just happens to be Sebastian's deceased best friend, XXX and on his deathbed asks Sebastian to deliver Tate a message. One Sebastian is fully intending to give to Tate but then changes his mind. The more Sebastian watches Tate, the more they get to know one another, the more attracted Sebastian is to Tate, the harder it is to keep his secret. I loved Sebastian. I did, He was quiet and introspective, and as his feelings and intense attraction to Tate both sexually and as a person grew, the more I liked him. I could feel his confusion, and the conflict between wanting a man for the first time and his desire to fulfill his friends wish, but knowing it would hurt Tate was palpably painful. He's sweet and lovable and a little shy and awkward and he totally pulled at all my heartstrings.
It's easy to love Tate, he's funny and quick witted and beautiful. But it's when he shows his serious side, especially while volunteering with Sebastian at XXX that we get to see how complex he really is. I loved his friendship with Tori, their genuine affection for one another was refreshing and sweet. His YouTube videos were a hoot, and though the sarcastic T-shirt bit has been overdone, they were cute and fit Tate's personality. And these two together?? I love a slow burn and these guys are the perfect example why. Taking their time to get to know one another, but still flirting and sly touches and looks … yeah that always pushes my buttons and it was done well here.
His fingers reached for my jaw and he turned my chin upward. "What the hell are you doing?"

"If I'm going to kiss you, I want to taste you. Not your favorite shade of lipstick," he said swiping at my mouth as the tissue turned a rosy shade of pink. "Because fuck, Tate. You're beautiful with it on, but you're stunning all on your own."

I literally couldn't breathe because his words slammed into me like a freight train.

I felt the press of his thumb and forefinger as he gently held my face and wiped at my upper and lower lip. His eyes were determined but also soft and assessing and the only way I knew he was nervous was because he was panting, the small puffs of air mixing with mine.

The distance between us narrowed down to nothing and everything all in the pulse of one heartbeat.
I had a few issues with The Hardest Fall. For one … the secret hanging over Sebastian and Tate dragged on WAYYYY too long. I felt like it bogged down the book and the relationship. I completely understood why Sebastian hesitated to tell Tate everything … at first, but when it was so long before he actually came clean, yeah it was a bit annoying. I also wasn't a fan of some of the "preachiness" in the book. I'm all for helping to spread a message and educating while you entertain. But I don't like to be "told" something. Yes with respect to the current climate and the attention being paid to transgender rights, it's important to show respect, but here it just felt choppy and forced (though I thoroughly support and encourage the effort!)
Christina Lee has such a way with words and way of storytelling that is so engaging and compelling. You'll fall in love with Tate and Sebastian from the very first page and you'll keep loving them more and more as you go. Check this one out, you don't want to miss it!
Report Card
Cover
Characters
Plot
Writing
Steam
Overall:
4
Related Posts