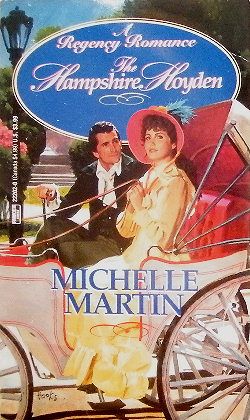 The Hampshire Hoyden
by
Michelle Martin
Published by
Fawcett Books
on April 24, 1993
Genres:
Historical Romance
Pages:
249
Goodreads
Buy the Book
DEFYING CONVENTION WAS A PLEASURE SHE DIDN'T PLAN TO FORFEIT!

Concocting schemes of dubious propriety and shocking the ton was an occupation that could keep Katherine Glyn happily amused for life. At five-and-twenty, she was an acknowledged antidote, and she felt certain that her reputation as the Hampshire Hoyden would permit her happily unwed status to continue.

Lord Blake, however, found Miss Glyn quite intriguing since she all but ignored him. This in itself was extraordinary, for he had been ardently pursued by every title-hunting female in England these last five years. Clearly Miss Glyn bore further investigation -- if only to excise her from his thoughts.

Sandi: This is the novel that made me wish I could write a Regency Romance.
Smart – very smart. Snappy Shakespearean quotation duels that I adored. Our Heroine is just awesome. Strong, wise, but vulnerable in her own way. Our Hero is smart, adorable, and the kind of take-charge fellow that she needs.
Kate Glyn is not your average society miss that tended to roam Mayfair streets back in the Regencies of the 1990's. She was older, for one, and she was independent, for another. Considered worldly wise, Miss Glyn acted as a chaperone, not a debutante. This status allowed Martin, our author, to give a kind of detached, wry humor to her prose that served everyone well.
Kate Glyn, you see, makes her own rules.
"That is the end of this morning's entertainment," she said cheerfully, moving between brother and sister and slipping an arm through each of theirs. She began to lead them to the front door, talking gaily as she went. "It was a such a pleasure seeing you again. Give my regards to whomever you think best, remember me in your prayers, and now, adieu."

"B-B-Beg pardon?" Mr. Carrington stammered, halfway into the hall.

"I am throwing you out," Miss Glyn informed him.

"But whatever for?" the befuddled Mr. Carrington demanded.

"Because you are here."

…

With a hearty sigh for a job well done, Miss Glyn returned to the drawing room, closed the door behind her, turned, and beheld the handsome figure of Lord Blake leaning against the fireplace mantle.

"What," Miss Glyn demanded, "are you doing here?"

"Oughtn't I to be? Lord Blake said imperturbably as he advanced upon Miss Glyn. "I am. on my oath, positively quaking in my shoes at the thought of what you might do to throw me out of the house."

"You are wearing boots," Miss Glyn observed.

Lord Blake carefully scrutinized himself through his quizzing glass. "With these breeches? I should hope so!"
Anyway. I could quote huge portions of this story with a blissful disregard for screen space, but I shan't. Just understand that it's all very amusing. The romance between Miss Glyn and Lord Blake is peppered with polite sarcasm, glorious Shakespearean quoting duels, and a tender good will that they each manage to hide with some success up until the very end. The proposal is much the same, which gives me hope that the pair of them will continue in a happy life forever.
Even eons after having read this book the first time, I still hold Miss Glyn close to my heart as a wonderful heroine. She isn't vastly adventurous, she has done some odd things and isn't a swooning sort of female, but she is intelligent and she endeavors to wrest the most from what could have been a sad and angsty life in the hands of any other woman. I like her heart.
Finding this book might be a trial, but I hope you can. 🙂 I had to get my copy via a second hand bookstore after a long search. It is totally worth it.
Report Card
Cover
Characters
Plot
Writing
Overall:
4.5
Related Posts