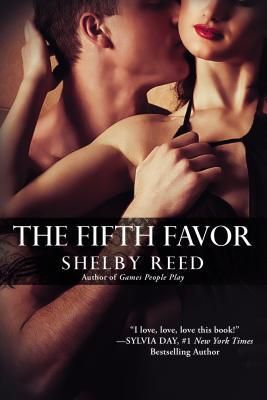 The Fifth Favor
Published by
Berkley
on November 5th 2013
Genres:
Erotica
Pages:
322
Goodreads
Buy the Book
Imagine a world where a woman's every pleasure, every wish and wildest fantasy is granted by the man of her dreams...

Such a world exists inside the walls of Avalon, an elite private club that caters to women's deepest desires. Billie Cort, a reporter from the raunchy magazine <em>Illicit</em>, has come to Avalon to interview the club's most popular escort, the breathtakingly sexy Adrian.

Expecting nothing less from a place like Avalon, Billie is still stunned at how effortlessly Adrian brings out her sexual side. Adrian, too, is surprised to find himself thinking about Billie long after their interview is over. Adrian, of course, is irresistible, but Billie isn't accustomed to being pursued by outrageously attractive male escorts. Adrian wants her, but soon realizes that she can fill a role in his life that's more than just physical...

MsKathy: To summarize this book in almost any way would cheapen the content. Yes, it's about a male escort, but there aren't ever any moments with him and another woman detailed. You know what's happening during his days, but it's not thrown in your face, if that makes sense. Billie is a writer for Illicit magazine, working on a piece about the club's golden child, Adrian.
I absolutely loved that the author took the time to give me fully-developed characters and plot. There was no fucking for the sake of fucking here, which was (tbqh) exactly the opposite of what I expected. I thought Billie would show up and the hot moments would begin and never end. In some ways, that's true, but it was a far more cat-and-mouse sensual experience than I expected.
This wasn't a tawdry book about a whore and the person they fall in love with suddenly, out of the blue. This was a character study of what drives us to do the things we do (Oh, Lucien). I cried more than once. I laughed, too, but I was wholly unprepared to be sucked into this rich world of characters and complications.
I loved this line about Adrian –
He wielded his words like weapons and sex toys.
Also, for our fearless, amazing leader Kassiah, there was unexpected OJ porn!
"It depends on what they are." He took another swallow of orange juice and ran a thumb across his bottom lip, his dark gaze steady on her face.
I obviously only gave you a snippet of the scene, and that's because you just need to read and experience it for yourself.
There are some word choices I'd never use in a sex scene, so that sort of distracted me. I was able to easily overlook most, aside from what felt like near constant jetting and spurting of scalding man fluids. Of course it was only twice, but yeah. There was also a womb and a slick, hot portal, and well… those just aren't words I find sexy. As I said, though, they didn't distract or pull me out of the steamy moments.
Also? God, I desperately wanted to see/read/be there at the end of this book. I long for that missing scene. I'll be honest, I actually could not believe the book was over, and it stung a little that we got such intimate glances during the stressful moments, the tense coupling between them before Billie told Chris about that thing I'm not going to spoil, and then nothing.
The Guys: It's a book about male escorts, so on the face of things, sure, they're fucking swoony. Ms. Reed goes (pardon the pun) so much deeper with them, though, and we get to see the twisted insides of what it must require for some people to sell themselves in this way. The first time we meet Adrian, he's fresh from a run, and then rejoins the book fresh from a shower. Serious swooning, but I knew I'd fallen for him at this very moment, when Billie is interviewing him:
I live with Rudy," he said.

Billie's eyebrows rose. "Your . . . lover?"

"My Labrador."
Of course there are steamier/swoonier moments with him, such as this:
Moving with a suddenness that alarmed her, Adrian caught her chin in his fingers and forced her gaze to meet his. "All you have to do is say three little words, Billie. I want you. You can whisper them in my ear, and nobody has to know but you and me. Nobody will know what we do in this room. You can have anything, everything. The way you like it, over and over. Just say it."
or
"Remind me." He turned his cheek to stare up the length of her body at her, eyes gleaming with lust. His fingers teased between her legs, played in her wetness without entering. "What did I promise?"
Hnng.
The Ladies: I loved Billie. She has a normal body, but is still sexy, she's a tenacious reporter, and she isn't afraid to do what has to be done to chase her dreams. She allows herself to be vulnerable, but shields herself from hurt and pain in ways that felt wholly believable. The tug-of-war between Billie and Adrian felt so real and honest to me, thanks to her responses and reactions.
Azure is just soulless and evil and there really isn't any more that needs to be said about her. She's a well-crafted villain who never went too far over the top so that I couldn't buy into what she was doing and why.
If you want a book about authentic people who are flawed and complicated, who fall in love and get hurt and try to find their way back, this is the book for you. And bonus, even with all of that, you get some really amazing sex scenes that will make your toes curl.
Report Card
Cover
Characters
Plot
Writing
Steam
Overall:
5
***INTERVIEW***
We were so excited when author Shelby Reed stopped by to chat with us today.
Thank you so much for dropping by the Steamy Guys After Dark today, Shelby! We have to admit we're pretty intrigued by The Fifth Favor and can't wait to find out more about Avalon.
Tell us a little about The Fifth Favor. Was it a fun book to write?
It WAS fun to write, but also intense, as it's basically the story of a man's personal unraveling and then his rising from the ashes. The false world in which he's trapped himself can only be made clear to him through love, and what I wasn't sure about, as the writer, was whether his walls were too thick for love to truly permeate. So I found out how things work out as I wrote it, nervous all the way that I wouldn't be able to land on a happily-ever-after. It was a close call!
Do you have any interesting writing quirks or rituals?
I can't write if I don't feel like it, which makes being a career author a total nightmare! I write everything on my laptop, and can work on a story anywhere if the drive to tell the story is that strong in me. Nothing will distract me, not even two large, obnoxious German Shepherds.
Awwww. How would you describe yourself in three words?
Right-brained, soft-hearted, and someone who thrives on love in any form. That's way more than three words. I guess I have trouble with limits. LOL
LOL us too! What's the best piece of advice you ever received from another author?
Write what you want to read. And I wish I could tell you who told me that, because that's what I live by, but I can't remember!
That's great advice. What are the reactions of you family members if/when they read your book?
I keep my writing world separate from my family, much to their dismay, but none of them read or enjoy the romance genre, so I don't feel comfortable laying open that part of myself. Naturally, some of my older siblings did some nosing around and figured out my pen name, went to the bookstore and bought one of my books, and proceeded to tease me mercilessly about the sex scenes. UGH! I will forever be the little sister. But despite the fact that I've withheld my books from my poor, sweet mom, she is SO proud of me. My family is very supportive of anything I choose to do.
That's awesome. How do you build your characters? Do you know every single detail of their lives?
I've tried using character charts, but inevitably the characters grow away from what I've lined out for them as the book progresses. This is going to sound weird, but I don't feel like I have much control over my characters. They pour through my fingertips on their own and I'm just there to take notes!
That's not weird! Let us know why our readers will fall for Adrian.
Adrian has invented himself to move among women like a flawless machine. He understands what they find sexy, he understands their need for sensuality, tenderness and romance, and he's extremely perceptive about the workings of the female mind. Only when Billie enters the picture does he falter in his carefully crafted perception of himself. Only when faced with the threat of falling in love does he become as vulnerable as the rest of us. And for me, it's that slow-developing fragility, the stripping away of his mask, that unexpected need to give and receive love he discovers in himself, that makes him HOT.
Nice. If you could introduce one of your characters to another character from any other book, who would it be and why?
I think Adrian could advise Colm Hennessy, the hero from Games People Play (a follow-up novel to The Fifth Favor), on so very many issues when it comes to falling in love on the job. Sadly, their paths never cross at Avalon.
Got a playlist you want to share
I can't remember the names of the songs for this novel! But I make a soundtrack for every one of my books, and Coldplay is always on there. Anything angsty. Fix You just sums of Adrian and Billie's relationship so well.
Love that. Do you have any current or future projects you can tell us about?
I have a completed manuscript that involves a hearing-impaired hero and a (hearing) heroine that's about to go to my agent. I still have some work to do on it. And it has crossed my mind that I'd like to write a final Avalon novel—the thought of rescuing one last beautiful gigolo from Azure Elan's clutches really appeals to me!
Can't wait for those. Is there ever anything that you always wish someone would ask you, but they never do?
Despite being somewhat reclusive, I think a lot about speaking publicly on the process of writing romance. I'd love to teach a class sometime. I occasionally get the chance, like when a fellow author and I did a workshop on love scenes for our local RWA chapter. That was great fun! I'd love to do more of that.
And we would love for you to do that, too! Thanks again for coming by. We're excited to introduce our readers to your characters, Shelby!
I'm so happy to have the opportunity to talk to you about romance writing, my favorite subject in the world!
**About Shelby Reed**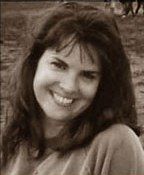 At the age of ten, Shelby Reed wrote her first romance with Prince Charming — literally! — as the hero, and it's been non-stop story spinning ever since.
Despite the idealistic place from which she embarked, she's partial to writing realistic, flawed, multi-faceted characters, lush emotion, and the ever-possible happy ending.
While currently published in the sub-genre of "Romantica" with Ellora's Cave, she hopes to explore other literary horizons such as suspense, fantasy, and young adult romance in the future.
When not pecking away at the computer keyboard, Shelby enjoys creative projects such as portraiture and decorating, dabbles in Tarot, and lives a bucolic life with her own Prince Charming in North Florida.
Find Shelby Here: Website | Goodreads
Related Posts