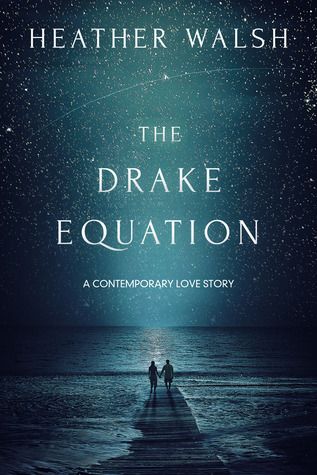 The Drake Equation
by
Heather Walsh
Published by
Self-Published
on August 28, 2013
Genres:
Contemporary Romance
Pages:
256
Goodreads
Buy the Book
She's a Democrat, he's a Republican. She spends her days fighting global warming at an environmental non-profit, he makes his living doing PR for Bell Motors and their fleet of SUVs. But as soon as they meet, Emily Crossley and Robert Drake realize they have encountered their intellectual match. You're never challenged, he tells her. You've surrounded yourself in a cocoon of people who think exactly the same way you do. She hurls the same accusation back at him, and the fiery debates begin.

Despite both of their attempts to derail it, there is no denying that they are falling in love. But their relationship is threatened by political differences, Robert's excessive work hours, and Emily's fear of losing her identity as she falls deeper in love.

Can their love survive? The Drake Equation is a tale of modern love and all its complexities.

Kassiah: I have to admit that this review has been difficult for me to articulate. Walsh's writing is certainly intelligent and the storyline is well thought out. It's kind of amazing.
But.
It's not the kind of book I typically read. Though there is no doubt that this story will make you think, it's not the tale of star-crossed lovers trying to deal with opposing political and ethical ideals that I thought it would be after reading the summary.
Twenty-six year old Emily Crossley works at a non-profit environmental organization and lives her life by the motto:

Think globally, act locally.
It is at a fund-raising rally that she meets Robert Drake, a PR representative for a local car and SUV company. They spar a bit and feel an instant connection. They get to know each other a bit more rough emails and phone calls, and after a handful of dates find themselves in a relationship. Robert calls her out for surrounding herself with people that don't challenge her and makes her question everything about her life. He's sweet and does things like kiss her wrist and call her petnames like little one, littlest one, doll, sugar, sweet pea, babycakes, and my favorite: little bird.
He's also a workaholic, which eventually leads to the demise of their relationship.
While they're apart, Emily continues doing what she does and examines where she's going in life.
I'm oversimplifying everything and basically explaining the what of their relationship and the events of the book, but I seem to be leaving out the best part of this story: the dialogue. Walsh is a master at expressing the characters' through their witty banter and the conversations that they have.
"So give me your thesis statement on yourself," he said.

She looked off to the side for a few moments, trying to decide how to play it. Obviously with some humor, but perhaps laced with a bit of truth for good measure.

"Emily is a warm soul who is passionate about protecting the environment, and she acts on that passion. Essentially, she is close to perfection without going over."

He laughed. "OK, now give me your thesis statement on me."

She barely paused before answering.

"Although Robert has a sharp intelligence and very strict work ethic, his ideas and intentions are oftentimes misguided."

"Now I'll give you my thesis statement about you.

"What about your thesis on yourself?

"No, I want to give one about you. But I'll definitely include myself in it, how's that?"

"All right."

"Even though my blood pressure tells me not to, even though every tree-hugging, granola-eating, bleeding-heart liberal I've ever met reminds me why I shouldn't, I can't help but like Emily Crossley."
I loved the intelligent dialogue and the idea for the story. What I didn't like was the fact that this book was one huge PSA. There are sample letters that get sent out on behalf of her organization, as well as numerous phone calls and three poems during an open mic poetry night. It's overkill, imho.
With all the details, it's surprising to me that this is a total FTB, including the emotions that I think Emily should feel about their romantic relationship. Their chemistry is shown as they explore the meaning of life rather than each other's bodies. Despite that, readers can sense a sort of desperation on both their parts.
"So do you still want to get a movie?" she said.

"Hmm."

"Maybe a short one?"

He smiled. "A short one is good."

"The video store is halfway across town."

"Well, drive fast then."

She laughed, but did drive fast. They were back at her house, movie in hadn, in less than fifteen minutes. They had practiacally grabbed the first one they saw.

The take-out menus were in her desk in the other room, but they only got as far as the couch.

"I told you to drive faster," he said into her neck.

"I tried."
I'm pretty sure that Emily Crossley wouldn't like me as a person very much, considering I drive an SUV, believe in God, and stay home with my kids. She's pretty judgmental, which Robert calls her out for, but I don't really see a transformation in her way of thinking and growth in her as a character. She does make some changes, but I didn't feel why she did that. I wanted more emotion.
"I told you that I dealt with how everything turned out with us just fine. I accepted it as just one of those things."
This book deals with pretty much every single political hot topic you can think of, so you'll love it if that's your cup of tea. I really enjoyed some of the other characters, especially Carson, Emily's coworker.
If you're looking for a book with an all-encompassing forbidden romance, this isn't the book for you. But if you're looking for an intelligent, thought-provoking read, definitely pick up The Drake Equation.
Report Card
Cover
Characters
Plot
Writing
Steam
Overall:
3.5
Related Posts