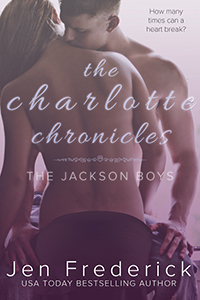 The Charlotte Chronicles
by
Jen Frederick
Also by this author:
Unraveled
Series:
Jackson Boys #1
Published by
Self-Published
on December 8, 2014
Genres:
Contemporary Romance
,
Forbidden Love
,
Friends to More
,
New Adult
Character(s):
Military Guys
Pages:
356
Goodreads
Buy the Book
Charlotte and Nathan were supposed to be forever. They grew up together. Their families were intertwined. Charlotte was Nathan's first love. Nathan was Charlotte's first everything.

Until they weren't.

How do you hold on to the person you know in your heart you are supposed to be with when everything and everyone in the universe is telling you it's over?

How many times does a heart break?

When is enough ... enough?

How long is forever?
Kassiah: No doubt about it, Jen Frederick writes some of the hottest scenes I've ever read. And I particularly love the Woodlands series–Gray Phillips from Unraveled is one of my all time favorite guys ever. So when I realized that this series is a spin-off from that, focusing on Grace and Noah's sons (from Undeclared) and Bo and Ann-Marie's daughter (from Unspoken), I was all. over. it.
The story begins with fifteen year old Charlotte being diagnosed with Cancer. We see the special relationship she has with Nathan and Nick Jackson, the sons of her parents' best friends–Nick has always been her best friend and brother while she's been secretly crushing on Nate for years. Nathan has known they'd eventually end up together since Charlotte was born, but he's not ready to settle down yet. So, he keeps her at arm's length, protecting her and keeping other boys away.
I had some vague idea Charlotte and I would end up together, but that was in the future. Her being sick, her nearly dying has changed things. But we aren't ready. I'm not ready.
As their parents realize that the Jackson boys would do anything to protect Charlotte, including help her cover up for feeling sicker than she actually lets on, they talk her in to going to Switzerland for an experimental treatment. Knowing time is running out for them, Nathan decides to not wait and tells her how he feels.
I'd show her that she was mine and that we were meant to be together. I'd show her that there wouldn't be anyone else she'd meet who would ever fit her better than me.
Meanwhile, Nathan is dealing with some angst of his own, besides wanting to protect Charlotte. He wants to make his own way, not allowing his family's name or money to be the ticket to his future. He decides to join the military and doesn't tell Charlotte until she leaves for Switzerland. While she was gone, something happened to Nathan that he blames on himself–and totally changes him. He becomes distant and feels like he doesn't deserve Charlotte anymore.
I'll keep saying [her name] until I can't feel anything any longer. Not pain, humiliation, shame, or even…love. I just want to stop feeling.
Fast forward nine years and they've all but lost touch. They both still love each other, but Nathan was a douchebag and wouldn't answer Charlotte's letters and stayed away from her. Just when Charlotte feels like she should find away to let Nate go, they reconnect when they find themselves in the same city and all bets are off. Nathan will do anything to get her back, including leaving the Navy SEALs to follow her to where ever she wants him to go. Will she trust him and let him back in?
I loved this storyline, and I was so happy to see Grace, Noah, Bo, and Ann-Marie again. I love their kids and the relationships they've formed. I thought Charlotte and Nathan were great characters, and I loved seeing them grow up and become who they are now. Their chemistry was off the charts and their fate was pretty much undeniable.
Charlotte was likable and I loved how she grew up to be independent and though Nate left a huge hole in her heart and soul, she didn't let that keep her from living. Unlike Nate, who bottled up everything. I really loved his character–he was swoonworthy and demanding.
I want her first time with me to be something she remembers forever. I want to imprint myself on her so that no matter where she goes, she can feel me, smell me.
He fucked up a lot for sure, but there was something about him that made me want Charlotte to forgive him over and over. He was a soldier and so hot. Also, you'd be hard-pressed to find an author who can write dirty talk as hot as Jen Frederick (no pun intended), and Nathan has that down in spades here.
"When I close my eyes, I see you in every position I've ever imagined. You sitting on my face. You riding me. You on your knees while I'm fucking you like an animal. You covered in soap and water as I eat you out and then fuck you against the tile. I've had you in my mind in every way possible and some not possible ones. I've dreamed of fucking you standing, sitting, bent over, and raised up. I've fantasized it all but none of it–none of it–came even close to what it feels like to be inside you.
I loved the other characters too, and I can't wait to read Nick's story. Like I said, I was happy to see the characters from the first two books in the Woodlands Series, and though Gray and Sam from Undeclared were mentioned a few times, I definitely hope to see more of them in future books in this series. I also hope that Frederick plans on a story for Reese, Charlotte's best friend, because I loved him and hope he gets his HEA, too. There are so many other parts that I loved and want to spoil, but I won't. View Spoiler »His marriage vows legit made me tear up. *gah* « Hide Spoiler
Of course there were some things that I didn't like–big things, that made me lower my rating. Starting with the huge time jump. I understand that the characters had to grow up and time had to pass, but I felt like nine years was too long. View Spoiler »Especially considering that neither of them had sex during that time. That was just completely unrealistic to me, considering he was a total manwhore before he slept with Charlotte. « Hide Spoiler Also, they saw each other back home intermittently during holidays. I don't think that they should have if we are expected to believe that they have the reaction that they do when they see each other when this story picks back up.
Even with those issues, I loved this story. With wonderful characters and a downright combustible chemistry, The Charlotte Chronicles by Jen Frederick is a quick read for any reader who loves coming of age books with a great storyline.
Report Card
Cover
Characters
Plot
Writing
Steam
Overall:
3.5
Related Posts