We Jessica Lemmon, so we were crazy excited when we were invited to participate in the blog tour for The Billionaire Bachelor, the first book in her new Billionaire Bad Boys Series. We've got a fun Top 5 List to share with you today, along with our thoughts on the book and a fun giveaway. So we'll get right to it. Here are Jessica Lemmon's Top 5 Perks of Having a Billionaire Boyfriend:
***Top 5 Billionaire Boyfriend Perks***
I'm so excited to be here! Since my new series, the Billionaire Bad Boys starts with The Billionaire Bachelor, I've been tasked with giving you a TOP 5 list of the best Billionaire Boyfriend Perks. I think I can handle that…

Let's begin.
Like fancy restaurants? Never pay for dinner again with your billionaire boyfriend. My billionaire hero Reese Crane takes Merina Van Heusen to the finest meals in town, including their first date an all-aphrodisiac restaurant. *Yum*

Need to get away? Your billionaire boyfriend owns a jet, a limo, and a hotel building, or in Reese Crane's case, owns Crane Hotels, a hotel chain.
If you're into gifts, you can expect some good ones. A diamond ring came standard in The Billionaire Bachelor since Reese proposed a marriage of convenience…

No need to worry about your living arrangements, since your new fiancé will move you into his mansion. Did I mention the house manager who prepares your meals and the house staff who cleans your room?

Late nights are something he's accustomed to. You can count on your billionaire boyfriend to keep you up… and I don't mean because he's talking shop. 😉
***About Jessica Lemmon***
A former job-hopper, Jessica Lemmon resides in Ohio with her husband and rescue dog. She holds a degree in graphic design currently gathering dust in an impressive frame. When she's not writing super-sexy heroes, she can be found cooking, drawing, drinking coffee (okay, wine), and eating potato chips. She firmly believes God gifts us with talents for a purpose, and with His help, you can create the life you want.
Find Jessica Here: Website | Facebook | Twitter | Goodreads
***About The Billionaire Bachelor***
The Billionaire Bachelor
by
Jessica Lemmon
Series:
Billionaire Bad Boys #1
Published by
Forever
on June 28, 2016
Genres:
Contemporary Romance
,
Enemies to Lovers
,
Fake Relationship to More
,
Opposites Attract
,
Player Falls in Love
Character(s):
Billionaires
,
Businessmen/Lawyers/Entrepreneurs
Pages:
384
Goodreads
Buy the Book
Manwhore. That's what the board of directors—and the tabloids—thinks of billionaire bachelor Reese Crane. Ordinarily he couldn't care less, but his playboy past is preventing the board from naming him CEO of Crane Hotels. Nothing—and no one—will keep him from his life's legacy. They want a settled man to lead the company? Then that's exactly what he'll give them.

Merina Van Heusen will do anything to get her parents' funky boutique hotel back—even marry cold-as-ice-but-sexy-as-hell Reese Crane. It's a simple business contract—six months of marriage, absolute secrecy, and the Van Heusen is all hers again. But when sparks fly between them, their passion quickly moves from the boardroom to the bedroom. And soon Merina is living her worst nightmare: falling in love with her husband…
***Our Thoughts***
Kassiah: I love Jessica Lemmon, and even though Erin said I can't read any more books with "Bachelor" in the title, I couldn't resist the new series from this author. I'm so glad I didn't wait to read it because I loved this book.
A tale as old as time: Billionaire hotelier Reese Crane needs a wife so he can show the board he's settled down from his playboy ways and be named the new CEO of his family company. After Merina's small boutique hotel was purchased by Crane Hotels, she tries to appeal to him. And appeal to him she does. He makes a shrewd suggestion: marry him for six months. He'll be named CEO and she'll get her family's hotel back. As appalling as it sounds, it's not the worst offer.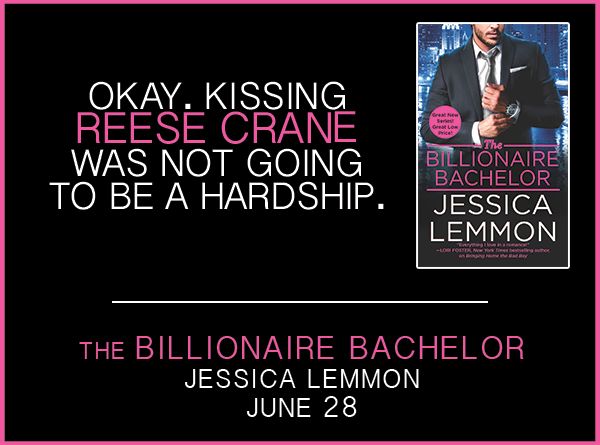 Yes, the storyline is totally cliché, but I didn't mind that. In fact, it's one of my guilty pleasures. There was enough originality that I genuinely wanted Reese and Merina to find their HEA. I loved their banter and their chemistry. Good God, it was hot!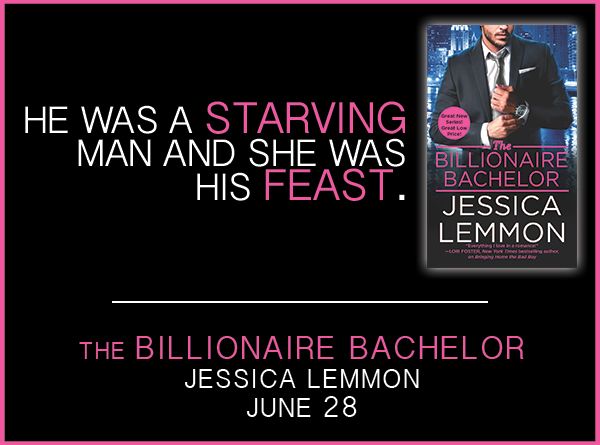 I really loved both of these characters. Merina was sassy and totally not a doormat and her reasons for going through with this ruse were legit. Reese was swoony and he really developed through the story. That was probably my favorite part–how much he changed. I loved all of it, though. I am so glad they realized what was right in front of them.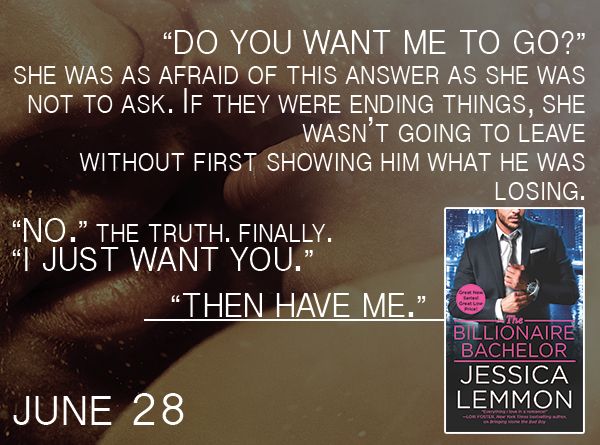 Of course there were a few things I didn't like. Reese drove me crazy sometimes, but I think that was true to his character. I truly cannot wait to read the rest of the books in this series, and I am epecially excited to find out more about Tag Crane!
If you're looking for a hot fake-relationship-to-more romance with sizzling hot chemistry and a fun storyline, then I highly recommend The Billionaire Bachelor by Jessica Lemmon.
Report Card
Cover
Characters
Plot
Writing
Steam
Overall:
4.5
***GIVEAWAY***
Win a Copy of The Billionaire Bachelor by Jessica Lemmon!
a Rafflecopter giveaway
Good luck, Pretties!
Related Posts