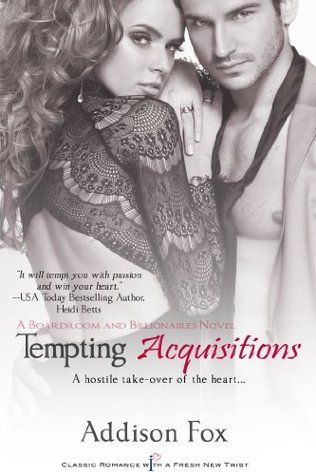 Tempting Acquisitions
by
Addison Fox
Also by this author:
Merger to Marriage
,
The Billionaire's Demands
,
At Last
Series:
Boardrooms & Billionaires #1
Also in this series:
The Billionaire's Demands
Published by
Entangled: Indulgence
on January 7, 2013
Genres:
Contemporary Romance
Pages:
142
Goodreads
Buy the Book
CEO Keira McBride has put more than a decade of blood, sweat, and tears into restoring her family's magazine empire and knows she can handle any business challenge thrown her way…until sexy billionaire and corporate raider Nathan Cooper makes a play for her legacy.

Nathan's not accustomed to losing and neither is Keira. When an all-consuming attraction threatens to devour them both, Nathan makes it clear he wants to move their relationship out of the boardroom and into the bedroom. Keira knows it's going to be the negotiation of her life and the stakes have never been higher. This time, her heart is on the line…

Kassiah: Both the cover and the title of this quick, fun read are kind of cheesy, but I really liked this book a lot.
Kiera McBride and her sisters have taken over the family media empire, over the last eight years, have brought it from the brink of [shutting down]. Nathan Cooper is known throughout the business world for taking over floundering companies and dismantling them. He's handsome and charismatic, and excellent at what he does, so when he sets his sights on McBride Media, the sisters are understandably upset. They decide they're not going down without a fight, though.
She took in the sharp planes of his face and the piercing blue of his eyes, evident even in a black-and-white photograph. Ignoring the completely inappropriate rush of attraction, she focused on the task at hand. It was time to prepare her battle plan. She'd worked too hard to save her family's legacy and make it something they were proud of again. There was no way a corporate pirate with a cocky smile was going to take it away from her.
Of course, the attraction to each other that they both feel cannot be denied.
"It's just like I said. It's simple."

Simple? It was anything but. "And what is that supposed to mean?"

"It means there's something between us. Something very good. There's no reason not to act on it. We're healthy, single adults."

"At war with each other."

"One doesn't have to affect the other."

She resisted the urge to gasp, instead channeling the sudden charge of anger to focus her wayward thought. The man might be able to kiss like a pro, but he wasn't about to use it–or her–to railroad her company. "There is no one. Or other, for that matter."

"What's the phrase?" He swirled the wine in his glass, a thoughtful expression on his face. "Make love, not war?"

"Seeing as how I'm not a peace-loving hippie or a woman who goes down without a fight, I don't see how it applies."

"We want each other. That's enough."
And so the story goes, with Nathan convincing Kiera that they are able to keep what happens in the business world out of the bedroom. What they don't count on is that their feelings for each other show up in every aspect of their lives. He respects her, and they want to be together. Even her sisters encourage her to give the relationship a chance.
"…love isn't rational or convenient or practical."
I don't want to spoil the ending, but I will say that I can't wait for more from this author. There are two companion books planned, and I wish I had them yesterday.
I loved Kiera and Nathan, which is something that doesn't usually happen for me. Though I think she fell into bed with him too soon and way too naively, her reluctance to trust him was realistic. She was smart and I liked her character. Nathan? I liked how much Nathan believed things could be black and white–that they could have wild monkey sex one night and the next morning, negotiate the takeover of her company. It didn't hurt that he was hot and was genuinely a good person. I also liked all of the other characters and how quickly the story was paced.
What didn't I like? Though it was the premise of the story, I didn't love the fact that Kiera allowed herself to sleep with Nathan. I just can't see that happening in real life. Waiting until it was all over? Maybe. I also thought the ending was a little too-wrapped-up-in-a-bow. Don't get me wrong, I loved it, but I also don't think it felt real.
All in all, Tempting Acquisitions was a clever, hot, fun read. You want to grab this one, too.
Report Card
Cover
Characters
Plot
Writing
Steam
Overall:
4
Related Posts