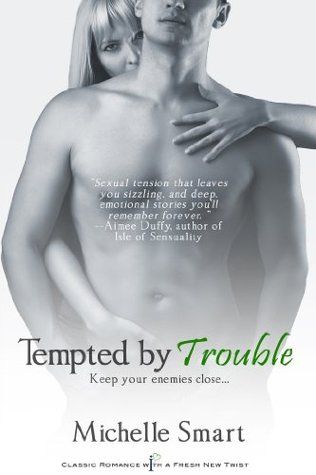 Tempted by Trouble
by
Michelle Smart
Published by
Entangled: Indulgence
on March 11, 2013
Genres:
Contemporary Romance
,
May/December Romance
,
Opposites Attract
,
Second Chance Romance
Character(s):
Businessmen/Lawyers/Entrepreneurs
,
Nerdy/Geeky
Pages:
174
Goodreads
Buy the Book
Socialite Pippa Rowantree has always provided excellent fodder for the UK's gossip rags. After another unfortunate scandal sends the gossips into a feeding frenzy, her shamed family retaliates by forcing her into hiding at old family friend Marco Capello's lush Caribbean estate—literally the last place on earth she wants to be.As far as Marco's concerned, wild child Pippa has ruined his life once and he'll be damned if he lets her do it again. But it's hard to reconcile the adolescent he knew with the mature, beautiful woman who stands before him. Soon he's questioning if everything the media is claiming about PIppa is the truth or if he should trust his heart.
Kassiah: First I would like to say that I do not think the cover of this book is representative at all. I really love the covers that Entangled has been putting out, so I don't really know why they went back to the "old style" covers for this one. I wouldn't mention it, but I just can't get over how much this doesn't look like them to me. And the tagline: Keep Your Enemies Close… I just think they dropped the ball here.
Now, I want to say that I liked this book. 🙂
Pippa has been living most of the last eighteen years as a wild child and when she finds herself in the middle of some legal trouble, her dad exiles her to the Caribbean home of his wife's nephew, Marco. Ten years older than Pippa, Marco owns a highly successful software company and is a workaholic. The two of them share a history, mostly centered around Pippa's lifelong crush and Marco's determination to offer his help, but always from a distance. An embarrassing encounter on Pippa's eighteenth birthday has caused a seven-year gap in their relationship, and they really don't like each other when the story opens up.
The man standing in front of her was a cold, contemptuous stranger, nothing at all like the man she had once fooled herself into believing to be the One: her Soul Mate.

But that had been a long time ago. Seven years, to be exact. She was no longer the screwed-up teenager who had mistaken adolescent hormones for pure all0encompassing love. She had grown up and come to see that love was nothing but a fallacy.

"Hello, Marco. It's been a long time," she said quietly.

He continued to scrutinize her as he opened his mouth and drawled, "Not nearly long enough."
As Pippa continues her stay, she and Marco cannot deny their attraction.
"You're in my blood," he murmured, nuzzling her cheek with his nose. "I can't fight it anymore. I've never wanted anyone the way I want you."
This book has some steamy scenes (#pianosexftw), and I didn't hate their characters for the most part. I liked the way the story played out and the how Smart constantly wove their histories into what made up their present-day characters. There were some things that I really didn't like, though, especially Pippa's willingness to overlook some of the things that Marco says to her. Not even kidding, I would have told his ass to take a hike. There were also some ladybits terms that I really did not care for (petaled opening, core of femininity, and velvet moistness come to mind), and the HEA came a little too quickly for me.
With that being said, it was a quick read, and I enjoyed it. I will definitely be checking out more from this author, and I think you'll like it, too.
Related Posts