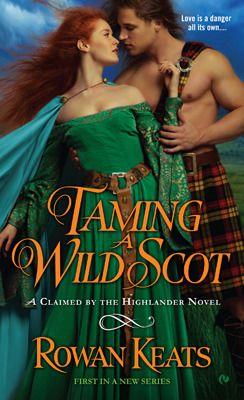 Taming a Wild Scot
by
Rowan Keats
Series:
Claimed by the Highlander #1
Published by
Signet
on November 5, 2013
Genres:
Historical Romance
Pages:
368
Goodreads
Buy the Book
In the Highlands of Scotland, plays for power are fought without rules, treachery and intrigue hold court, and, in one woman's heart, danger stirs as relentlessly as passion...

Wrongfully accused of murder and left to die in a hellish Highland dungeon, Ana Bisset has lost all hope of freedom. But the beautiful healer's luck takes an unexpected turn when a hooded stranger appears as her rescuer. After a harrowing escape, Ana settles alone in a quiet village where no one knows her past or her reputation. The last thing she ever expects is to meet her mysterious savior again...

Niall MacCurran is no hero, but a warrior on a dangerous mission to expose a threat to the realm. After his decision to free Ana, he now realizes that it is he who needs her help—willing or no—to advance his quest. But his growing feelings for the delicate yet resilient beauty soon jeopardize their safety—and not even Ana's healing gifts may be enough to protect their love, or their lives.

Sandi Layne: It is uncommon to meet the heroine of a romance in prison, but that's where we meet Ana. She's been confined in an oubliette – a hole in a dungeon, basically used for prisoners their captors plan on forgetting about. Rarely are these prisoners fed or given anything to drink, and Ana's case is no exception.
Why is she here? How does she escape?
Fantastic beginning for an historical romance.
★★★
This, the first book in Rowan Keats's Claimed by the Highlander series, takes place late in the 13th Century – a time in which clergymen held great sway in the towns and villages, a time where witches were burned alive at the stake. Our Heroine, Ana Bisset, is imprisoned under a charge of murder by witchcraft as we open the book. After her escape (more on that in a moment) she wants nothing so much as to avoid such a charge ever again.
Her escape from a hopeless situation happens thanks to the swoony awesomeness of Our Hero, Niall MacCurran. In a moment fraught with portent – and some very yummy vibes – the two of them escape the prison into the forest, where they have to part ways.
And that's just the prologue.
What I Like:
The Hero. Niall MacCurran is a man with a quest. An honorable sort, he still appears to be leading a band of outlaws apart from "civilization". Seeing the woman he had rescued sometime before, however, in a favorable location gives him an edge to fulfill his quest.
Of course he's gonna go after it! And…after her, too. Because she's beautiful and gifted…
Yes.
The Heroine. Ana Bisset is a healer and she has a gift. A splash of the paranormal enters into this story with her because when she has to – she can make healing happen. But it's not without consequences…
Ana is strong, smart, resilient, and always rather skittish. Because healers often came under suspicion regarding witchcraft, as she knew far too well.
The setting. Keats sets up the medieval village and stronghold nicely, with good period details. Nothing jars me as being out of place.
The romance. Nicely built up, with some heat that is hot without being overdone. THANK you.
The plot. There are good guys and bad guys (can't tell you who they are!) I like that there is a mystery, a quest for redemption, and a romance all happening at the same time. The balance was steady and I never felt like one portion held sway too long over the others.
But! I want to know! The title is Taming a Wild Scot – but I still don't know which Scot was being tamed…
Report Card
Cover
Characters
Plot
Writing
Steam
Overall:
4
Related Posts