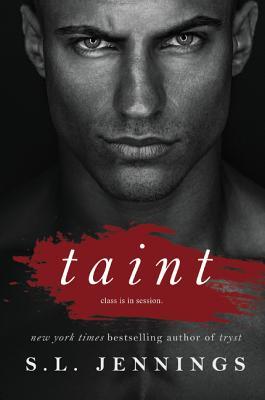 Taint
by
SL Jennings
Series:
Sexual Education #1
Published by
Avon Books
on October 14, 2014
Genres:
Contemporary Romance
,
Erotica
,
Falling for Client
,
Opposites Attract
Character(s):
Professors/Teachers
Pages:
288
Goodreads
Buy the Book
Right now, you're probably asking yourself two things:
Who am I?
And, what the hell are you doing here?

Let's start with the most obvious question, shall we?

You're here, ladies, because you can't f*ck.

Oh, stop it. Don't cringe. No one under the age of 80 clutches their pearls.
You might as well get used to it, because for the next six weeks, you're going to hear that word a lot. And you're going to say it a lot.
Go ahead, try it out on your tongue.
F*ck. F***ck.

Ok, good. Now where were we?

If you enrolled yourself in this program then you are wholly aware that you're a lousy lay. Good for you. Admitting it is half the battle.

For those of you that have been sent here by your husband or significant other, dry your tears and get over it. You've been given a gift, ladies. The gift of mind-blowing, wall-climbing, multiple-orgasm-inducing sex. You have the opportunity to f*ck like a porn star. And I guarantee, you will when I'm done with you.

And who am I?

Well, for the next six weeks, I will be your lover, your teacher, your best friend, and your worst enemy. Your every-f*cking-thing. I'm the one who is going to save your relationship and your sex life.

I am Justice Drake.
And I turn housewives into whores.

Now…who's first?
Kassiah: If this had been fanfic, I probably would have loved it. Basically, Justice Drake offers sex education classes which are mostly for housewives who get sent to him because they suck in bed. He falls for his client, Ally, which breaks pretty much every rule he's ever made. He tries to resist, but of course he can't. The summary makes him sound like a total badass, but I felt like he was…just not.
Don't get me wrong. He was totally hot. And funny, most of the time. And the steamy scenes were hotttt. But there was little more to this than that, and the ending wasn't my favorite.
The steamy hot couple and interesting storyline didn't make up for the pacing and turnaround the hero did in Taint by S.L. Jennings.
Report Card
Cover
Characters
Plot
Writing
Steam
Overall:
2.5
Related Posts