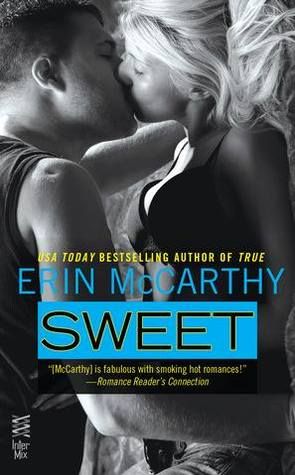 Sweet
by
Erin McCarthy
Also by this author:
Believe
,
True
Series:
True Believers #2
Also in this series:
Believe
,
True
Published by
InterMix
on October 15, 2013
Genres:
New Adult
Pages:
257
Goodreads
Buy the Book
Jessica Sweet thought going away to college would finally make her free of her parents' constant judgments and insistence she play chastity club role model for their church events, but if anything, the freedom has made her realize she can't go home and be a hypocrite anymore. Tired of dodging their questions, she stays at school over the summer and lands in an unexpected crash pad: Riley Mann's house.

Sarcastic, cocky, and full of opinions, Riley is also sexy personified with tattoos and biceps earned from working as a roofer all day. Not the right guy for her even if Jessica was looking for a relationship, which she is definitely not. But Jessica knows that Riley hides the burden of having to raise his younger brothers behind that grin and as she helps him get his house in order for a custody hearing, they begin to fall hard for each other, and she is forced to question what she's hiding herself.

Jessica has never had a problem getting naked with a guy, but when it comes to showing Riley how she truly feels inside, her fear of rejection may just ruin the best thing—the best guy—to ever happen to her…

Kassiah: This is the first time that I've read anything by Erin McCarthy, and I loved this book! Sweet had everything I love about New Adult–snarky girl, hot guy, and problems that are realistic for someone in their age group.
Jessica Sweet lies to her parents about working with a Christian missions group so she doesn't have to go home and live under their thumbs over the summer. Her dilemma? She has a week-long gap between when she has to move out of the dorms and into the apartment she sublet for the summer. When her friends don't have a place for her to stay, her best-friend's boyfriend, Tyler, offers to let her stay at his house. The only problem is that his older brother, Riley, will be the only one there–and he and Jessica don't exactly get along.
Everything about Riley annoyed me, from his sarcasm to his inability to ever be serious, to the fact that he was hot as hell and so clearly knew it. I didn't see him very often since he worked full-time in construction, which was perfectly fine with me. It was easier to breathe without his testosterone choking the room.
Riley agrees that Jessica can stay with him, even though the run-down house in the shady part of town is the total opposite of what she's used to. Over the course of the week she lives there, Jessica gets to know Riley and finds out that there's more to him than meets the eye. He's a relationship-type of guy and she's not interested in anything other than a hook-up.
"So what do you think? The princess and the prick…it could work. Or at least we could give it a shot."
They have a lot of ups and downs (and lots of fun), but ultimately, they get each other in a way that no one else ever has.
"I guess we're both fucked, huh?"

"Looks that way."

"Then I guess it's a damn good thing we found each other." It was.
I liked these characters. Jessica was bitchy and bratty most of the time, but I understood why she was that way. I loved that even though she came off as a snarky, confident girl, she faced the same vulnerabilities most of us do. She was relatable, and I love the way that the thing that makes her the most appealing to other guys isn't what Riley's after. He wants a relationship with her and isn't willing to settle for anything less.
"I want to explore you and your body, not use it."

"Oh." I wasn't sure what to say to that, it was so totally foreign to me. "But I want to have sex with you. Don't make me feel bad for that."

"I'm not trying to. I think it's awesome that you want to get naked with me." He raised his eyebrows up and down. "Trust me, I'm looking forward to it. But it's like cramming a whole ice-cream cone in my mouth and swallowing it whole. What good is that? It's over and done in a second. I want to really taste it, to lick it slowly. I want to savor the ice cream, you know what I'm saying?"
I liked Riley, too, with his tattoos and leather bracelets. I thought he wanted to take thing a little too slow, but I understood his reasoning. He's sweet and calls her princess and gets her to do things she never thought she'd do. And he's funny.
"In return for not smoking in the house, I'm asking you to keep your girl shit out of the bathroom."

Girl shit? "If I can't keep my shit in the bathroom, where else would it go?" I asked, amused.

"You know what I mean. I don't want to go brush my teeth and there isn't an inch of counter space to use because you have creams and equipment or whatever."

"Equipment?" I snorted. "I don't use power tools to get ready in the morning. But fine, I will put my blow-dryer away after each use. And I promise to never ask you to pick up a box of tampons for me on the way home from work.

The horror on his face made me laugh. "Don't tell me you have never bought tampons before?"

He shook his head. "I'm a dude. Why would I buy tampons?"

"For a girlfriend." It seemed obvious to me.

…"No. I probably would if she was, like, bleeding on my car seats, but otherwise, no."
Jessica's father is a preacher, and Jessica finds herself questioning some things about her faith. I really appreciated the fact that McCarthy didn't have her completely stop believing in God–just the judgmental way her father spun religion.
Of course, there were a few things that I didn't like. There were a few loose ends that I thought should have been tied up, like what is going to happen with Riley's house (it's in foreclosure) and what happened with Jessica's brother. I also really didn't love that Jessica felt her only option was to be ruled by her parents or drop out of school. No one mentioned financial aid, student loans, or work study to her at all. I felt like what happens toward the end seemed to come out of left field, but I'm not going yo spoil. Also, I really hated that she didn't give him a blow job. Trust, it has something to do with the story–I'm not just asking for more oral scenes.
With all that being said, I loved it all–the storyline, the characters, the snark, and the swoon. I can't wait to check out True, the first book in the series, and everything else that Erin McCarthy has written.
Report Card
Cover
Characters
Plot
Writing
Steam
Overall:
4.5
Related Posts