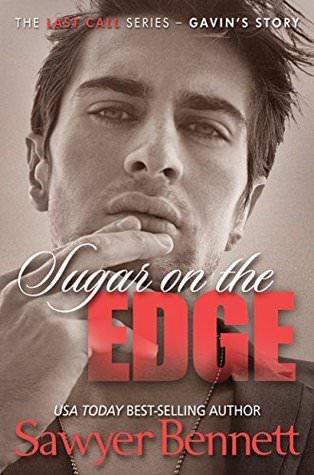 Sugar on the Edge
by
Sawyer Bennett
Also by this author:
Uncivilized
,
Shaken, Not Stirred
,
Wicked Fall
,
Wicked Lust
,
Wicked Need
Series:
Last Call #3
Also in this series:
Shaken, Not Stirred
Published by
Self-Published
on July 28, 2014
Genres:
Contemporary Romance
Pages:
264
Goodreads
Buy the Book
He's utterly alone…

Tortured and existing in a dark spiral of despair, bestselling British author, Gavin Cooke, has come to the Outer Banks of North Carolina to escape the seedy lifestyle he had been living in London and in a desperate attempt to regain his writing focus. He's twisted, bitter and angry at the world. He's a loner… needing not a single thing other than his Scotch and a laptop upon which he can bang out his next erotic, dark thriller.

She's running in place and getting nowhere…

Savannah Shepherd's life is falling apart. Her dream of being a wildlife photographer seems a distant memory and she's barely able to make ends meet. Driving herself forward with no clear goals apparent, she's about ready to pack up her bags and head home with her tail between her legs.

Two unlikely lovers…

He's raw, forceful and a dirty talker. She's a flowers and romance type of girl. Yet within each other, they find a mutual craving that can only be satisfied by giving in to their desires for one another.
Lust turns into something more… something they were not looking for but tentatively accept. Will it be enough to push them past the obstacles of Gavin's bitter past?

*SUGAR ON THE EDGE can be read as a stand-alone*

Kassiah: I haven't read the other books in the Last Call series, but that didn't keep me from knowing what's going on here. I will definitely be checking out the other stories; I am particularly interested in all the Brody things!
Sensational British author Gavin Cooke is spending time in the Outerbanks, working on his second novel and dealing with a tragic loss. When his realtor recommends Savannah Shepherd to be his housekeeper, he's not looking for any kind of relationship.
I don't like my women smiling, happy, or carefree. I like them quiet and passive, taking what I give them, and otherwise leaving me the fuck alone.
Savannah has been having a hard time, both financially and in life in general. She takes the job as Gavin's housekeeper because she'd desperate, and though he's beautiful, she's determined not to cross that line with him. Despite their best efforts, they push each other's buttons and you know what happens…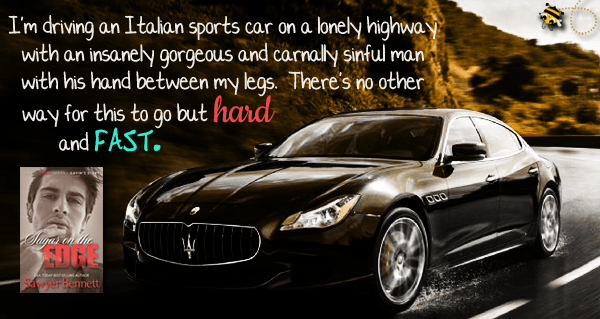 There's steamy sex and gratuitous dirty talk galore, but at the core of this story are two broken characters who don't even realize how much help they need. Savannah had a traumatic event in her past that shaped who she is (and isn't) today, and Gavin suffered a horrific loss in his life and doesn't know how to deal with it. She's naive and he's an asshole most of the time.
No matter the fascination sweet Savannah hold for me, when it boils right down to it, deep down I want to break her. I want to prove to myself that she's nothing special…that she's exactly as I imagine her to be. An uninteresting sort of woman who thinks more of herself that she actually is, and in the grand scheme of things, she'll never amount to more.
There were some things that I liked about this story–Bennett undoubtedly knows her characters and portrayed them realistically. Brody's loyalty to his friend was endearing, and like I said, I definitely want to know more about him. I loved Gavin's thoughts about Charlie (with one exception). The setting was beautiful, and did I mention the dirty talk?
"Tell me, Sweet," I taunt her as my fingers stroke back and forth underneath the hem of her shorts, just a mere inch from the edge of her panties. "Do you have it in you to ask for my fingers…?"
Unfortunately, I found this storyline very predictable. I knew what was going to happen pretty much from the beginning, and Gavin's reaction to all of it made me dislike him–a lot. Savannah's holier-than-thou attitude drove me crazy, and I didn't like her very much. I didn't relate to these characters and honestly didn't care whether they were together or not. I might have been more invested had I read the other books in the series, but I don't know. His publicist was completely unrealistic, and the way things wrapped up was sort of anti-climactic. Also, their nicknames for each other made me want to gag.
Whew! That seems like I really didn't like this, huh? I liked it okay. I think Sawyer Bennett is a great writer, and I definitely plan to keep reading everything she writes–including the books in this series. I just didn't love this one.
Report Card
Cover
Characters
Plot
Writing
Steam
Overall:
2.5
Related Posts