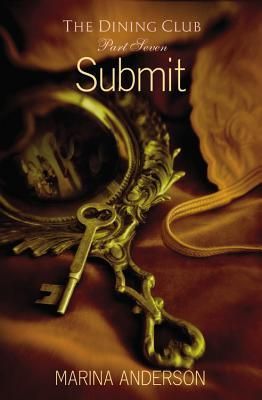 Submit
by
Marina Anderson
Also by this author:
Desire
,
Bound
,
Crave
,
Seduce
,
Touch
,
Caress
Series:
The Dining Club #7
Also in this series:
Desire
,
Bound
,
Crave
,
Seduce
,
Touch
,
Caress
Published by
Hachette Book Group
on October 1, 2013
Genres:
BD/sm
,
Erotica
Pages:
35
Goodreads
Buy the Book
Welcome back to the Dining Club. Pass the challenges we set, and a world of pleasure awaits...

There is one more task to pass. One more until Grace can become a full member of The Dining Club, and ensure she holds on to David's love and lust indefinitely. But she knows it isn't going to be easy - there are several determined to see her fail, and with David torn over what her success would mean for his lifestyle, Grace must do this for herself.

They will test her on everything she has learnt - pushing her body to the limits and into entirely new realms of discovery. But if she doesn't pass, this world, and David, will be closed to her forever.

Kassiah: Even though what happens in this novella is not my cup of tea, I'm glad that Grace seems to come to terms with exactly why she's trying to be successful at The Dining Club–it's all to make David happy.
She wondered how she'd ever let it come to this. How she, Grace, a well-respected theater director who'd been in the Sunday Times list of most promising new directors the year before, had allowed herself to be in this position. Tears of humiliation and disbelief filled her eyes.

"What's the matter?" asked David quietly. "If you want this to stop now, all you have to do is say so. That one word will end it all. Say 'stop' and it's over, Grace. You must choose to do this yourself."

"For us," she replied, struggling to regain her composure. "This is for us."

"But the choice is yours. Now do you want to stop?"

Grace shook her head.

"You have to say it."

Her tongue moved over her dry lips. She hadn't come this far to be defeated now. "I don't want to stop," she said clearly.
I was pretty shocked by Grace's words at the end, and I can't really say what else happens here without giving everything away. I'm pretty sure this was my favorite of all of the novellas, even though I didn't like anything that happened in it. One more to go.
Report Card
Cover
Characters
Plot
Writing
Steam
Overall:
2
Related Posts