Stroked
by
Meghan Quinn
Series:
Stroked #1
Published by
Hot-Lanta Publishing
on July 20, 2016
Genres:
Boss Employee Romance
,
Contemporary Romance
,
Player Falls in Love
,
Romantic Comedy
Character(s):
Celebrities
,
Swimmers
Pages:
363
Goodreads
Buy the Book
Reese King: Olympic medalist, underwear model, Greek god.

His body is chiseled from rock, sculpted by the weight room, and refined by water.

On a daily basis his skin is completely bare for everyone to see, tan and defined, only covered up by a minuscule piece of spandex. There is no denying his sex appeal.

I hate to admit it, but I'm head over heels infatuated with him.

There is one HUGE problem though. His achingly gorgeous abs, inked up arm, and cocky swagger belong to my boss, the high-profile, reality star bitch from hell and certified heinous human being, Bellini Chambers.

What I think is going to be an easy job assisting a glorified wench turns into a cluster f*ck of epic proportions.
Kassiah: This book was amazing.
I don't know if it's when I read it or if I was just in the mood or what. But I am literally shocked by how much I loved this book!
After a terrible mishap while working as a production assistant, Paisley's name means trouble in the entertainment industry. Her best friend/roommate, Jonathan, pulls every string he can and gets her a job as personal assistant to the most notorious diva, Bellini, who is starring on her own reality show. To say that working for Bellini is the worst job ever would be an understatement. The only perk is looking at Bellini's boyfriend, Olympic swimming superstar, Reese King. He's total mancandy–Paisley had posters of him on her dorm walls. He's also strictly forbidden–as the significant other of Bellini and as her boss.
Reese is taking his last shot at Olympic Gold–he's been labeled the Silver Stroke by the media since he chokes up at the last moment, always coming in second place. Since he's retiring after this, his publicist thinks it's important to get as many endorsements and sponsorships as possible, even if the cost of which is entering a fake relationship with reality star Bellini. Though Bellini grates on every nerve of his, he is determined to put up with doing the promos and making appearances with her for the short length of the contract, until he sets sight on Paisley. She's the most beautiful girl he's ever seen and she's sassy. He can't stay away. Paisley has to fight the growing attraction between them or risk losing her life's passion, but how long can she hold out when Reese King won't let her?
"Finding your soulmate is never easy, Paisley. The luckiest people have to work at it, because once you find that true match, you will be that much more grateful for the journey you took to find them."
Like I said, I was shocked by how great this book was. I loved it so much, I decided to make a Top Ten reasons you should read Stroked right now. I mean, right now.
Reese King. I mean, did you think I was going to start with anything else? I loved him. He was sweet and swoony and sexy. I love that he respected Paisley and loved how good she was at her job. He was a dirty talker and just totally take charge. But he had a vulnerability that Quinn captured perfectly. He didn't want to be the Silver Stroke. He wanted Gold. He also wanted other things in life, and I just loved him. #favorite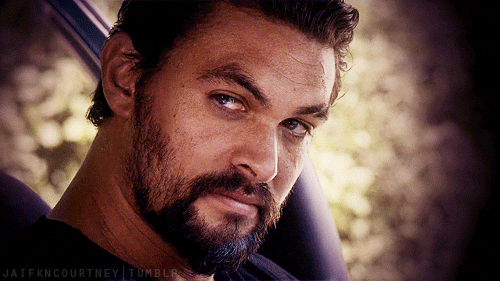 Pope Francis.

He needs no explanation.

Paisley. It's not very often that I love the heroine in the book, but this time, she blew me away. She was sassy but had a genuine desire to prove herself. I liked that she was willing to do whatever it took to get her life back on track, and when she was faced with an ultimatum, she accepted responsibility for what she had done. She was a lot of fun, and I loved the progress her character made throughout this book.
Chemistry and the Hotness Factor. The chemistry in this book was so off the hook, it needed to be mentioned separately. I believe in love at first sight, and I could literally feel it with this couple.
"We would be so fucking right."
And this book was hottttt. For real.
"What are you doing?" I hiss, hoping no one saw him take me in here.

He presses his hands against the door, bracketing my head and bringing his lips inches from mine. "I'm showing you who I belong to."
Olympics It's hard for me to describe what I mean here, but Reese has been working for this moment his whole life. Quinn really captured his feelings during the events, and that was one of my favorite parts. I was actually anxious while I was reading the races!


"I want to impress you so fucking bad."

Also, the ambiance of the Olympics was just amazing. Walking the flag with Reese and feeling like I was right there with him was amazing. I loved the camaraderie and the historic feeling. Paisley was in the crowd, soaking all of that up, and it was just so…magical.
Authenticity. I appreciated how authentic this book was, and I'm sure Quinn had to do a lot of research. From Reese's diet to the way Olympic trials work to the film industry. It was amazing.
Jonathan. He might have done some things that made me want to punch him in the throat, but he was a good friend. And he was so funny!
Nicknames. Bellini was ridiculous, no doubt about it, but the names she made up for people were hilarious.
Reality TV. I ♥ Reality TV (Well, I ♥ The Bachelor), and I thought this aspect of the book was done really well.
Last but certainly not least, Truth or Dare. I don't usually like don't like Truth or Dare in adult books, but damnnnnn this one was hot. It's the most original version I've ever read, and it was a great idea!
"I dare you to howl like a wolf."
And an Honorable Mention goes to the set up for the other books in the series. I can't wait to read them!!
There were two things that I didn't like. First, Bellini. I mean, really? I wonder if there are people who are actually like that. Then I see this and know that there are. Just watch the first part, about the earring.
Though Bellini provided comedic relief, I could have done without her point of view. I also didn't care for a twist that happens with Jonathan. I felt like it was out of left field and it really wasn't addressed with Paisley. Other than that, I loved this book. Can you tell? 🙂 If you're looking for a hot athletic romance book with a fresh storyline and characters who will make you laugh out loud and fall in love with them at the same time, you have to read Stroked by Meghan Quinn. It's awesome.
Report Card
Cover
Characters
Plot
Writing
Steam
Overall:
5
Related Posts