This was our first book by Kelly Elliott, but it won't be our last. We'll be sharing our thoughts on Stay With Me with you as well as a fun excerpt, but first, here's the 411 on the book:
***About the Book***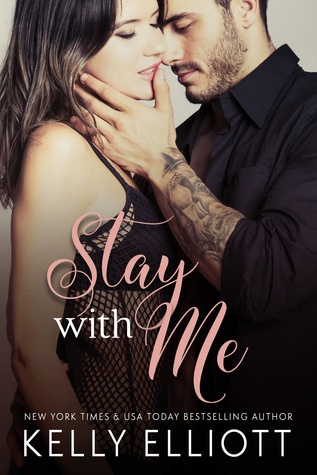 Stay With Me
by
Kelly Elliott
Published by
Self-Published
on May 12, 2016
Genres:
Contemporary Romance
,
Love After Loss
Character(s):
Foreign Mouths We Want to Kiss
Goodreads
Buy the Book
Life moves on.

Only people who have never lost anyone they loved with all their heart can blindly believe those words.

What if I didn't want to move on? What if I wanted to wake up every morning with that familiar ache in my chest, knowing I'd never see her again?

But, life can change in a moment.

I knew that better than anyone … So, when I couldn't get those mesmerizing green eyes out of my head, I decided to do something about it.

Would one night with her be enough, or would my heart decide it was finally time to move on from the past?
***EXCERPT***
Pulling Kilyn onto my lap, I lifted her chin and looked into her eyes. "This is not bad. This is you and I finding our way back to each other. I don't think it was a coincidence you and I running into each other all those times. We were meant to be together. Even if I couldn't see it at first, I've always known it in my heart. All we have to do is show up, eat some food, help my father with some bookshelf and then I'm taking you home and making love to you all night."
She lifted her eyebrows. "All night, huh?"
I gently kissed around her face. "All night."
"Is that a Greek thing . . . the stamina?"
Keep Reading the Excerpt for Stay with Me
Keep Reading the Excerpt for Stay with Me
I could feel my body heating as Kilyn squirmed about in my lap. "Hell, yes, that's a Greek thing."
Sinking her teeth into her lip, she smiled big. "I think I'm going to like having a Greek boyfriend."
"Oh, baby, trust me. There are so many things about having a Greek boyfriend you're going to love."
Pushing her ass against my hard dick, she winked. "Starting with this?"
A low growl came from the back of my throat as I whispered against her lips. "Me trelaíneis, Kilyn."
***About Kelly Elliott***
Kelly Elliott is married to a wonderful Texas cowboy who has a knack for making her laugh almost daily and supports her crazy ideas and dreams for some unknown reason…he claims it's because he loves her!
She's also a mom to an amazing daughter who is constantly asking for something to eat while her fingers move like mad on her cell phone sending out what is sure to be another very important text message.
In her spare time she loves to sit in her small corner overlooking the Texas hill country and write.
One of her favorite things to do is go for hikes around her property with Gus….her chocolate lab and the other man in her life, and Rose, her golden retriever. When Kelly is not outside helping the hubby haul brush, move rocks or whatever fun chore he has in store for her that day, you'll find her inside reading, writing or watching HGTV.
Find Kelly Here: Website | Facebook | Twitter | Goodreads
***Our Thoughts***
Kassiah:
Four years ago, Greek marketing manager Thano lost his fiancée, who was also his high school sweetheart, and he has never gotten over it. He begins to feel again when he meets interior designer Kilyn. Though he tries to resist her, he can't and they seem to be headed toward their own (very fast) HEA when something happens to thwart it all. Will all of the apologies in the world be enough for Kilyn to allow herself to fall for Thano? Will he be able to get past his loss and allow himself to love Kilyn?
NGL, this book starts out with a tearjerker, but right away you can tell that Elliott has put a lot of thought and history into her characters. I really liked out developed these characters were, and I can't wait to read other stories featuring them,particularly Gus! I enjoyed Thano's entire family and it kind of brought me back to My Big Fat Greek Wedding.
I also really liked how hot this book was.
"I want to go slow. Memorize everything that makes you feel good."
There were some things I didn't like, beginning with Kilyn's lack of professionalism. I get that was one of the ways Elliott planned for them to meet, but basically from the moment Thano walks into her office, she's unprofessional, going as far as to make him go dancing with her in exchange for her checking out his cabin that he wants her to decorate. Something about it just really rubbed me the wrong way. I guess I just didn't like her. There's another point, early on, that she fusses at him about not checking the weather. I just wanted him to leave her there and meet someone else. I also felt like it was just so…dramatic–the big issue, well it was a big issue, but it was totally understandable. Maybe if these characters hadn't been so old–I think they were both 28–it would have been more believable. View Spoiler »She hasn't even had oral sex before, but has had a friend with benefits. It's just weird. « Hide Spoiler
Stay With Me by Kelly Elliott is a steamy read with a hot Greek hero who won't give up.
Report Card
Cover
Characters
Plot
Writing
Steam
Overall:
3
Related Posts