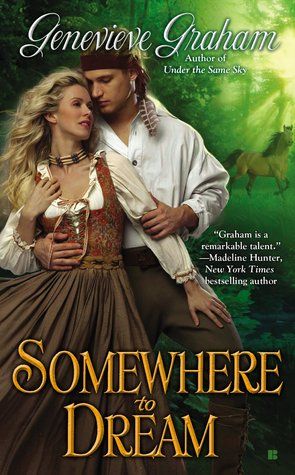 Somewhere to Dream
by
Genevieve Graham
Series:
The MacDonnells #3
Published by
Berkley
on November 5, 2013
Pages:
336
Goodreads
Buy the Book
From Genevieve Graham, author of Sound of the Heart, comes the tale of two strangers living with the Cherokee—one with a warrior's heart; the other with deadly dreams…

The Cherokee call her Shadow Girl. A white woman adopted by Indians, Adelaide is haunted by the dark dreams she hides—of her murdered family, of the men she fears, and most of all, of the ones that foretell the future. After her visions cause her to make a terrible mistake, she renounces her power and buries her dreams deep in her soul.

Until Jesse Black is captured by the tribe. His life is spared because the Cherokee believe his warrior spirit belongs to their fallen brother. Though he hates all Indians, Adelaide illuminates their way of life for him, just as he shines light into her shadowed heart. But when her dreams return, Jesse must help her face them…or die trying…

Sandi: I received this as an Advance Reader's Copy, not knowing it was one of a series written by Genevieve Graham. I wish I had known; it would have made the opening sequences far less confusing.
Somewhere to Dream is the story of Adelaide, a young white woman who is called Shadow Girl by the Cherokee, the Tsalagi. She and her elder sister, Maggie, survived unconscionable abuse at the hands of white men who killed their mother, and Adelaide—Addy—feels safer among the Cherokee than she does among the whites, though Maggie has recently married a Scotsman and moved away from the village.
Maggie and Addy are special. They are gifted in being able to see things in dreams. For Addy, this is terrifying and it overshadows her entire life. She lives in the shadow of her sister's greater ability (as Addy perceives it) and comfort with their life's gift/curse. Addy, though beautiful, can never see herself as anything other than afraid.
Our Hero in this story is Jesse Black, a man captured by the tribe due to one warrior's belief that Jesse holds the spirit of the man's dead brother. Jesse is a fighter, a man who has survived so far due to his wits and skills. When the pale white woman in the midst of a Cherokee village helps to heal him from his wounds and teaches him their ways, he comes to care for her far more than he expected.
There are some great aspects to this romance. There's Jesse's backstory of an abusive father and a life spent fighting and learning both. There's Addy's sister's new life with her new husband and his people, not far away. There are the stories and customs of the Cherokee people, and their varied responses to the influx of whites who try to dominate the land. It's a comprehensive tale, and I don't feel that the author trivialized anything in order to sell the love story.
An emergence of sorts happens for Addy as she grows to care for Jesse. She comes to trust him enough to share her own history with him, and he's strong enough to hear her and love her and promise to protect her. And he does.
But I can't tell you what happens without spoiling! Suffice it to say, that once Jesse arrives on the scene, the book really does pick up in pace and intensity.
As far as the "steam" goes in this book, it is largely underheated. Awareness, certainly, but Our Heroine is still traumatized from earlier in her life to appreciate any aspects of sexual interest. And Our Hero, though he does indeed have eyes in his head and an imagination, keeps it very careful for almost the entire novel.
Almost. 😉 When things do heat up, however, they are sweetly discreet.
A gripe I personally have about this book is that it begins in the first person narrative voice of Our Heroine, Adelaide. This is fine. But then, when Jesse's perspective is introduced, we get it in a third-person way that was jarring for me. Being a fan of third-person in terms of narrative, I appreciated the details that were brought in when we heard from that point of view, certainly. I could only wonder how it might have worked if Adelaide's side could have been told in a like manner.
Still, even with this, the story is a worthy one. I recommend it for those who are interested in Colonial/Early Frontier Romances as well as those who appreciate aspects of Native American culture. It might also suit those who like a dash of the paranormal in their heroines!
Report Card
Cover
Characters
Plot
Writing
Steam
Overall:
4
Related Posts