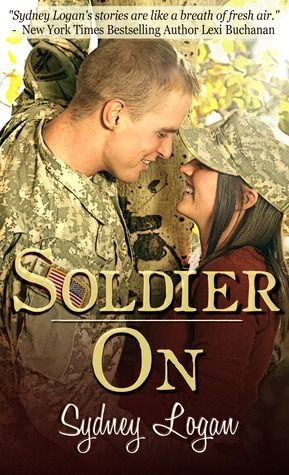 Soldier On
by
Sydney Logan
on June 20, 2014
Genres:
New Adult
Pages:
320
Goodreads
Buy the Book
Will his call of duty break both their hearts?

Losing her father in Desert Storm has left Stephanie James with a bitter soul when it comes to the military. As a college senior juggling a full course load, Steph's only goal is to graduate with honors at the end of the semester. She's focused, determined, and a firm believer in all work and no play. Then she meets Brandon Walker at a New Year's Eve costume party. Despite his disguise, Steph finds herself attracted to the camouflaged soldier who curls her toes with a scorching midnight kiss.

Brandon is an engineering major and ROTC student from the hills of Kentucky. Growing up as the son of a major general has given Brandon firsthand knowledge of the struggles military families sometimes face. Now that his father's memory is fading, Brandon is even more determined to make his dad proud and graduate as an officer in the United States Army. Then he meets Stephanie, and suddenly, his focus is less on his military service and more on the pretty brunette who has stolen his heart. When he becomes aware of Steph's resentment toward the military, he worries their relationship is doomed.

When faced with the realization that she's fallen in love with a soldier, can Steph's wounds from the past be healed with love in her present . . . and in her future?

Sandi: I was so pleased to be included in Sydney Logan's tour for her latest romance, Soldier On. This is her first self-published book and it's quite engaging! I read it all in one sitting.
The author provided me with a complimentary copy for review. Thank you! 🙂
This is a delightful New Adult Military Romance.
"Do you have someone to kiss at midnight?" he asks.

I simply shake my head. He steps closer, pinning me between his body and the bookshelf.

"You do now."
Not quite the opening sequence but very close!
The story between Brandon and Steph really works for me for several reasons. Steph is a real person with a serious chip on her shoulder. I can understand her, but I don't like how this chip has affected parts of her life. Still, she has maintained a largely positive relationship with her mother, has good friends, and is an intelligent young woman ready to make her way in the world. She's focused and doing her best to prepare for anything.
And I have to say a word about her friend, Tessa, who is Steph's biggest mainstay as we go into the story and the man whom Steph hasn't prepared herself for.
"You know, sometimes I step on the scale and wonder how I've gained twenty-five pounds since my freshman year. Then I remember I'm living with Rachael Ray."
Tessa is in a long-term, loving relationship with a sports star at their university. Tessa is open, supportive, and an awesome cook. She and said boyfriend provide Steph with sounding boards and balance in a world in which Steph sees goals and lists of things that have to be done. So getting to see Steph being playful is very helpful, because otherwise? We might not like her much.
Due to that chip on her shoulder. A chip that Our Hero, Brandon, finds out about early on.
Brandon is a dedicated young man with a plan, rather like Steph. But his plans include time in the Armed Forces and he's in the ROTC — Reserve Officer Training Corps. As he gets acquainted with Steph, he finds out she hates all things military. And, because he's really into her and doesn't want to drive her away before they get to know each other, he doesn't tell her he's in the military.
Not so brilliant, right?
And Steph doesn't pick up on the abundance of clues that surround Brandon, either. She has avoided all things military her whole life so it's as if part of her brain refuses to see a soldier when he's right there in front of her.
The revelation is not pretty.
But. It happens.
So, why did I enjoy this story?
Not for the deceptiveness of the hero or the close-mindedness of the heroine. I loved it because it was well-written, fast-paced, and had some terrific elements.
One of these is Brandon's dad. Like his dad, my father is a veteran and facing memory issues. The way Sydney Logan portrays that here is excellent. Good days, bad days, but the family loves and "soldiers on" even so.
Another is how the romance works AFTER the big reveal. There is pain, there is healing, there is a determination to move beyond it and to grow and love anyway. It's a perfect time in their lives to learn that this is one way to grow up. And they do.
"You always have a choice, Steph."

Steph sighs softly before placing a soft kiss below my ear.

"That's the thing, Brandon. I don't have a choice at all. I love you. You love me. The only choice we have is to make it work."

I bury my hands in her hair and pull her face down to mine. Our hands roam as we kiss, causing shivers to radiate up my spine. Steph breaks the kiss to grab the hem of my shirt. She lifts it over my head and tosses it aside.

Then she surprises me by placing her hand over my heart.

"No matter where you are, I will be right here."
Another is because Sydney Logan is a fun writer.
I highly recommend this book to anyone who is interested in a real-world, new adult romance that has its ups and downs. Want a sweet hero? He's here. Want your HEA? That's here, too. Do things get…warm? Yep, they do. But it's not too heavy, honest. It's just sweet and passionate and well-timed.
Related Posts