You know we Karen Erickson, so we were very excited to be invited to participate in the blog tour for her latest title, Smolder. Smolder is the second book in the Wildwood Series, and we couldn't wait to get our hands on it. We'll be sharing our thoughts on the book, along with a fun giveaway and an excerpt. But first, you know the drill, here's the 411 on Smolder by Karen Erickson:
***About the Book***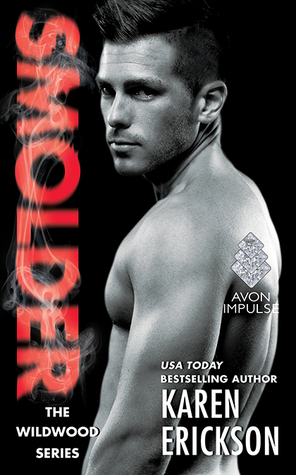 Smolder
by
Karen Erickson
Also by this author:
Tempting Cameron
,
Loving Mindy
Series:
Wildwood #2
Published by
Avon Impulse
on June 21, 2016
Genres:
Contemporary Romance
,
Forbidden Love
Character(s):
Police Officers/Sherriffs
Pages:
256
Goodreads
Buy the Book
Lane Gallagher wants Delilah Moore—bad.

He's imagined the sexy brunette in his bed more times than he can count.

She's everything he's ever wanted, but the only problem is . . .

She's his brother's ex.

For years, the stoic sheriff's deputy has fantasized about the sweet, bubbly dance teacher who stirs his deepest desires. But Lane's too loyal to ever move in on forbidden territory and he knows that while he can look, he definitely can't touch. Fighting his attraction to Delilah is nearly impossible, but the infuriating—and incredibly sexy—woman seems determined to drive him crazy.

And she's bringing him to his knees. One smoldering kiss at a time.
***EXCERPT***
Lane drove the streets of Wildwood in his deputy patrol car just under the speed limit, his gaze everywhere, his mind focused on only one thing:
Making sure his little hometown was safe.
Safe from crime, safe from reckless teenagers, safe from careless tourists, and safe from a ruthless arsonist who seemed hell-bent on destroying Wildwood, one little annoying fire after another.
He frowned. Had to take back that last remark. The restaurant fire could've been a tragedy. So many people had been in there when the fire started. Eyewitness accounts mentioned just how chaotic it had become when everyone tried to escape at once. His sister had been in there, as well as her friend Harper. And . . .
Delilah.
Now he flat-out scowled, wishing Delilah wouldn't creep into his thoughts. She was always there, sitting in the back of his mind, taunting him.
Teasing him.
Keep Reading the Excerpt for Smolder
Keep Reading the Excerpt for Smolder
He'd stopped by her dance studio like he couldn't help himself. He'd known Wren wasn't there, but Delilah's car had been parked out front. He'd walked in like a man possessed, needing just a glimpse after not having seen her since the day of the restaurant fire.
When he held her in his arms, relieved to find her safe.
When he'd been so damn close to kissing her.
When he'd shoved her away with a curt, "Glad you're okay," and gone about his business, reminding himself over and over he shouldn't want her.
But he did.
Avoiding her never worked. He'd catch glimpses of her here and there—the town was too small and their circle of friends too tight—but he'd tried his best. Focused on work, which was his first true love. The fact that she distracted him so wholly scared the hell out of him most of the time.
And then there were the other times when all he could think about was seeing her. Making her smile or even making her mad, it didn't matter. As long as he could stare at her, even for just a little bit, that was all that mattered.
He'd entered the dance studio and her scent lingered in the air, making his body stiffen. Hearing her voice call out had made him close his eyes so he could savor it and he'd turned around, not wanting her to see his face when she finally came out to greet him. Still wasn't prepared when he turned and saw her.
That little bra top thing she wore hid nothing. So much skin on display, though he was sort of mad her legs were covered up. They were her best asset, and he'd imagined those long, lean legs of hers wrapped around his hips more than once. It had taken everything in him to keep his gaze glued on her pretty, pissed-off face and not blatantly check her out like he wanted.
She was angry with him because he wouldn't make a move, but he couldn't. She'd been with West a long time ago and he didn't poach off his brothers. Yeah, yeah, West had moved on with Harper and they made a perfect couple. They seemed perfectly in love. Perfectly happy. He knew West wouldn't give a shit if he made a move on Delilah.
But there was something about the woman that flat out scared him. She was—intense. Sexy. Smart as hell. Funny. She had no qualms showing her feelings. Meaning that most of the time she was a stressed-out, sexually frustrated woman with a grudge when they were around each other. Not that he could blame her.
She made him feel all kinds of sexually frustrated too. He hadn't been this well acquainted with his hand since he was a teenager . . .
Pushing all thoughts of Delilah out of his brain as best he could, he refocused on his drive as he headed toward the outskirts of town, near the north end of Wildwood Lake. Spots of the mountainous landscape had been left scorched and black, a result of the latest fire set by the arsonist.
He was ramping up his activity, and the townspeople were starting to notice.
And damn it, Lane wished he could make the fires stop. But he couldn't. Worse, he couldn't wrap his head around the arsonist's motives. Why was this happening?
Did arson ever make sense though? Was there ever a rational reason that made people go, "Oh, I get why he burned the entire town down"?
That would be a no. He could wrap his head around an owner burning his building down for insurance purposes. It was a bad idea, and an illegal one too, but still. He got it.
But burning down random buildings and pieces of land just for the hell of it? That made zero sense. He didn't like it. Made him feel like he was at war with an anonymous enemy. Meaning he could trust no one.
It could be someone he knew.
Someone he liked.
Someone he trusted.
And that possibility really pissed him off.
**About Karen Erickson**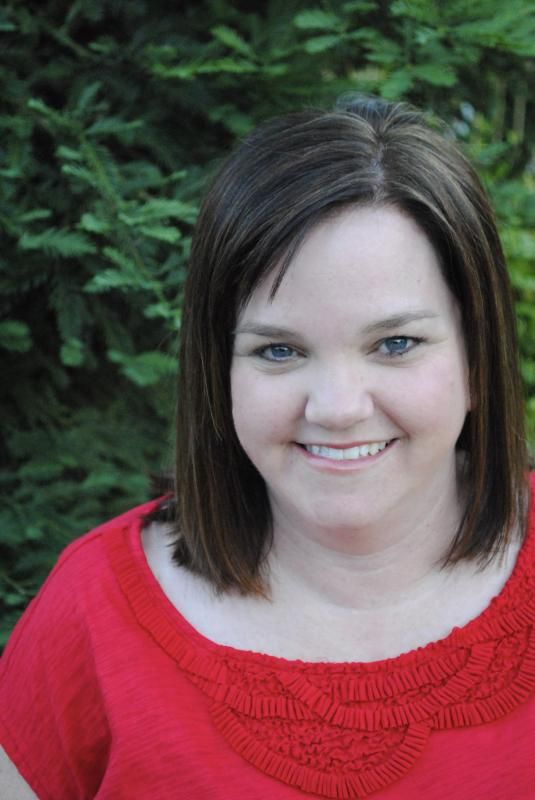 USA Today bestselling author Karen Erickson writes what she loves to read – sexy contemporary romance. Digitally published since 2006, she's a native Californian who lives in the foothills below Yosemite with her husband and three children. She also writes as NYT and USA Today bestselling author Monica Murphy.
Find Karen Here: Website | Facebook | Twitter | Goodreads
***Our Thoughts***
Erin: Readers of Karen Erickson's Wildwood series had to be as excited as I was to get the story of Lane and Delilah in her newest book, Smolder. A stoic, sexy sheriff and a sassy dance teacher, who just happens to be his brother's ex sounded like a total win and Smolder is that and then some.
Book 2 picks up right where the first book, Ignite, ends and from the get go you can tell that Lane and Delilah are not going to have an easy time of it. Lane's loyalty to his brother keeps him from pursing the woman he's desired for years, no matter how much he wants her. And boy does he ever want her! Delilah has always felt something toward the gruff, brooding Lane and even though he continually pushes her away for many reasons, she's determined to get him. When they finally give in to the passion that has been simmering for years, these two were really hot.
Delilah gasped when he touched her, his fingertips seeming to burn when they made contact with her cheek. For a moment he forgot himself. Let his fingers drift across her petal-soft skin. Skin he dreamed of touching. Kissing. Licking…
I found myself getting pretty frustrated with Lane's refusal to see what was right in front of him, and though his reasons made a bit of sense, when Dee and Lane FINALLY get their act together, I was almost sorry because it was just so painful to watch Delilah continually get pushed away. I did like the suspense from the arson that carried over from the first book, and the secondary characters really added a lot to the story as a whole. I'm always a big fan of dual POVs so I thought it was pretty great to spend time in both characters heads. This was a fast, fun read and as always, the writing was spot on.
There's definitely more story to tell, so I'll be anxiously awaiting the next book in this series. Bring on more Gallagher brothers!
Report Card
Cover
Characters
Plot
Writing
Steam
Overall:
3.5
***GIVEAWAY***
Win a $25 gift card!
a Rafflecopter giveaway
Good luck, Pretties! What's your favorite book by Karen Erickson (or Monica Murphy)?
Related Posts