We can't wait for you to check out the excerpt and enter the giveaway on our stop on the blog tour for Sinful Rewards 3 by Cynthia Sax. First, here's the 411 on the book, along with our thoughts: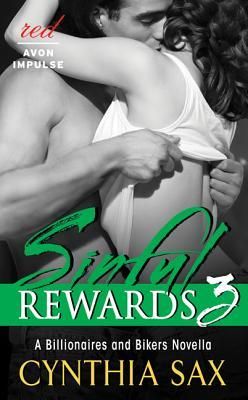 Sinful Rewards 3
by
Cynthia Sax
Also by this author:
Sinful Rewards 5
,
Sinful Rewards 11
Series:
Billionaires and Bikers
Also in this series:
Sinful Rewards 5
,
Sinful Rewards 11
Published by
Avon Impulse
on September 16, 2014
Genres:
Contemporary Romance
Pages:
100
Goodreads
Buy the Book
Bee Carter's carefully constructed world is tumbling down around her designer knockoff heels. Pleasing others isn't working for this small-town fashionista. Bee decides to throw caution to the Chicago wind for one night and release her inner bad girl, accepting a sexy challenge from an unknown texter, exploring the backseat of a limousine with gorgeous billionaire Nicolas, and entering a rough, tough biker bar with the mysterious Hawke.

Two hot men, one wicked night. When this good girl goes wild, who will make her erotic dreams come true—the enigmatic billionaire or the tattooed bad boy?
Kassiah: This book wasn't what I expected when I read the summary.
Two hot men, one wicked night.
I was expecting a different kind of story, so in case you were wondering, let me let you know this does not involve a ménage in any way, shape, or form. Sinful Rewards 3 starts off right in the middle of things with Bee Carter thinking she's getting a promotion at work and getting ready to celebrate. She's been getting messages from a mysterious texter, telling her to do naughty things like go to work without a bra. She's torn between two men–enigmatic and mysterious billionaire Nicolas Rainer and hot, larger-than-life marine Hawke. Though she says she wants a forever with Nicholas, I think her thoughts are steering her in another direction:
I have feelings for [Nicolas], not wild, crazy, passionate feelings as I have for Hawke, but a more manageable, sane, lasting type of affection, of caring.
I have to be honest here. I haven't read the first two novellas in this series, and I definitely felt like I was missing a few things. Like why is Bee so determined that despite his constant reassurance, Hawke is going to leave, or why Nicolas is the right choice for her. I didn't understand her way of thinking at all:
Hawke won't leave until he has his one-night stand with me. And the attraction between us will cause problems with the next forever man I date. I have to end this.
Next forever man? Who says that? I did like Hawke, though.
"You can lose control with me, love." Hawke's voice is soft. "You're safe."
Like I said, I haven't read the other stories, and because of that, I'm going to give this story the benefit of the doubt and hope that my questions have already been answered in Sinful Rewards 1 or Sinful Rewards 2. I'm definitely going to check out the first two stories and we'll be back for more with tour stops for the rest of the series in the coming months. I'll let you know then!
Report Card
Cover
Characters
Plot
Writing
Steam
Overall:
3
***EXCERPT***
"A very large man separates from the pack, and my words fade. He's backlit, his face and form in darkness, but I'd recognize that blunt buzz cut, square chin, broad shoulders, and confident swagger anywhere.
"Hawke," I whisper, my toes wiggling in the practical flats I was forced to wear. My lack of heels makes him appear even larger, more dominant and manly.
"Sweetheart." He cups my chin with his rough fingers and tilts my face upward. Our gazes meet and hold, time stopping, the noise and lights fading. There's only the two of us.
I'll have sex with this mountain of a man tonight. Decades-entrenched fear battles newly formed desire. The temptation to turn, to run from him, from this fate, increases with each heartbeat. I know of only one way to quiet my mind, to ensure passion wins. "Kiss me," I whisper.
Hawke doesn't hesitate. He swoops down and claims my lips, the strength of his embrace stealing my breath. I gasp. He surges inside me, his tongue tangling, tumbling with mine. He tastes of whiskey and chocolate, a burning sweetness I could quickly become addicted to.
My knees tremble, and he straps his arms around my body, holding me upright, pressing me to him. I forget everything, my doubts, our audience, my friend Cyndi, losing myself in him, in the rasp of his stubble-covered chin against my skin, the stroke of his tongue along mine, the hardness of his body.
Hawke lifts me higher, fitting me into his fit form. My curves flatten against his muscle. My feet dangle above the pavement. Never have I felt this delicate, this cherished.
I grip his shoulders, clinging to him, relishing his strength and size. This is right, this kiss, this night, this man. I'll give him everything, expecting only pleasure in return, forgoing forever for one evening.
A man whistles, breaking the spell. Other men join him, hooting and hollering, their unruly behavior heating my cheeks. Hawke releases my lips and pushes my face into his cotton-covered chest, bending over my smaller form as though to shield me from them.
"I'm glad you came," he murmurs, his voice low and deep and arousing. I wiggle closer to him, my nipples pressing against the red silk of my corset. He strokes my loose-flowing hair, his big hands gentle, almost reverent.
"I almost didn't," I share quietly, not wanting anyone else to hear us. "
***About Cynthia Sax***
Cynthia Sax lives in a world where demons aren't all bad, angels aren't all good, and magic happens every single day. Although her heroes may not always say, "I love you", they will do anything for the women they love. They live passionately. They fight fiercely. They love the same women forever.
Cynthia has loved the same wonderful man forever. Her supportive hubby offers himself up to the joys and pains of research, while they travel the world together, meeting fascinating people and finding inspiration in exotic places such as Istanbul, Bali, and Chicago.
Find Cynthia Here: Website | Facebook | Twitter | Goodreads
***GIVEAWAY***
Win copies of Sinful Rewards 1 and Sinful Rewards 2
a Rafflecopter giveaway
Good luck!
Related Posts