You know how much we enjoyed Upside Down, the first book in the Off the Map Series by New Adult Author Lia Riley. We couldn't wait to get our ::grabbyhands:: on the next book, so we were thrilled when we were invited to participate in the Sideswiped tour. We have lots of feelings about this book, but as usual, we'll start off with the 411:
Sideswiped
by
Lia Riley
Also by this author:
Upside Down
,
Last First Kiss
Series:
Off the Map #2
Also in this series:
Upside Down
Published by
Forever
on October 7, 2014
Genres:
New Adult
Pages:
384
Goodreads
Buy the Book
It was only meant to last the summer . . .

Talia Stolfi has seen more than her share of loss in her twenty-one years. But then fate brought her Bran Lockhart, and her dark world was suddenly and spectacularly illuminated. So if being with Bran means leaving her colorless NorCal life for rugged and wild Australia, then that's what she'll do. But as much as Talia longs to give herself over completely to a new beginning, the fears of her past are still lurking in the shadows.

Bran Lockhart knows that living without the beautiful girl who stole his heart will be torment, so he'll take whatever time with her he can. But even though she has packed up her life in California and is back in his arms for the time being, she can't stay forever. And the remaining time they have together is ticking by way too fast. Though fate seems determined to tear them apart, they won't give up without a fight—because while time may have limits, their love is infinite . . .
Kassiah: I really liked Upside Down and couldn't wait to read Sideswiped. I have to say that I didn't like this one as much. It was definitely steamy and the chemistry between Bran and Talia was scorching hot, but I felt like they were more petulant in this book, and I didn't like either of them as much.
Sideswiped picks up pretty much right after Upside Down ends, and you do need to read that one first. Talia is back in Australia to do her thesis project and Bran is working on the fast track toward a PhD. Talia has four months until her visa runs out, and they're running out of options on how to stay together.
Maybe it's my imagination, but the brass alarm clock on the dresser clicks louder. Another second gone. Another second gone.
Both of them have opportunities in other parts of the world, but Bran is determined for them to not separate–physically–for any period of time.
"I hear what you're saying and I appreciate the support. But the only future I'm willing to discuss is the one where it's me and you–together."
Despite his protests, Talia continues researching what she wants to do next in her life. Will her need to spread her wings be the end of their relationship.
There are a lot of things I liked. The banter was witty and authentic, and they were crazy hot for each other. I love the way he's always touching her, the thoughts he thinks about her, and just him in general.
"It doesn't get any better than me and you."
There were things I didn't like. Sideswiped definitely had a middle of the trilogy feel to it to me. And maybe that was the point of it all. They were kind of middle-of-the road in their feelings and where they were headed in life, especially Talia. I didn't think she would be so adamant that they go their separate ways, especially considering where she was headed. I felt like the Thesis she was so excited about was pushed to the side for another adventure. Admittedly, I feel like being happy and in love is worth more than having a career, so all of that could just be my personal bias. There was a lot of back and forth and just…pointless stuff in there. I also didn't love the Christian Grey reference, but I'll never get over that. 🙂 Also, I think the cliffhanger ending was unnecessary.
With that being said, Lia Riley is an amazing writer, with realistic characters and a fantastic way of blending her words together. I liked this book, I just didn't love it, and I am anxiously awaiting Inside Out, the conclusion to the series that hits shelves in December.
Report Card
Cover
Characters
Plot
Writing
Steam
Overall:
3.5
***About Lia Riley***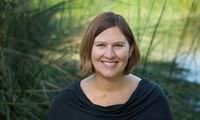 Lia Riley writes offbeat New Adult Romance. After studying at the University of Montana-Missoula, she scoured the world armed only with a backpack, overconfidence and a terrible sense of direction. She counts shooting vodka with a Ukranian mechanic in Antarctica, sipping yerba mate with gauchos in Chile and swilling XXXX with stationhands in Outback Australia among her accomplishments. When not torturing heroes (because c'mon, who doesn't love a good tortured hero?), Lia herds unruly chickens, camps, beach combs, daydreams about as-of-yet unwritten books, wades through a mile-high TBR pile and schemes yet another trip. She and her family live in Northern California.
Find Lia Here: Website | Facebook | Twitter | Goodreads
***GIVEAWAY***
Win one of three copies of Upside Down by Lia Riley!
a Rafflecopter giveaway
Good luck and don't forget to check out the other stops on the Sideswiped Tour!
Related Posts