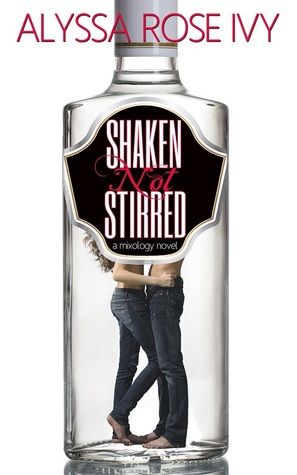 Shaken Not Stirred
by
Alyssa Rose Ivy
Also by this author:
Wrecked
Series:
Mixology #1
Published by
Self-Published
on January 7, 2014
Genres:
New Adult
Pages:
248
Goodreads
Buy the Book
Finding the perfect guy is like mixing the perfect drink. It's all about the taste and presentation.

Maddy's gone off the deep end, at least that's what her family thinks when she handles her med school rejections by moving to the Outer Banks. It doesn't help that she's paying her bills by bartending and is sharing walls with two guys, even if one of them is her childhood best friend.

Her choice of men seems more balanced on the surface—Colin is driven, sexy, and gainfully employed, but she can't help spending her Thursday nights searching for the perfect drink for Lyle, whose music captivates her with its haunting lyrics. Maddy believes everyone has a perfect drink—and finding Lyle's isn't a challenge she's willing to lose.

Kassiah: This is not the first book that I've read by Alyssa Rose Ivy and it definitely will not be the last. I enjoyed this one!
After not getting accepting into med school, 21 year old Maddy is spending the summer at the beach bartending and living with her BFF, Macon, and his friend, Brody. She's been pining away for Lyle, a musician who sings and plays guitar on Thursday nights at her bar and has never said more than three words to her. He doesn't seem to be interested at all, so after deciding to stay in the Outer Banks when summer's over, she finally accepts a date from Colin, a cute guy who's been asking her out for weeks.
He's a go-getter and a hard-worker and totally crazy about her. Problem is, he works a lot.
I was tired of always taking the backseat to his job. I was tired of rejection, and I wanted someone who found me important enough to put me first.
They have some ups and downs in their relationship as Maddy tries to discover who she is and what she actually wants in life.
I tried to push my depressive thoughts away, but I felt lost. I'd spent my whole life on such a set path, and for the first time, I had no clue where I was going. I wanted it to excite me, but it scared me more.
I liked Maddy even though I didn't understand her motivations sometimes, and I liked Colin, even though I didn't get why he ran so so hot one moment and ice cold the next. I don't know if I bought into how much he professed to be into her, but I could help myself when he said stuff like:
"How am I hard to read? I want you. Whether it's talking over coffee, curled up watching a movie, or having amazing sex, I just want you. Don't worry about reading anything else."
I was definitely rooting for him to get his shit together and get the girl. But I don't understand the long periods of time they didn't see each other and the fact that Colin answered. the. phone. during. sex. O.O
I liked that Macon called Maddy out for her bs, and he was a great friend to her. That doesn't take away from the fact that there were some weird things going on, like the conversations Maddy had with Colin's sister and his boss.
I did like the overall story and had a legit OMG moment that I didn't see coming at all. I wish that there had been some kind of hints about it, but I'm glad it worked out the way it did nevertheless. This is a book that could have really used a professional editor, and it would have been amazing. I loved the ending, even though we can't be sure that the things that weren't so great with them are solved. I can't wait to find out who the next book in the series is going to focus on, and I'm looking forward to reading more from Ivy.
If you're looking for a story about a girl who is experiencing some ups and downs and trying to find her way with a sweet and hot guy, give Shaken Not Stirred a try. I think you'll like it. 🙂
Report Card
Cover
Characters
Plot
Writing
Steam
Overall:
3.5
Related Posts