We're so glad we were invited to participate in the tour for SEX Unlimited: The Complete Volumes by Kathryn Perez and were pleasantly surprised by how much we loved it. Here's the 411 about it, along with our thoughts: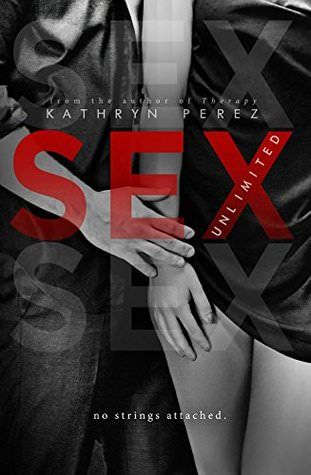 SEX Unlimited: The Complete Volumes
by
Kathryn Perez
Published by
Self-Published
on September 21, 2014
Genres:
Contemporary Romance
,
Erotica
Pages:
188
Goodreads
Buy the Book
SexUnlimited.com led me to forty one year old Brisban Calloway.

All I wanted from him was one night of no strings attached SEX.

What I got was more than I ever bargained for.

**This is the complete serial. Volumes 1, 2 and 3 of The Unlimited Series.***
Kassiah: Since I expected SEX Unlimited: The Complete Volumes to be your typical run-of-the-mill erotic serial, I honestly can't believe how much I fell for the characters and how invested I became in what transpired between them. This was a fantastic read, and I'm definitely going to be checking out more from author Kathryn Perez.
Candace Greene still hasn't truly been able to let go of her fifteen year marriage to her high school sweetheart, which ended over a year ago. On a spur of the moment, she makes a profile on SEX Unlimited, an online site that hooks up its members with no-strings attached encounters. She receives a message from Brisban Calloway, who promises a night she won't soon forget. Right away, there's crazy chemistry between them.
"I can't wait to be inside you."
They hook up a few times before the inevitable occurs–they develop deeper feelings but don't know how to proceed when all they've ever promised each other was physical.
There are lots of things going on in this story, most of which I totally enjoyed. Some things were predictable and there were a few twists that I never saw coming. Candace was a realistic heroine, and Brisban was sweet and steamy.
"I want you so badly tonight. I crave you. I can't wait to bury my face between your legs and taste how wet you get for me."
I love how their relationship developed.
"I need a spark. I need a certain feeling deep in my gut that gives me a heated primal need to have it, and when we met, that's what I felt. I wanted your body in every way possible.
There were things I didn't like. There were some grammatical errors, but since I received an ARC, I'm hoping they were fixed before publication. There was something else that really bugged me: View Spoiler »He "forgot" to use a condom very early on in their relationship, like the second time they were together. She tells him that she can't have kids so it's okay, but I think not wanting to use a condom was pretty unrealistic. They met through a sex site, so I find it hard to believe that they'd trust each other that much. Considering what we find out happened in his past, I think he would be especially vigilant in using protection. « Hide Spoiler
I don't want to give away all of the things, but I will tell you there's more to this story that meets the eye. I loved the characters; I loved how fast-paced it was; I loved the outcome. I think you'll enjoy it, too.
Report Card
Cover
Characters
Plot
Writing
Steam
Overall:
4
***About Kathryn Perez***
Kathryn lives in her small East Texas hometown with her family. She 's a music infused writer and self-proclaimed book junkie. When she isn't listening to music, writing or reading you'll probably find her watching her favorite sport, UFC.
Kathryn is also an anti-bullying advocate and avid supporter of mental-illness and suicide awareness.
Find Kathryn Here: Website | Facebook | Twitter | Goodreads
***GIVEAWAY***
$10 gift card and copy of SEX Unlimited
a Rafflecopter giveaway
Related Posts