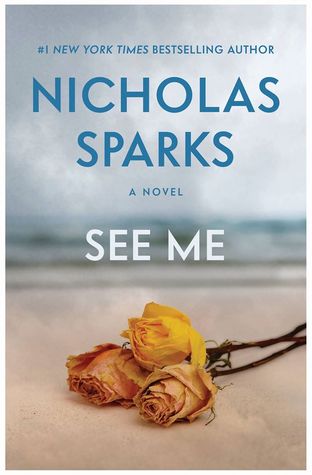 See Me
by
Nicholas Sparks
Also by this author:
Safe Haven
Published by
Grand Central Publishing
on October 13, 2015
Genres:
Contemporary Romance
,
Mystery
,
Romantic Suspense
Character(s):
Bad Boys
,
Fighters
Pages:
486
Goodreads
Buy the Book
See me just as I see you . . .

Colin Hancock is giving his second chance his best shot. With a history of violence and bad decisions behind him and the threat of prison dogging his every step, he's determined to walk a straight line. To Colin, that means applying himself single-mindedly toward his teaching degree and avoiding everything that proved destructive in his earlier life. Reminding himself daily of his hard-earned lessons, the last thing he is looking for is a serious relationship.

Maria Sanchez, the hardworking daughter of Mexican immigrants, is the picture of conventional success. With a degree from Duke Law School and a job at a prestigious firm in Wilmington, she is a dark-haired beauty with a seemingly flawless professional track record. And yet Maria has a traumatic history of her own, one that compelled her to return to her hometown and left her questioning so much of what she once believed.

A chance encounter on a rain-swept road will alter the course of both Colin and Maria's lives, challenging deeply held assumptions about each other and ultimately, themselves. As love unexpectedly takes hold between them, they dare to envision what a future together could possibly look like . . . until menacing reminders of events in Maria's past begin to surface.

As a series of threatening incidents wreaks chaos in Maria's life, Maria and Colin will be tested in increasingly terrifying ways. Will demons from their past destroy the tenuous relationship they've begun to build, or will their love protect them, even in the darkest hour?

Rich in emotion and fueled with suspense, SEE ME reminds us that love is sometimes forged in the crises that threaten to shatter us . . . and that those who see us for who we truly are may not always be the ones easiest to recognize.
Katie: Ever since I read my first Nicholas Sparks book, The Best of Me, at the end of 2014, I have been a huge fan. So naturally when I found out Sparks had a new book releasing the same month as my birthday, I just knew it was meant to be. This is the fourteenth Nicholas Sparks book I've read!
Since I've read so many of Sparks' books, it is easy to start noticing similarities in his books. See Me, though, was very different from all of his previous works and I'm not sure how I felt about that.
I know all loves are different, but I didn't feel the Earth-breaking, knee-shaking love that I am so used to Sparks delivering. There was love, but it was a slower, not-so-in-your-face love.
From the start of the book, the prologue, we know that there is some sort of stalking going on. But what we're not completely sure about is who said stalker is. Or you may not be, but I was….from pretty early on, too. That being said, I was still waiting and watching for when the stalker would strike again.
Even though I've loved pretty much every Nicholas Sparks book I've read, I don't always love the endings. I was pretty content about the way this one ended, though.
Report Card
Cover
Characters
Plot
Writing
Steam
Overall:
4.5
Related Posts