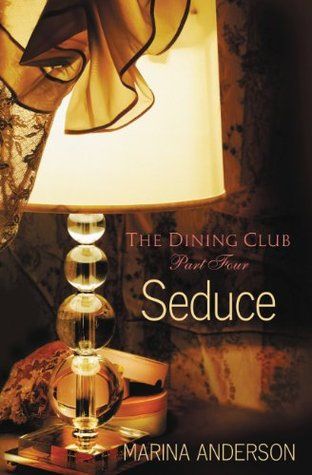 Seduce
by
Marina Anderson
Also by this author:
Desire
,
Bound
,
Crave
,
Touch
,
Caress
,
Submit
Series:
The Dining Club #4
Also in this series:
Desire
,
Bound
,
Crave
,
Touch
,
Caress
,
Submit
Published by
Hachette Book Group
on September 10, 2013
Genres:
Erotica
Pages:
33
Goodreads
Buy the Book
Welcome back to the Dining Club. Pass the challenges we set, and a world of pleasure awaits...

As Grace travels further into the world of the Dining Club, both she and David face their own private dilemmas. While Grace questions how far you should go just because you love someone, David faces his oldest insecurities: can he finally let someone succeed all the way into the Club, and into his heart?

Jealousies are coming to a head. Grace is shocked to see David out at a glamorous event with his beautiful PA, and Amber and Andrew conspire to shut Grace out of the Club for good. The next weekend, and Grace's new challenge, await...

Let yourself indulge in the sumptuous delights of The Dining Club: Part Four.

Kassiah: The fourth novella in the Dining Club series has David questioning if what happens if Grace successfully completes all the trials–will he be able to give her his heart and allow himself to become with her heart? For the record, he's still a douchebag.
I like that Grace stands up for herself a little more this time and explains to him:
"Yes, because I love and trust you. This is totally different."
After the trial, which of course I hated, Grace finds that David went to a charity function with a beautiful woman, which I don't even know what to say about that besides I wish Grace would dump him and go for someone who can really appreciate her.
Like maybe Andrew, who seems to have taken an interest in Grace as well. But we find out in this installment that he's a manipulative bastard, too, so I don't know.
This novella seemed to have more substance to it than the previous three, but still not enough. And there was one tiny hot part:
"Don't you enjoy giving me pleasure, Gracie?" he asked quietly.

"Of course I do!"

"Then show me."
Report Card
Cover
Characters
Plot
Writing
Steam
Overall:
1.5
Related Posts