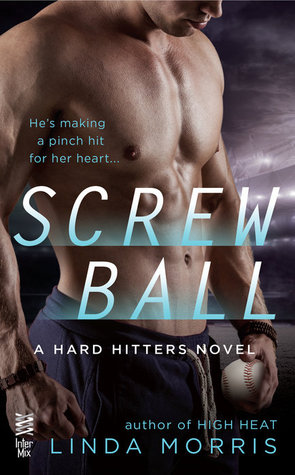 Screwball

by Linda Morris
Also by this author: Melting the Millionaire's Heart
Series: Hard Hitters #2
Published by InterMix on September 15, 2015
Genres: Contemporary Romance, Second Chance Romance
Character(s): Baseball Players
Pages: 227
Goodreads

 Buy the Book


Passion dominates the diamond in the second novel in this fun and flirty baseball romance series by the author of High Heat.

Paul Dudley, president of the Plainview Thrashers, is spinning out of control. Preserving his family's baseball legacy in these tough times takes everything he's got, and constant clashes with his father have left him struggling for authority over the team and even his own future. So when sports reporter Willow Bourne, a one-night-stand from a year ago, walks back into his life, he knows he can't give into his feelings for her—no matter how strong they are.

Willow never expected to see Paul again, and she's got her reasons for keeping her distance. Except the more time she spends around Paul, the harder it is to hide her secrets—or stop herself from falling head over heels.

As the sparks between them fly, Paul discovers what Willow has been concealing from him, leaving him with a difficult choice—keep the team his top priority or make his own legacy by following his heart…
Kassiah: This book was all right. I don't know how to tell you about this book without spoiling it somewhat, but I'll try.
A year ago, Willow and Paul hooked up. Now, Willow is a sports blogger and has to do an interview on Paul, who she didn't know anything about (other than his intimate details) until she meets him officially. He is very controlled in his business life and personal life, and Willow has a secret. The two of them still have some chemistry, but her secret will rock Paul's world, and not in the way she did when they met the year before. Add to that a bunch of family drama, and there you go.
This story didn't stand out to me in any way. I didn't really love any of the characters, and this trope pretty much never makes sense to me. This is a baseball story, and I have to admit that I'm partial to other sports, but I didn't find that there was much about baseball in it. I liked the way Morris writes and the pacing of the story was fine, but I had a hard time connecting with the characters or caring about them. I honestly don't know why I kept reading, except that it is a quick read, and I was interested in what happened after Paul found out what Willow was hiding. Also, I hate the title of this book. I know, that's being picky, but I really don't like it.
With forgettable characters and a storyline that was just okay, Screwball shouldn't be at the top of your TBR this month.
This is my bio. It will be updated whenever Meg writes one for me.
Report Card
Cover
Characters
Plot
Writing
Steam
Overall:
2
Related Posts