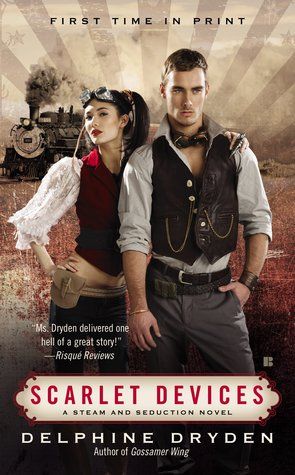 Scarlet Devices
by
Delphine Dryden
Also by this author:
Gossamer Wing
Series:
Steam and Seduction #2
Also in this series:
Gossamer Wing
Published by
Berkley
on February 4, 2014
Genres:
Science Fiction
Pages:
304
Goodreads
Buy the Book
DRIVEN TO WIN.
DRAWN TO LOVE.

Fresh from university, Eliza Hardison is determined to crusade for workers' rights until her cousin Dexter, the Makesmith Baron, prevails on her to represent Hardison House in the American Dominion Sky and Steam Rally.

The competition is fierce, but only one opponent really matters to Eliza. Dexter's protégé, Matthew Pence, was always like a big brother to her. But now she's grown up, and Matthew has made a break from Hardison House with his own business venture—and made his own entry in the rally.

Matthew intends to win while keeping Eliza safe on the perilous route from New York to San Francisco. As the threats escalate through treacherous skies and uncharted American wilds, though, Eliza and Matthew must work together, discovering a bond deeper than either could have imagined…but is winning the rally more important than winning at love?

Betsy: I don't mind saying I was very much looking forward to reading Scarlet Devices by Delphine Dryden, the second book in her steampunk series Steam and Seduction. The first book Gossamer Wing in the series was my introduction to the world of steampunk and I loved it. This book was no disappointment. Slightly different in flavor from its predecessor, it nevertheless delivers a rocking good tale filled with adventure, quirky characters and yes steam in all its varying presentations.
We meet Eliza Hardison, cousin to Dexter, the Makesmith Baron and hero from Gossamer Wing. She is 'bluestocking' and fits very uncomfortably in this man's world. She is, however, unafraid of stirring the pot with somewhat unfortunate consequences at times. She is a young woman on the cusp of taking her place in the world, if only she knew what that was going to be.
Enter Matthew Pence, Eliza's childhood friend, and occasional tormentor, often her protector and the infernal voice of reason. He has always viewed Eliza as a sort of younger sister and often infuriated her by preventing her more dangerous hijinks. But Eliza is all grown up now and Matthew is gobsmacked and drawn to her in ways that have nothing to do with brotherly oversight.
The action takes place during a very interesting rally combining steam cars and dirigibles. Both Matthew and Eliza are entrants in the Steam and Sky Rally traversing the Dominions from east to west coast. The way is not easy and fraught with a campaign to discredit Eliza by some very officious temperance ladies and an apparent conspiracy to stop the race from taking place.
There is terrific UST between inexperienced Eliza and sweet protective Matthew. There are not a lot of steamy scenes, but what is there is perfect for these characters and very, very steamy.
I loved this story. It has the interesting machinery of steampunk, wild west atmosphere, pirates in air ships and a well done romance with the perfect amount of steam. Very fun. I'm really looking forward to more in this series. (oh and I loved how many times I got to use the word steam in this review!)
Report Card
Cover
Characters
Plot
Writing
Steam
Overall:
4.5
Related Posts