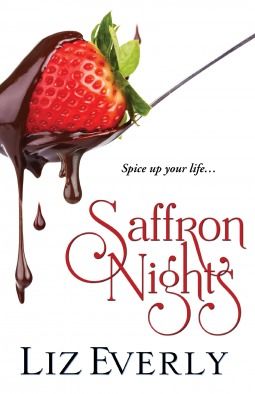 Saffron Nights
by
Liz Everly
Series:
Saffron Nights #1
Published by
Kensington Books
on February 7, 2013
Genres:
Erotica
Pages:
220
Goodreads
Buy the Book
Wherever they travel, there's an aphrodisiac waiting to whet their appetites…

Brazil…Hawaii…India….As a food writer, Maeve has just been handed the hottest opportunity of her career. She's being sent on an international research tour for an aphrodisiac cookbook. The downside is that she has to travel with rock star photographer and womanizer Jackson Dodds. And the upside is that she has to travel with Jackson Dodds. Because once they meet, Maeve understands why he's been named "America's Most Eligible Bachelor"—and despite her best intentions, all she can think about is putting their arousing recipes to the test…

Sexy and talented, Jackson can have any woman he desires. But lately, the thrill is gone—until he lays eyes on Maeve, who exudes sensuality like no one else. She's determined to keep things professional, but he knows the attraction is mutual. And as they travel the world, sampling warming saffron, juicy papaya, silky avocado, rare herbs and teas—and a mushroom whose very aroma sends women to heights of ecstasy—both discover a hunger they've never known, and don't want to resist, even amid unexpected danger…

MsKathy: So, I want to start by saying that I really wanted to love Saffron Nights. It combines food and writing, and I had such high expectations… and maybe that's my own fault.
This book has so many inconsistencies in the characters and set up just in the beginning section alone. There was so much emphasis placed on them either not knowing each other in person, and then there was emphasis on them having worked together for years on several books and knowing each other very well. I was confused, to say the least. The more I read, the more I became convinced this confusion had more to do with the way the words were put together than inconsistencies the author or editors overlooked.
I decided to just let that all go.
Then I got to the first half-lemon, between Jackson and some random woman on the beach.
He slipped into her, and she groaned into an orgasm. One stroke. Two. He exploded into Mulani, but thinking of Maeve.
Now, I don't know about you, but this scene goes from him barely touching her before, to her having an orgasm as he penetrates her. Then he literally strokes into her twice, and comes. This guy has been built up as this amazing sex god, fucking every woman he comes across basically, and then he's a two-pump chump?
Several pages later, the main female character is remembering an intimate moment with her semi-boyfriend Mark, as a friend of Mark's watches.
He slid himself into her and rocked once, twice, three times, and he was spent.
…
So, yeah. I personally wasn't finding the sex all that hot, or the main character all that sexy. The author repeatedly told me he was sexy, and that every woman he met wanted him, but that all fell flat for me.
I desperately wanted to at least keep reading until after the first real lemon between the two main characters. I made it that far. I will say that, despite the (to me) insane and unbelievable circumstances leading up to it, their first time together was hot, and Jackson managed to last longer than before.
Ultimately, I had to flounce this book. I didn't feel connected to or particularly invested in any of the characters, and even as they dropped like flies in the background murder mystery element, I felt … disinterested. I didn't care enough to find out if the two emotionally broken people who can't love continued to fuck, or rode off into the sunset living happily ever after, somehow, becoming unbroken together.
There are a few punctuation errors scattered throughout, and a typo or two that I found in the 46% of the book (according to my Kindle) I got through. There were several sections I had to re-read because either it wasn't clear who was speaking, or the text was just downright confusing.
Related Posts