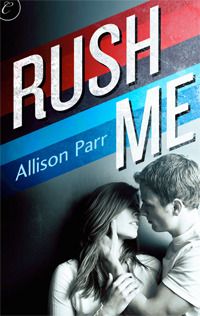 Rush Me
by
Allison Parr
Also by this author:
Imaginary Lines
Series:
New York Leopards #1
Also in this series:
Imaginary Lines
Published by
Carina Press
on April 8, 2013
Genres:
New Adult
Pages:
246
Goodreads
Buy the Book
When post-grad Rachael Hamilton accidentally gatecrashes a pro-athlete party, she ends up face-to-face with Ryan Carter, the NFL's most beloved quarterback.

While most girls would be thrilled to meet the attractive young millionaire, Rachael would rather spend time with books than at sporting events, and she has more important things to worry about than romance. Like her parents pressuring her to leave her unpaid publishing internship for law school. Or her brother, who's obliviously dating Rachael's high school bully. Or that same high school's upcoming reunion.

Still, when Ryan's rookie teammate attaches himself to Rachael, she ends up cohosting Friday night dinners for half a dozen football players.

Over pancake brunches, charity galas, and Alexander the Great Rachael realizes all the judgments she'd made about Ryan are wrong. But how can a Midwestern Irish-Catholic jock with commitment problems and an artsy, gun-shy Jewish New Englander ever forge a partnership? Rachael must let down her barriers if she wants real love–even if that opens her up to pain that could send her back into her emotional shell forever.

Kassiah: For some crazy reason, Ryan Carter is my favorite type of guy. He's complicated and rude and hot and swoony. He's only one of the reasons that I think you'll love this book.
Publishing intern Rachael Hamilton walks into the wrong party and finds herself surrounded by rich, beautiful people that she doesn't know at all. She's seeking a little respite from the revelry when she runs into Ryan Carter. There's pretty much instant chemistry between the two of them, but she's not looking for a hookup and he's not interested in anything else. Besides, he can't believe that she just accidentally wandered into world.
"Oh, come on. You're looking for privacy in a bedroom?"
Turns out, Ryan Carter is a pretty big deal. The quarterback for the New York Leopards NFL team, Ryan Carter is beautiful and has the ego to go with his god-like body. He's often described as angelic, with honey-blond hair and sky blue eyes. He's also fiercely loyal and doesn't have time for gold-diggers. He can't believe that Rachael doesn't know who he is and doesn't trust her at all.
After some charged banter between Rachael and Ryan, Rachael leaves the party, only to realize she left her scarf behind. She returns the next day and ends up hanging out with some of the other players on the team, including Abe, who is Jewish like Rachael. Abe asks her to observe Shabbat with him, and some of the other guys want to attend. Thus new friendships are formed, and Ryan isn't happy about it since he doesn't trust her intentions. There's also the small problem that Ryan and Rachael can't seem to figure out if they're in love with each other or hate each other.
"Because I never know where I stand with you. Because each time I make a move you turn it down. And then the one time I do nothing, you kiss me, and now I don't know what you want."
I loved a lot of things about this book, especially the authentic relationships between all of the characters. Rachael's friends and Ryan's teammates made this story so multi-dimensional. Rachael was great, though sometimes totally misguided, and I liked her snarky personality. I also loved Ryan. He was hot and funny and said some sweet things.
"That dress looks like it's meant to be taken off."
What didn't I love? The hot and cold got old for me. They were so on and off, I could barely keep up with them. Both Ryan and Rachael would go from mean to turned on to mad to hot to mean to fighting to halnvoeihfgoenf OMG get it together! There was also some stuff, where Rachael kept pushing an issue and I wasn't sure if it was really because she wanted the challenge of getting him to give in or if it was because of her genuine feelings for him.
In spite of this, I really did love this story and can't wait for more of these characters. The ending was perfect, too. If you're looking for a fun New Adult story that's a quick read with characters you'll love, give Rush Me a try. It's awesome.
Report Card
Cover
Characters
Plot
Writing
Steam
Overall:
4
Related Posts