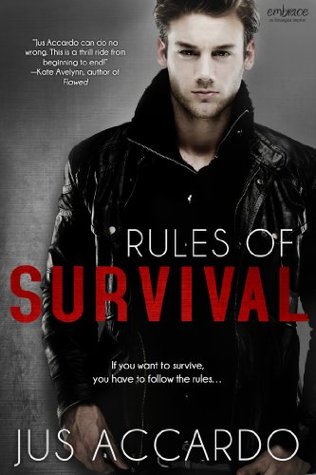 Rules of Survival
by
Jus Accardo
Published by
Entangled: Embrace
on June 2, 2014
Genres:
Forbidden Love
,
New Adult
,
Opposites Attract
,
Romantic Suspense
Character(s):
Bounty Hunters
Pages:
202
Goodreads
Buy the Book
If you want to survive, you have to follow the rules…

Mikayla Morgan is wanted for her mother's murder. She's been on the run for almost a year now, avoiding not only the police but the real killer. Tired of running and desperate to clear her name, she breaks one of the most sacred rules: never return to the scene of the crime.

Every bounty hunter on the Eastern Seaboard is after the Morgan girl—but Shaun Denver and his partner snagged her. She's a piece of work, and Shaun can't decide if he wants to kiss her or kill her. When things take a sharp turn south, Shaun does the only thing he can think of to keep her close—he handcuffs them together.

As the danger mounts and the killer closes in, the chemistry between them threatens to explode. Shaun and Kayla will need to break all the rules if they hope to get out of this alive.
Erin: What could be better than romance and suspense mixed together for one fun, exciting book? If that sounds like your cup of tea, then make sure you check out Rules of Survival by Jus Accardo. Bounty hunters, heroines on the run from ruthless killers, handcuffs, and lots of romance are just a few of the things you can look forward to in this book.
Mikayla Morgan is on the run for her life from the people who murdered her mother and the bounty hunters sent to catch her. When bounty hunter Shaun Denver finally captures her, well, predictably things don't go quite as planned for either of them. Mikayla has to throw her mother's rules while on the run out the window, and Shaun, he can't quite decide what to do with sassy, feisty Mikayla. So he does what any guy in that situation would do … he handcuffs them together. This definitely makes for some thrilling scenes. While the writing was a bit choppy in places, the characters were compelling enough to keep me interested. This is a fast paced, action packed book full of fun and surprises.
Report Card
Cover
Characters
Plot
Writing
Steam
Overall:
3.5
Related Posts