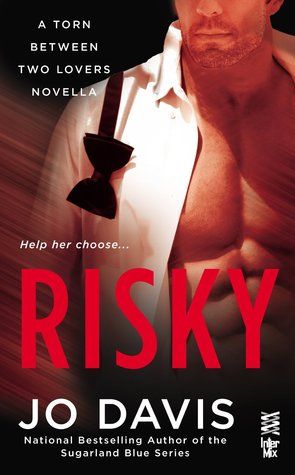 Risky
by
Jo Davis
Also by this author:
RAW
,
Rewarded
Series:
Torn Between Two Lovers #2
Also in this series:
RAW
,
Rewarded
Published by
InterMix
on November 19, 2013
Genres:
Contemporary Romance
Pages:
80
Goodreads
Buy the Book
Torn Between Two Lovers is a gripping and sexy romance trilogy with a unique twist: Our heroine needs your help to decide who wins her heart…RISKY is the second novella in this sizzling new series, in which two enticing men will vie for Anna's heart—culminating in a choice that will be determined by reader vote!

Still hurting badly from Grayson Sloan's betrayal, Anna Claire meets Joaquin Delacruz—and she is completely won over by the wealthy and sophisticated casino mogul. Joaquin is like no one else she's ever known—insanely sexy, passionate. . .and extremely dangerous.

Joaquin's fortune is built on crime; but unlike Gray, he hides absolutely nothing from her. Soon she finds herself ensnared in the web of a powerful, magnetic man who can't—and won't—promise her forever.

But Joaquin is used to getting what he wants, and he wants Anna. He is even starting to dream of going legit and living a normal life, with Anna by his side. That is, if Anna's ex, the FBI agent who is his most hated enemy, doesn't get in his way. . .

So, will you join #TeamJoaquin or #TeamGrayson? Make the informed choice: Check out RAW, the first in the series, and REWARDED, where Anna's decision will be revealed, in February 2014

Kassiah: Risky picks up pretty much right where Raw ends, with Anna meeting Joaquin on the beach at the resort in Aruba that she fled to after being betrayed by Gray. Despite his dangerous exterior and her heart being broken so recently, Joaquin intrigues Anna and she agrees to go to dinner with him.
When she'd met Gray, the attraction had been more of a slow burn as he flirted with her in the restaurant each day. But this? Never before had desire slammed her so forcefully, so fast. And for a dangerous man, too, if Joaquin's faithful shadow [bodyguard] was any indication.
He immediately sweeps her off her feet and lays it all out for her–he wants to get to know her better and comes clean about his original intentions to get close to her to spite Gray. She falls for him and accompanies him back to his estate when his trip is cut short due to a business emergency. I'm not going to tell you what happens, but it certainly ends with some drama, and I definitely want to see what happens when Rewarded, the conclusion to the series, hits e-readers in February.
Suprisingly, I liked Risky a little more than I liked Raw. I didn't expect to find myself liking Joaquin at all. I do like him, and though I understand Anna's reluctance to trust Gray ever again, I don't understand how she can allow herself to fall for someone in the mafia. Sure, he says he's going straight, but so what? His original intention was to get to know her to get back at his nemesis, so he and Gray aren't that different in the telling lies department. Joaquin just laid it out earlier than Gray did.
With that being said, I'm not saying that I'm #TeamGray. I thought that I would be, but now I don't know. What I do know is that I don't like Anna. I don't believe that she could be so heartbroken over Gray and literally sleeping with someone else two days later. I think Davis did a much better job of developing the story with this novella than she did with Risky, and I think that judging by the chemistry and insta-lust that developed between Anna and Joaquin, it's clear that she's #TeamJoaquin.
What do I think will happen? Well, it's all up to the voters but if you want to know what I think, you can highlight the spoiler:
View Spoiler »She had unprotected sex with both of them, and I wonder if there will be a pregnancy involved. I think she'll end up with Gray because Joaquin gets killed but that the baby will be Joaquin's. « Hide Spoiler That could be too soap-opery. LOL
Regardless of who Anna ultimately ends up with, the choose your own adventure-eqsue idea for this story is amazing, and I can't wait to see how it pans out. Grab your copies of Raw and Risky and then go vote on Facebook, now through December 10!
Report Card
Cover
Characters
Plot
Writing
Steam
Overall:
3.5
Related Posts