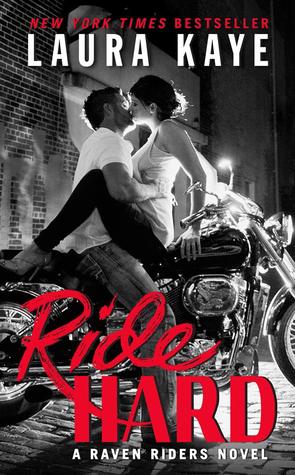 Ride Hard
by
Laura Kaye
Also by this author:
Hard As It Gets
,
Hard As You Can
,
Hard To Hold On To
,
Hard To Come By
,
Hard To Be Good
,
Hard as Steel
,
Hard Ever After
,
Ride Rough
Series:
Raven Riders #1
Also in this series:
Ride Rough
Published by
Avon Books
on April 26, 2016
Genres:
Contemporary Romance
,
Romantic Suspense
Character(s):
MC/Bikers
Pages:
320
Goodreads
Buy the Book
Brotherhood. Club. Family.

They live and ride by their own rules.

These are the Raven Riders . . .

Raven Riders Motorcycle Club President Dare Kenyon rides hard and values loyalty above all else. He'll do anything to protect the brotherhood of bikers—the only family he's got—as well as those who can't defend themselves. So when mistrustful Haven Randall lands on the club's doorstep scared that she's being hunted, Dare takes her in, swears to keep her safe, and pushes to learn the secrets overshadowing her pretty smile.

Haven fled from years of abuse at the hands of her criminal father and is suspicious of any man's promises, including those of the darkly sexy and overwhelmingly intense Ravens' leader. But as the powerful attraction between them flares to life, Dare pushes her boundaries and tempts her to want things she never thought she could.

The past never dies without a fight, but Dare Kenyon's never backed down before . . .
Erin: Laura Kaye is one of my auto-buy authors and her newest book, Ride Hard, is exactly why. Sexy, suspenseful, fast-moving, this one had me flipping the pages one after the other until I got to the end. I could NOT put this one down, folks.
When I saw that Dare Kenyon was going to get his own book, I squeed so loud dogs could probably hear me. We've seen him before in the Hard Ink series, but he was just this fringe character. Oh you definitely knew he was there, but oh boy was I glad to get to know him more. And then as he gets closer to shy, beautiful Haven Randall, well we get all kinds of peeks into his character.
I really liked these two together. It took me a little bit to warm up to Haven, but once some of her backstory came to light, I understood her better and then I was all in. Laura Kaye has this way of totally grabbing you from the get go and she doesn't let up as the story moves along. The pace is always quick, and you can count on some sassy talk mixed with plenty of sexual tension and steamy times.
"Then what do you want?" she asked, meeting his intense gaze.

"You, Haven. Always you. I'm fucking starving for you. All the time. You think you're not wanted? I want you. I want you so much I don't know what I'm doing half the time. Every minute of every day, all I can think about is you." Breathing hard, eyes flashing, Dare loomed over her, the words hanging in the tight space between them.

And they were the most amazing, life-giving words anyone had ever said to her. Which made her know exactly what to say. "Then have me."
*Hot, hot, hot!*
She writes kisses like few can and since kissing happens to be one of my favorite things to read, I'm always a very happy girl.
I also like the dual POV's. Not every author can pull this off, but Laura Kaye is an expert. Ride Hard was everything I hoped it would be and absolutely can't wait for the next one! Bring on more Raven Riders!!
Report Card
Cover
Characters
Plot
Writing
Steam
Overall:
4
Related Posts