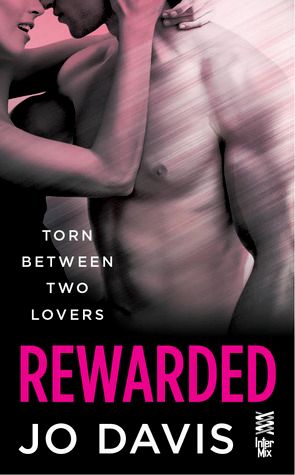 Rewarded

by Jo Davis
Also by this author: RAW, Risky
Series: Torn Between Two Lovers #3
Also in this series: RAW, Risky
Published by InterMix on March 18, 2014
Genres: Contemporary Romance
Pages: 80
Goodreads

 Buy the Book


Your hearts were swayed, and your votes were counted.
Now, Anna's decision is revealed in the conclusion to this uniquely enthralling series.

Joaquin Delacruz never thought he'd see the day when he'd beg for the FBI's help—especially when that involved working with Special Agent Grayson Sloane. And Gray is no more eager to work alongside the criminal who stole Anna's heart and exposed her to his dangerous world.

But with Anna held captive by a lethal enemy, Joaquin and Grayson will need to set aside their jealousies or risk losing the woman they both love.

Emotions are bound to explode, with near-catastrophic consequences. By the time Anna realizes which man truly owns her heart, body, and soul, it may be too late to save him…

"The Torn Between Two Lovers trilogy is an interesting premise and takes on something that all readers ultimately want: the ability to choose the heartthrob for the heroine."—Steamy Guys After Dark blog

Kassiah: Even before I read the first book of this series, I've said that this is one of the most interesting concepts I've ever read. A sort of Choose Your Own Adventure book for grownups, if you will. Click to read a brief synopsis if you want to catch up to what happened before the last installment of the series: View Spoiler »In Raw, we were introduced to our heroine, Anna and Gray, an FBI agent working undercover in Anna's restaurant to infiltrate a drug ring. Lines were blurred, and Anna and Gray developed feelings for each other. When she found out his betrayal, she turned to Gray's nemesis, mob boss Joaquin in the second part of trilogy. Joaquin and Anna had a blazing hot love affair, but there was trouble in paradise when Anna was kidnapped at the end of Risky. Which leads us up to the beginning of Rewarded: Anna is being held captive, and Joaquin has to turn to Gray to get her back. « Hide Spoiler
This was the best of the three. I thought I knew who Anna's choice was going to be (and I'm not going to reveal that here!), but throughout the story I honestly didn't know who she was going to pick until she chose him. I was pleasantly surprised that things turned out the way they did. Though there were quite a few cliches, the characters were more developed and their feelings seemed more authentic in Rewarded than in the previous novellas.
"Don't distance yourself. I'd like to think we can be friends." She cringed at how trite that sounded, but she meant it.

"Maybe one day, when I'm not quite so raw. I took a risk, loving you, and it didn't pay off. Give me time to lick my wounds." His attempt at teasing didn't quite come off.

"I'm so sorry."

"Don't be. All I ever wanted was you to be happy, Anna. I still mean that."
I liked Gray's partner and Anna's mom. They both gave really great advice.
There were some things I didn't love, like the language of the lemons and the goading between the men. I also would have liked more from Anna–I never really liked her much, but that's really no surprise.
No matter how you slice it, this was a monumental idea, and I loved it. By allowing her readers to vote and decide who the heroine would ultimately end up with, Davis is at the forefront of what hopefully will be a trendsetting wave. I'm definitely down for the ride.
Report Card
Cover
Characters
Plot
Writing
Steam
Overall:
3.5
Related Posts