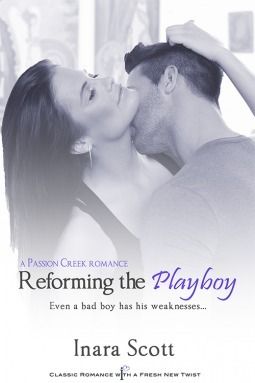 Reforming the Playboy
by
Inara Scott
Also by this author:
Seducing the Girl Next Door
Series:
Passion Creek #1
Also in this series:
Blackmailed by the Billionaire Brewer
Published by
Entangled: Indulgence
on December 17, 2013
Genres:
Contemporary Romance
Pages:
200
Goodreads
Buy the Book
Five years ago, she left without a word…

Internationally-renowned artist Max Estin is as well known for his million dollar commissions as he is his partying and clubbing. But Max is hiding a secret—for almost a year he's been completely blocked. Unable to paint. And to unlock his art, and save his career, he's going to need the one woman he never wanted to see again.

Now, he's determined to make her pay…

Kira Butler never told Max exactly why she left, or what secrets forced her to return home to Passion Creek so abruptly. So when a chance reunion turns to seduction, Kira is more than a little suspicious. She knows better than to trust Max, but can't fight the fire that he lights in her body—or her heart. But when everyone is hiding a secret, can even the hottest passion survive?
Kassiah: Kira Butler deals with her beloved aunt's recent death by focusing on her art studio, where the members of the small community of Passion Creek come to paint their own ceramics. Though she's never forgotten Max Estin, the love of her life, she certainly never expects to see him again. He's now a world-renowned artist and international playboy, and she knows there is no way he could ever forgive her for leaving him with absolutely no warning back when they were in college five years ago. When a collection of drawings that Max made of Kira when they were together are bequeathed to Max in her aunt's will, Kira knows the only way to keep them out of the press is for her to beg Max not to sell them.
Max never understood what happened to make Kira leave him so suddenly, and she's the last person he expects to hear from out of the blue. Though he's the darling of the art world, he's hit a creative block. Agreeing to consider not selling the pictures, Max ultimately has another plan in mind for his muse.
That's when everything changed.

That's when he realized he could purge her from his memory at the same time he punished her for walking away.

All he had to do was make love to her.

The plan was diabolically simple. He would seduce her, little by little. He would make her want him as deperately as he'd wanted her, and then he'd walk away. Leave her behind just as she'd left him.
I loved Kira and Max's chemistry, in present day and in the flashbacks we get to see of them. I especially loved the car sex:
"I don't think I'll fit," she whispered, trying to tuck her knees on either side of his hips, hitting the emergency brake on one side and the door handle on the other.

"I think you'll fit," he said, nuzzling her neck, giving her a tiny bite.

She giggled. "Max, stop it!"

…

She leaned her forehead against his shoulder, smother a gasp into his neck. He moved his grasp lower, under her skirt, finding the naked skin of her buttocks and pulling her more tightly against him.

"Fuck me," he breathed into her ear. "I can't move."
I loved the history that these two shared and the fact that Max didn't hesitate to call Kira out for being a chicken.
"There's a place between fear and bravery."
I didn't really understand the reason that Kira didn't tell Max why she was leaving; sure, she explained it, but I didn't buy it. Neither did he, and I'm really glad about that. It doesn't take long for them to realize that they can't just turn their feelings off like a light switch.
"You were my compass, and without you I was lost."
I love reunion stories so much, and Reforming the Playboy was was heartfelt, sweet, and hot. I definitely recommend.
Report Card
Cover
Characters
Plot
Writing
Steam
Overall:
4
Related Posts