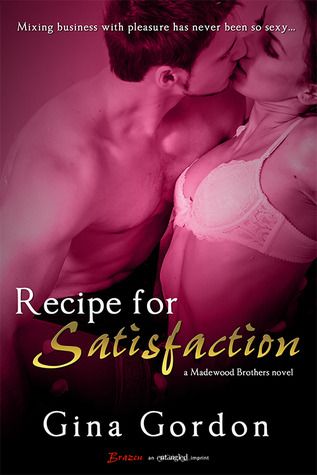 Recipe for Satisfaction
by
Gina Gordon
Also by this author:
Recipe for Attraction
,
Rush
,
Recipe for Temptation
Series:
Madewood Brothers #1
Also in this series:
Recipe for Attraction
,
Recipe for Temptation
Published by
Entangled: Brazen
on December 31, 2012
Genres:
Contemporary Romance
,
Erotica
Pages:
160
Goodreads
Buy the Book
Being the financial caretaker for her deadbeat parents isn't the life professional organizer Sterling Andrews dreamed of. Tired of being the dependable—and boring—daughter, Sterling decides to have a little fun. And what could be more fun than seducing rich bad boy chef, Jack Vaughn? Except, after one scintillating night together, Sterling's not only lusting for Jack, she's working for him. And remaining professional becomes harder every day.

Already a major success thanks to his exclusive restaurants, Jack Vaughn is looking for something more. Ultra responsible Sterling is unlike anyone Jack has met…but she's his employee. Unwilling to give her up, Jack makes Sterling an offer she can't refuse—for four sexy weekends, he'll indulge her most wicked fantasies with no professional strings attached. But will mixing business with pleasure spell disaster? Or will they find the recipe for satisfaction?

Kassiah: You guise. This. book. is. hot.
I'm not sure if it's because I've been reading mediocre smut lately or what, but I seriously loved this book.
Sterling Andrews meets bad boy Jack Vaughn when her friend drags her to a fundraiser benefiting a charity that his recently-passed-away mother started. Sparks between the two immediately ignite.
"I had every intention of being a nice guy tonight, but now…"

"Now?"

He'd been thinking about a naked Sterling all night. Women usually wanted something first–for him to spend his money. But this woman just wanted…him. And she could have him. Only for the night. There was no sense in getting attached when he was just going to take off in a few weeks.

"Now I want nothing more than to kiss you."
There's a lot that I can say about gorgeous Jack Vaughn. He's beautiful. He's a chef. He has tatts. His tongue is pierced. He wears button fly jeans. *grin* He knows what he wants.
"Please, Sterling, let me have you."
Their night of debauchery is cut short when Sterling gets a phone call, alerting her to the fact that her parents have been running up her credit cards again. Jack is only planning to be in town for the next month, and in that time, he needs to pack up his mother's belongings. He hires Sterling for the job. And he has a proposition for her:
"I have four weeks until I need to take off again. For the next four Saturdays, you belong to me."

Shock and excitement registered on her face. "Belong…to you?"

"All week you can be Boring Sterling. On the weekends we're going to indulge your fantasies. But I have one stipulation."

She folded her arms across her chest. "What about my stipulations?"

Of course she had stipulations. She was probably formulating a list in her mind at this very moment.

"Me first."

"Okay."

"If you accept, you have to leave everything at the door. Forget what you've been told, all the preconceived notions of who Sterling is, and just enjoy."

She hesitated for only a moment before she said, "What about the job? You hired me. I only wanted a one-time thing and I–"

"Let's make it a four-week thing and I promise you, we'll work by day, and play by night. The two shall never overlap."
You know what happens. Counter sex. Beach sex. Public sex. Motorcycle sex. It's hot. And then the shit hits the fan, and when it does, it really does. It's all worth it in the end, though, and I loved it!
What didn't I like? There were some words that made me cringe (like "channel" ewwww). I also didn't love that he was so wishy-washy about their relationship. Not every woman in the world is after the same thing. I loved that she had a backbone, though, and stood up to him.
Recipe for Satisfaction is a story with two strong characters that I really liked and a storyline that was realistic. I loved the lemons and loved their relationship even more. I seriously can't wait to read more from this author.
Related Posts