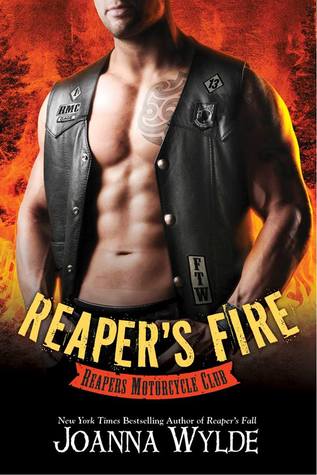 Reaper's Fire
by
Joanna Wylde
Series:
Reapers MC #6
Published by
Berkley
on August 9, 2016
Genres:
Contemporary Romance
,
Forbidden Love
,
Love After Loss
,
Mistaken Identity
,
Opposites Attract
,
Player Falls in Love
,
Romantic Suspense
Character(s):
Bad Boys
,
Contractors/Builders/Construction Guys
,
MC/Bikers
,
Reclusive Heroes
Pages:
384
Goodreads
Buy the Book
It's time for more men and motorcycles in the latest from the New York Times bestselling author of Reaper's Fall...

The club comes first.

I've lived by those words my whole life—assumed I'd die by them, too, and I never had a problem with that. My Reaper brothers took my back and I took theirs and it was enough. Then I met her. Tinker Garrett. She's beautiful, she's loyal, and she works so damned hard it scares me sometimes . . . She deserves a good man—one better than me. I can't take her yet because the club still needs me. There's another woman, another job, another fight just ahead.

Now she'll learn I've been lying to her all along. None of it's real. Not my name, not my job, not even the clothes I wear. She thinks I'm nice. She pretends we're just friends, that I've still got a soul . . . Mine's been dead for years. Now I'm on fire for this woman, and a man can only burn for so long before he destroys everything around him.

I'm coming for you, Tinker.

Soon.
Kassiah: Tinker's back in her hometown, heartbroken and dealing with things in her life when she can't help but notice the enigmatic biker Gage, known to her as Cooper Romero. Trouble is, Gage/Cooper's got a girlfriend, but that doesn't stop the longing they both seem to feel for each other.
I'd grown a pussy. No other explanation, because I couldn't figure out why the hell else an adult man would sit holding hands under a damned blanked like a kid.
Add to that that all is not as it seems with Cooper. I don't want to give away too much, but his story is very interesting and had me captivated from the beginning.
As Tinker and Cooper/Gage grow closer (he's renting an apartment in her building in exchange for handyman services), they can't deny the sparks that are flying between them.
She gave a bright laugh. "I've probably got dirt all over. It's one of those grubby, sticky kind of days, you know?"

Sticky? In her mouth it was a dirty word, and I wanted to make her sticker. My eyes crawled across her body, watching as a bead of sweat rolled down her neck and into her cleavage. I liked my lips. Tinker cleared her throat, gently reminding me that we were in the middle of a conversation.
When they do finally get together, boom!
"There's a lot of ground to cover, so I'm gonna give you the short version for now," I said, catching and holder her gaze prisoner, sure as I held her body. "I haven't been free since I got here. Now I am, which means I'm taking what's mine."

Tinker swallowed. My cock hurt. Blood pounded through me, and I decided what she really needed was something bigger to swallow. Christ.

"What do you mean, you're taking…?" she asked, her voice thready and strained.

"I'm taking you," I said, nudging her legs apart with one knee. Now I felt her heat, and my hips swiveled again, starting a slow rhythm, mimicking what I'd be doing to her soon. Leaning down, I rubbed my nose slowly along her cheekbone. "You're mine now."
They had great banter, too.
"And it's not like we're a couple."

"My dick was inside you three hours ago," he replied, eyes narrowing. "I don't know what that makes us, but it's fair to say we've moved past landlord and tenant."
I loved that this story was told in dual-POV and how much story Wylde wove in here. From the very first page, I found especially Tinker totally relatable, which doesn't happen to me very often. I just wanted to hug her. I love that she's not a doormat and calls Cooper/Gage out on his shit.
"Here's something you should know about me, Gage. Sometimes I get beat. Sometimes I lose and life doesn't turn out the way I planned. Sometimes I even feel weak and collapse for a while, but here's the reality. I will never, ever give up and I will never give in."
I didn't love Gage all that much, since he refers to Tinker as a "bitch" in his mind the first time he meets her. He just rubbed me the wrong way. And I did question some things and thought everything ended up a little neat for how I thought it would all go down, but overall, I really enjoyed reading this one.
With a heroine you'll be rooting for and a sexy hero that's got more than meets the eye, this book is a refreshing read in a sea of overdone biker books. If you love MC/biker stories and want to read something with substance and a couple that has chemistry in spades, check out Reaper's Fire by Joanna Wylde.
Report Card
Cover
Characters
Plot
Writing
Steam
Overall:
4
Related Posts