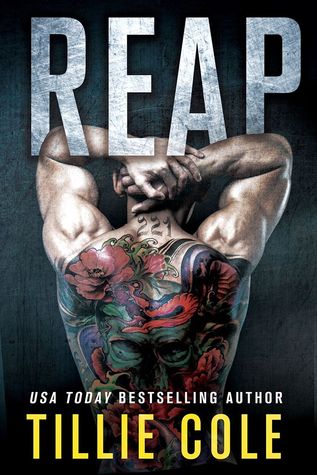 Reap
by
Tillie Cole
Series:
Scarred Souls #2
Published by
St. Martin's Griffin
on November 10, 2015
Genres:
Dark Romance
,
Enemies to Lovers
,
Forbidden Love
,
Science Fiction
,
Sobfest
Character(s):
Fighters
,
Mobsters
,
Tattooed & Pierced Bad Boys
Pages:
231
Goodreads
Buy the Book
Raised as a prototype for the Georgian Bratva's obedience drug, 221 fails to think, act or live for himself; his master's perfectly-crafted killing puppet. Standing at six foot six, weighing two-hundred and fifty pounds, and unrivaled in to-the-death combat, 221 successfully secures business for, the Georgian Mafiya Boss of NYC, in the dark world of the criminal underground. Until his enemies capture him.

Talia Tolstaia dreams to break from the heavy clutches of Bratva life. She dreams of another life-away from the stifling leash of her Russian Bratva Boss father and from the brutality of her work at The Dungeon--her criminal family's underground death match enterprise. But when she stumbles upon her family's captive who is more monster than man, she starts she starts to see the man underneath. A powerful, beautiful, damaged man whose heart calls to hers.

But sacrifices must be made--blood for blood... life for life... Souls for scarred souls...
Kassiah: I've never read anything like this book before. I have to admit that I didn't read the first book in this series, Raze, and I definitely feel like I need to go back and read that. I got what was going on, but I wish I had read Raze first.
I don't even know how to explain what this book is about. Zaal, aka 221, is basically a lab experiment in the flesh. He's physically perfect and under a drug that controls him and affects his perception, all under the control of the Russian mafia in a futuristic NYC. Talia is the MC from the first book's sister. He made a promise to someone that he would rescue 221, and intends to deliver on that promise. At first, Talia doesn't understand why he would agree to that (for reasons I won't explain since it will spoil Raze), but she goes along with it. It isn't long before she sees that there is more to Zaal than she thinks, and she can't help but fall for him.
This book is intense. It has many points of view, which I found to be confusing at times, but not too confusing. I really loved these characters, which kind of surprised me. I understood Talia. She was strong, yet still vulnerable at times, and Zaal…just wow.
Our desperate gazes met.

He took a deep breath. Then he whispered, "You are…for me?"

In that moment, I was every hope he'd had. I could see it; see it in those sea green eyes. He moved me. Completely moved something inside of me with those simple, earnest words.
I couldn't stop picturing him as Jason Momoa, and you know how I feel about him. *flails*
I seriously cannot wait to read more in this series, including going back to where it all began. The storyline is perfect, the characters are relatable, and it's just so real.
Report Card
Cover
Characters
Plot
Writing
Steam
Overall:
5
Related Posts