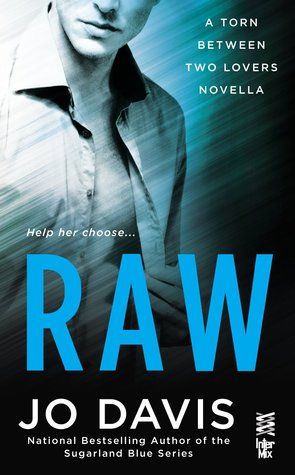 RAW
by
Jo Davis
Also by this author:
Risky
,
Rewarded
Series:
Torn Between Two Lovers #1
Also in this series:
Risky
,
Rewarded
Published by
InterMix
on October 15, 2013
Genres:
Contemporary Romance
Pages:
80
Goodreads
Buy the Book
Torn Between Two Lovers is a gripping and sexy romance trilogy with a unique twist: Our heroine needs your help to decide who wins her heart… RAW introduces this sizzling new series, in which two enticing men will vie for Anna's heart—culminating in a choice that will be determined by reader vote!

Anna Claire is a prominent restaurateur, the toast of New York. She's not one to let down her guard, but her new prep chef is gorgeous enough to cause her to break her own rules, and soon she's tearing up the sheets with Grayson James. More than that, she's falling in love.

Until she discovers that Grayson is no chef. He's an FBI agent investigating a drug ring he suspects is using her restaurant. Anna is shattered to learn she was just part of his cover.

The case means everything to Gray, right until the moment he loses what matters the most—not his intended target, but Anna. Gray is devastated when the woman he loves learns of his betrayal. Especially with his greatest enemy all too eager to take advantage of her…

So, will you join #TeamGrayson or #TeamJoaquin?

Kassiah: The Torn Between Two Lovers trilogy is an interesting premise and takes on something that all readers ultimately want: the ability to choose the heartthrob for the heroine.
Restaurant owner Anna Claire leads a solitary life, fulfilled only by success in her business.
A group of four was having some sort of celebratory gathering, and they looked happy as they toasted with champagne. At ease and on top of the world. A promotion perhaps, or the landing of a big account. An engagement or a pregnancy. Whatever the occasion, Anna couldn't help but feel proud they'd chosen her restaurant for their celebration.
Things change for her when she takes notice of prep chef Grayson James.
Their eyes met, and a strange flutter of butterfly wings took off in her stomach. Gray was looking at her as though she were the answer to every question he had, and it was wonderful. Confusing. Arousing.

"You're so beautiful," he said with reverence, touching her face with the pads of his fingers.

"I don't remember the last time anyone told me that."

"You deserve to hear that every single day, because it's true."

"Thank you." Drawn to him, she reached up and traced his lips with one finger. "You're a very handsome man yourself."

"I wasn't fishing."

"I didn't think you were." She paused. "Why me?"

His face registered in surprise. "Why am I interested in you?"

"Yes."

"Besides your beauty, you're smart, successful. Kind. I think you need to unwind a lot, and I want to help you do that."

God, he smelled good. Woodsy and manly, and it made her body ache to be touched. Completed.

"Then help me, Gray."
Turns out, he wants more than to help her unwind. He's an FBI agent, working undercover to take down a drug ring that is apparently operating out of Anna's restaurant. He has to determine who's responsible, including if Anna's in on it, and take them down. Gray doesn't count on real feelings getting in the way, and you can imagine what happens when she finds out the truth.
"I've had feelings for you since we first met. Don't you remember that? I wanted you as a man, not an agent and my feelings are real."
Unable to deal with the intensity of their relationship or Gray's betrayal, Anna runs off to Aruba, where she runs into Gray's nemesis, Joaquin Delacruz. Sparks are already flying, and we'll find out more about Joaquin and his desire to turn his back on his mob life in the second book in the series, RISKY.
I was surprised by how much story Davis was able to tell in so few pages and over such a short period of time. We get a real sense of both Anna's character and the kind of man Gray is when he's "off the clock." The richness of the world-building and character development was amazing. Not only do we get to know Anna and Gray, but we're introduced to Anna's mother, Gray's partner, and even learn about head chef Ethan's diva-like personality.
"You imbecile! Did you get your certification from a box of cereal? Did it come with a plastic toy inside, too?"
Even though I liked this story overall and love the idea behind it, there were things that I didn't like, too. There's unrealistic insta-love between Anna and Gray. She's been on her own all this time and just seems to fall into a trusting no-holds-barred relationship pretty quickly. The use of some words, like channel, squick me out, and there's some sexytimes stuff that I thought was totally out of character, especially for Gray.
With that being said, I have to admit that I'm totally intrigued by the idea for this trilogy. After the release of RISKY on November 19, readers will be able to vote on facebook for #TeamJoaquin or #TeamGrayson and decide who Anna will end up with in REWARDED, which is the conclusion to the series (available March 2014). You better believe we'll be all over that. In the meantime, you should check out RAW and get to know Grayson so you'll be ready to help Anna choose the right guy for her. Guess who I'm voting for.
Report Card
Cover
Characters
Plot
Writing
Steam
Overall:
3
Related Posts