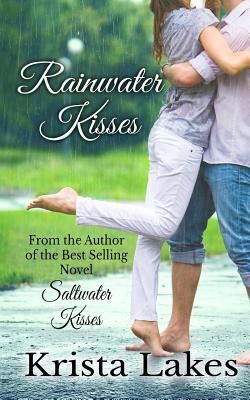 Rainwater Kisses
by
Krista Lakes
Series:
The Kisses Series #2
Published by
Self-Published
on August 7, 2013
Genres:
Contemporary Romance
Pages:
216
Goodreads
Buy the Book
The older sister of Emma LaRue wasn't looking for love. In fact, the last thing Kaylee LaRue thought as she attended her sister's Caribbean wedding was that she would meet a man as confident as Owen Parker. The suave businessman oozed charm, and when that charm was directed at Kaylee, it gave her pause. She couldn't be sure if the man was actually interested in her or just interested in a good time.

In reality, Owen Parker had never met anyone like Kaylee LaRue. The quiet girl from Iowa made him forget to breathe the first time he saw her. When he tried to work his magic, her wit proved to be a match for his, and his charms had no effect. He knew what it looked like- she probably thought that he wanted to have a vacation tryst with her just as Jack Saunders had with Emma. Nothing could be farther from the truth.

Kaylee tried hard not to yield to his advances, but their last night in the Caribbean was simply magical. After a passionate night spent in the arms of Owen, Kaylee ruefully observed that there was no fake wedding to keep the two of them together. As she flew home, she thought it'd be back to the same old life for her. She never expected Owen to show up at her door.

However, this small town girl wasn't sure she was ready to change for this city boy. When Kaylee tried to fit into Owen's world, everything came crashing down. In the blink of an eye, what seemed like a strong foundation suddenly found itself built on a pillar of sand. Would their relationship blossom like Jack and Emma's, or would the two of them forever be haunted by the memories of rainwater kisses?

Sandi: This was a really fast read! I hadn't read the story that came before – Saltwater Kisses: A Billionaire Love Story – but I knew something had to have because the first few pages seemed to be a recap of that book. Which was unfortunate, since the first-person narrator didn't seem to identify herself right away. This left me a little unsettled for a bit.
Overall, we begin with Caribbean Billionaire Fantasy Moments and it's all very cute when Hot and Hunky Billionaire is flirting with Our Heroine, Kaylee. He does it too strong, though, and she isn't immediately acquiescent.
That changes. Owen, Our Hero, finally gets it right and then we go from UST to …
Well, I'll leave the details in the Man Cave, shall I?
There are some tensions as Regular Iowa Girl and Globally Active Billionaire try to have a Meaningful Relationship. I do not personally know any billionaires so I don't know how accurate these things were portrayed overall, but it was cute that he went so far out of his way for her.
Things come to a head in a scary moment abroad and it's a game changer. For both Our Hero and Our Heroine.
And then, of course, more swoon. 🙂
Fast read. Cute read. Fluffy read (except for the scary moment abroad). It read rather like a fairy tale for the sexually aware. Recommended for those who like a hot gloss. 🙂
Report Card
Cover
Characters
Plot
Writing
Steam
Overall:
3
Related Posts