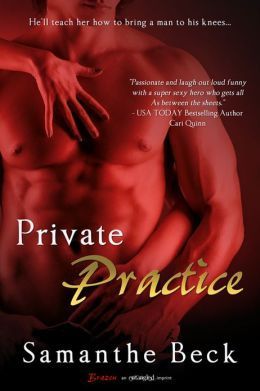 Private Practice
by
Samanthe Beck
Also by this author:
Lovers Unmasked
,
Lover Undercover
,
Emergency Engagement
Published by
Entangled: Brazen
on February 23, 2013
Genres:
Contemporary Romance
,
Erotica
Pages:
263
Goodreads
Buy the Book
He'll teach her how to bring a man to his knees…

Dr. Ellie Swan has a plan: open her practice in tiny Bluelick, Kentucky, so she can keep an eye on her diabetic father, and make hometown golden-boy Roger Reynolds fall in love with her. But Ellie has a problem. Roger seeks a skilled, sexually adventurous partner, and bookish Ellie doesn't qualify.

Tyler Longfoot only cares about three things: shaking his bad boy image, qualifying for the loan his company needs to rehab a piece of Bluelick's history, and convincing Ellie to keep quiet about the "incident" that lands him on her doorstep at two a.m. with a bullet in his behind.

The adorable Dr. Swan drives a mean bargain, though. If sex-on-a-stick Tyler will teach Ellie how to bring a man to his knees, she'll forget about the bullet. Armed with The Wild Woman's Guide to Sex and Tyler's lessons, Ellie is confident she can become what Roger needs…if she doesn't fall for Tyler first.

Kassiah: Private Practice is a hot, quick read that I think you'll really enjoy.
Dr. Ellie Swan returns to her hometown to open a practice and help take care of her diabetic father. After learning that long-time crush Roger has called off his ten-year engagement, Ellie sets out to make him hers.
She'd had the dream, in one form or another, for as long as she could remember: Roger fell in love with her. They married, moved to one of the stately old houses overlooking the river, and lived happily ever after, preferably with a passel of blue-eyed, honey-haired mini-Rogers.
In an effort to be the woman Roger needs, she decides to get "sex lessons" from resident bad boy Tyler Longfoot.
"You're very experienced in a particular area where I'd like to increase my…um…competency."

She glanced at him, absently worrying her lower lip between her teeth. The gesture caused an uncomfortable tightening in his groin. "You want to learn how to build a house?"

"I'm talking about sex," she said, setting her lip free, so now it was just her deep, brown gaze grabbing him by the balls. "You've been honing your talents since you were a teenager. If the gossip can be believed, you enjoy a sex life most guys only dream about."

"Hey, now, you can't believe everything you hear."

But a highly ambitious part of him begged to disagree. It begged him to part her slippery pink robe and show her things she'd only dreamed about.
You know how it goes–nothing goes according to plan and soon Ellie and Tyler find themselves wanting more than the original five sessions they've planned. This book was fun–Ellie was smart and snarky, and though she could be naive, I really liked her. Tyler was sexy and the perfect amount of vulnerable. I liked both of their characters and after I was able to get past the kind of unbelievability of the story, I really found that I liked it. This is Samanthe Beck's debut, and I can't wait to read more from her! If you're looking for a quick, sexy read, this is the story for you.
Related Posts