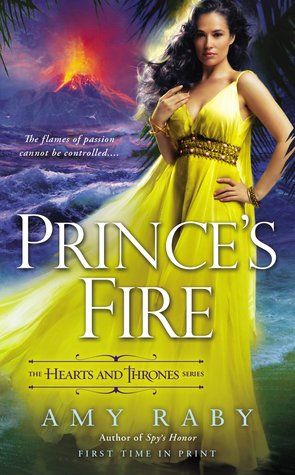 Prince's Fire
by
Amy Raby
Series:
Hearts and Thrones #3
Published by
Signet
on April 1, 2014
Genres:
Fantasy
Pages:
400
Goodreads
Buy the Book
As the sister of the Kjallan emperor, Celeste cannot choose where to bestow her heart....

The imperial princess has been offered in marriage to the Prince of Inya as part of an alliance needed to ensure Kjall's military prowess. And despite having been hurt in the past by men using her to gain power, Celeste finds herself falling for the passionate fire mage.

Prince Rayn has no intention of allying his country with the militaristic Kjallans. But his political enemies at home may be the greater threat. The princess's beauty and intelligence catch him off guard, throwing an unexpected and dangerous hurdle in the way of his plans.

As a deadly political plot threatens Rayn's life, the attraction between Celeste and Rayn ignites into a sizzling affair. But to save her people and herself, Celeste will have to discover if Rayn's intentions are true or risk having her love burn her yet again...

Betsy: I'm a bit of a closet fantasy fan. Well, I probably am more out than in now, having read quite a few books in this interesting genre in the last few years. Lately I seem to be reading books that are in the middle of series. Sometimes this works and sometimes not. In this case, it totally worked. While I did get hints of back-story from the prior books in the series, it never made me feel frustrated or that I was missing important information. Rather, based on this book, it made me very interested to go back and read more.
The world building was well conceived and laid out. The Hearts and Thrones series seems to be a combination of fantasy, political machinations with a healthy dose of romance woven throughout the narrative. I enjoyed the magical elements and how they affected the way the plot and character development. You have adventure, assassins, magic, kidnappings and resulting rescues that move you forward in this intriguing and dangerous world.
We meet our characters when Prince Rayn, the heir to Inya is on a diplomatic trade mission to war-like Kjall. When the Imperial Princess Celeste is offered to him to sweeten the deal and create a stronger alliance, Rayn gets his back up. He doesn't trust the son of Florian, the deposed despot (think Ivan the Terrible) and wants no part of this. But, as things do, other plots are afoot and throw the two together in a life-threatening situation. How this all plays out was gripping and kept me glued to my Kindle to find out the answers.
Raby has created some fabulous, kickass heroines in this book. Celeste is a flawed young woman with scars both external and internal, but she has a wicked smart brain and she uses it. This was so great to see. The heroine is every bit as responsible for the resolution, in fact even more so, as Prince Rayn. Her sister-in-law is terrific too. Vitala, a pregnant former assassin, married to the Emperor is still the mistress of her own destiny. Together they foil the Emperor's plan to keep them safely away from the action and take matters into their own hands. I see them as standing on the ship they stole and yelling out, "I DO WHAT I WANT!" LOL. There is also an evil female assassin who seems to be one step ahead of everyone most of the way through the book. You will love to hate Zoe.
So to the steam. Yes, friends, there is some steam. The romance, given its inauspicious beginning filled with mistrust and ire, developed very well once out from under the pressure of court expectations of both countries. Celeste and Rayn got a chance to get to know each other as people and what they found they liked a lot. From a desperate coupling post near-death experience to the tender, sweet rejoining when they meet again in Rayn's country, the heat is there and not just because Rayn's a fire mage.
There is a walking-through-fire ceremony that was very cool. Love the magical elements here.
So all in all a very satisfying read. If you're looking for a good fantasy with a little heat into the bargain, this is good place to start reading.
Report Card
Cover
Characters
Plot
Writing
Steam
Overall:
4
Related Posts