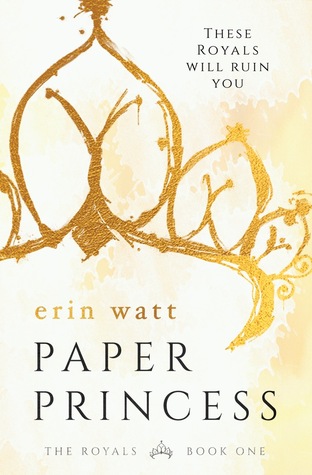 Paper Princess
by
Erin Watt
Also by this author:
Broken Prince
Series:
The Royals #1
Also in this series:
Broken Prince
Published by
Everafter Romance
on April 4, 2016
Genres:
Enemies to Lovers
,
Forbidden Love
,
New Adult
,
Opposites Attract
,
Player Falls in Love
Character(s):
Billionaires
,
Celebrities
,
Football Players
,
Reclusive Heroes
,
Students
Pages:
370
Goodreads
Buy the Book
From strip clubs and truck stops to southern coast mansions and prep schools, one girl tries to stay true to herself.

These Royals will ruin you…

Ella Harper is a survivor—a pragmatic optimist. She's spent her whole life moving from town to town with her flighty mother, struggling to make ends meet and believing that someday she'll climb out of the gutter. After her mother's death, Ella is truly alone.

Until Callum Royal appears, plucking Ella out of poverty and tossing her into his posh mansion among his five sons who all hate her. Each Royal boy is more magnetic than the last, but none as captivating as Reed Royal, the boy who is determined to send her back to the slums she came from.

Reed doesn't want her. He says she doesn't belong with the Royals.

He might be right.

Wealth. Excess. Deception. It's like nothing Ella has ever experienced, and if she's going to survive her time in the Royal palace, she'll need to learn to issue her own Royal decrees.
Kassiah: I want to start this review by saying I want Reed Royal to be my book boyfriend.
Just kidding, Jaime. JUST KIDDING.
So, I love Elle Kennedy and Jen Frederick with the fire of a thousand suns. They write some of my most favoritest books. And New Adult is my most favoritest genre, so this should have been a match made in heaven for me. It wasn't, but I didn't hate it, either.
Ella Harper is a junior in high school, trying to survive on her own following the death of her mother, who was a stripper. She is shocked when businessman Callum Royal shows up, telling her he was the best friend of the father she never knew, and that he's been named her legal guardian. After some fighting, Callum promises to give Ella $10k for each month that she lives with him. Sounds shady, right? It's not, as far as we know. He just wants to take care of his BFF's kid, since he died. Callum has five sons, all of whom are overbearing and scare the crap out of her. And when she enters the Astor Park Prep, the elitist prep school, she isn't ready for the all of the drama that goes down there. But Ella is determined to stick it out to get the money and education that will ensure her future. What she doesn't bargain for is how much falling for the worst brother of all, Reed Royal, will destroy her.
If you know me at all, you know Scotch, Gin, and the New Girl is my favorite twific of all time, and I've begged everyone to read it. I know that it's not everyone's favorite and falling for a guy who is a total asshole isn't everyone's dream. Reed Royal is no scotchward, though, so I don't really know why Ella (love her name, btw) can't resist him. Sure, he's gorgeous, but he really treats her–and everyone else–like crap. Regardless, after explaining himself, I understand him a little more and sort of like him. And there is some swoon, even if it's not much.
"Maybe another time, away from this place, you and me would have a different story."
This story is crazy dramatic–and pretty unbelievable. But if you're willing to suspend belief, you'll be sucked into this story, too. And then you'll hate everyone who told you to read it when you get to the crazy cliffhanger.
Perfect for fans of Gossip Girl, bratty girls, and drama city will love Paper Princess. NGL, I'm waiting on pins and needles to get the rest of this story.
Report Card
Cover
Characters
Plot
Writing
Steam
Overall:
3
Related Posts