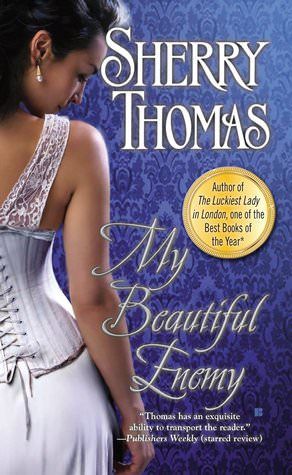 My Beautiful Enemy
by
Sherry Thomas
Also by this author:
Luckiest Lady in London
,
The Hidden Blade
Series:
The Heart of Blade Duology #2
Also in this series:
The Hidden Blade
Published by
Berkley
on August 5, 2014
Genres:
Historical Romance
Pages:
304
Goodreads
Buy the Book
In this spellbinding romance by the acclaimed author of The Luckiest Lady in London, a beautiful and cunning woman meets her match in a man just as dangerous and seductive as she is, putting both her heart and her future at risk…

Hidden beneath Catherine Blade's uncommon beauty is a daring that matches any man's. Although this has taken her far in the world, she still doesn't have the one thing she craves: the freedom to live life as she chooses. Finally given the chance to earn her independence, who should be standing in her way but the only man she's ever loved, the only person to ever betray her.

Despite the scars Catherine left him, Captain Leighton Atwood has never been able to forget the mysterious girl who once so thoroughly captivated him. When she unexpectedly reappears in his life, he refuses to get close to her. But he cannot deny the yearning she reignites in his heart.

Their reunion, however, plunges them into a web of espionage, treachery, and deadly foes. With everything at stake, Leighton and Catherine are forced to work together to find a way out. If they are ever to find safety and happiness, they must first forgive and learn to trust each other again…

Betsy: So I have an author-crush on Sherry Thomas. This has been the case ever since I read Not Quite A Husband. So I was thrilled to have the chance to read her new one and the prequel, which I also reviewed. The prequel The Hidden Blade tells the early story of the pair you meet in this novel.
The setting is China and England in the late 19th century. We first encounter our pair of star-crossed lovers, Captain Leighton Atwood and Catherine Blade, at a train station in London. Right away, you get that there is a very uncomfortable back-story between them. Like awkward. Leighton is there to meet his fiancée's mother and aunt after their voyage from Bombay. Miss Blade has traveled with them for most of the journey and is the heroine of a very scary encounter with a mysterious Frenchman.
There is a strong undercurrent of ire layered with passion between Catherine and Leighton. As Catherine's story is revealed layer by layer, I wanted to cry along with her for all she has lost. Leighton has lost too, more than he knows, but for a misunderstanding in the deserts of Chinese Turkestan, things would have played out very differently. Both of them were spies for opposing sides, hence the conflict.
Still they find that they are now on the same side, fighting an old nemesis of Catherine's from her childhood in Peking. Leighton, despite his anger at Catherine and his realization that he still cares deeply for her, resolves to protect her. Their pasts scarred them both, but there is still a powerful connection and an undeniable magnetic pull towards each other. Leighton must resolve his relationship with his flighty but lovely young fiancée, and this is not easy. He is an honorable man and he does not trust Catherine, but can't stay away from her.
One of the most interesting aspects is Catherine's ninja martial arts skills. Think Crouching Tiger, Hidden Dragon. I mean she does a one-armed handstand on an upside down teacup for practice. Ms. Thomas has no problem describing action scenes that flow beautifully. You can 'see' it as you read.
The love affair is told both in flashback and in the present. Thank God. Because I was pulling for these two from the first inauspicious meeting at the train station (this scene felt like either they were going to rip each other's clothes off and get down, or stab each other in the neck). Ms. Thomas builds the heat between them slowly, and you fall in love with Leighton and his cute way of taking care of her on their desert trek through Turkestan. When they finally give in to their feelings…oh my. It's both sizzling hot and emotionally resonant. My favorite. Cue jumping up and down, throwing confetti gifs.
So there's lots of stuff, cool and hot going on this book. It has everything I love in a book: history, conflict, mistakes, redemption and resolution. I loved it. LOVED.
Related Posts