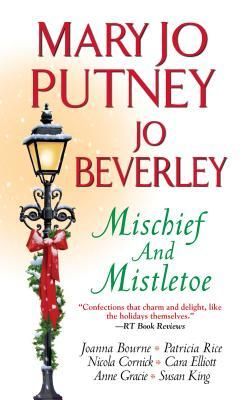 Mischief and Mistletoe
by
Mary Jo Putney
,
Nicola Cornick
,
Patricia Rice
Published by
Zebra Books
on September 25, 2013
Genres:
Historical Romance
Pages:
416
Goodreads
Buy the Book
In this sparkling holiday collection, eight acclaimed authors unwrap the most daring of Regency delights…

Christmastime in England—a time for passionate secrets, delicious whispers, and wicked-sweet gifts by the fire. From a spirited lady who sets out to save her rakish best friend from an unsuitable engagement, to a bold spy who gets the unexpected chance to win the woman he's always loved, to a vicar's daughter who pretends to be a saucy wench, these holiday tales will make you curl up in front of the fire for a memorable season of mischief and mistletoe…
We featured authors Mary Jo Putney, Patricia Rice, and Nicola Cornick, during our month-long Recipes for Romance Holiday promotion, and today we're reviewing three of the stories in Mischief and Mistletoe.

She Stoops to Wenchdom by Mary Jo Putney
Sandi:
Opening at a holiday ball,
Mary Jo Putney
expeditiously puts us in the time and mindset for this short romance. We are introduced to Lucy Richards, Our Heroine, with dispatch. This daughter of a vicar is quick to sketch out the character for Our Hero, Gregory Kenmore, through the loving memory of Our Heroine as she tells her friend Chloe just why she, Lucy, is still in love with the fellow.
When they are re-introduced to one another, Lucy is mortified when Gregory seems not to remember her in the slightest. However he, in a brief glimpse we are given, remembers far too well and feels unworthy "to touch the hem of her gown."
Jane Austen, in Sense and Sensibility, said of Edward Ferrars that "Nobody minds having what is too good for them" when he reflects upon Elinore Dashwood. Here, Putney eschews that Austenian philosophy by making Captain Kenmore want to protect angelic (in face and spirit) Lucy because she is too good for him. Then, the author strategically leaves all the juicy revelations for later.
It is rare that secondary characters get a lot of screen time in a short story, but Putney brings us Chloe, the daughter of a baronet, who is a dear friend of Our Heroine. Chloe is more than a sounding board and audience-stand-in for Lucy's thoughts; she's actually a rationale female who gives Our Heroine sound advice, presenting the kinds of thoughts we would want to share with the average romance heroine were we given the opportunity.
Faced with a racy report of what her beloved captain is up to, Lucy Richards angrily concocts the daring scheme mentioned in the book's summary: She pretends to be a saucy wench at a local tavern in order to garner Gregory Kenmore's attention. Sensible Chloe advises Lucy to be careful, but she responds thusly:
"I'll be as careful as I want to be."
This is hardly reassuring.
It is, however, effective.
Putney's dalliance with the "mistaken identity" trope is a sweet one. I am vastly sympathetic with Our Heroine—who becomes the tavern wench "Lacey"—as the story progresses.
We also grow to sympathize with Captain Kenmore. War is wounding to the psyche. My own husband is a combat veteran and I know this to be true. But during the Christmas season, with the influences and care of friends and family, Gregory Kenmore is better able to come to grips with his past and his present, to the point where he is able to think about the future.
And when he does, he finally sees who the tavern wench truly is.
This is a sweet romance, heartwarming and topical for the Regency Era as well as our own. Highly recommended.
Wench in Wonderland by Patricia Rice
Sandi:
For
Wench in Wonderland
, the premise is simple: Damaris Bedloe, Our Heroine, is companion to her cousin, Lady Alice, daughter of a widowed earl. Alice is in love with a man her father does not approve of, so the earl will marry her to a man he does approve.
The problem is, Alice elopes with her own choice of man while on the way (with Damaris) to spend time with the approved fiancé's family.
The other problem is that there is a coaching accident and Damaris is brought in and treated as Lady Alice, future family member, while she pretends to be hazy on the details of how she arrived at this mistaken juncture in her life.
I think I've seen this movie…
What I liked:
The Viscount Adam Trevelyan, Our Hero, is a widower with rambunctious children about and an unconventional and poorly ordered household. He is a good man. Not perfect, but he admits his own faults and tries very sincerely to make all the discrepancies about "Lady Alice" work for the good of his understanding and for the betterment of the extended family. He wants to do his best for all those for whom he has responsibility, and I find this highly admirable.
I liked the tone of the story, too. The playfulness of the children, the oddity of Lady Violet, the matriarch of the family, and even the initial absence of Lady Alice's supposed betrothed—all work into the feeling I have that this is definitely a fantasy as the story progresses.
But fantasies end, do they not?
What I took issue with: (possible spoilers)
Damaris's choice not to reveal her true identity as soon as she was conscious really, really bothered me. The impression I had until this decision was made was that Damaris was an upright woman, responsible, and she certainly seems to be so in every other respect. She was waiting for an opportunity to escape at first, but that didn't happen. Then, she seemed determined to take advantage of the situation until she couldn't, anymore, at which point she hoped that the real Lady Alice would be able to find a place for her.
The Steam:
As is often the case in a conventional Regency Romance, the initial attraction between Damaris and Trev (Our Hero and his brother have unconventional nicknames) is sweet and appreciative without being obvious.
A line that really seemed "romantic" for me came from Trev's perspective after the deception had been cleared up:
And yet, he missed her. After the day's events, his insides were hollow. She'd left a hollow where there had been hope and joy. She'd awakened a heart that he thought dormant. The desire for a real family that he'd allowed to seep into him had been crushed, and he saw nothing to replace it with on the horizon.
Whereas this is a sweet line, it seemed to me to carry with it the scent of Insta-Love, that prevalent perfume. Granted, it is difficult to make a complicated relationship work in a short story, but Trev seems to have gone from appreciation of Damaris-as-Alice (his future sister-in-law!) to appreciation of her figure (as she helped rescue a child) to mooning over her, all within perhaps a day or two.
But there isn't really any "steam" as such. It is, again, a clean Regency Romance. Fun and manner-filled and bound by proprieties…even when they are discarded.
It's a sweet story, overall, and it ends with a kiss that curls Our Heroine's toes. All is right with the world.
On a Wicked Winter's Night by Nicola Cornick
Sandi:
"It was a stormy night, black as pitch…"
A bit of a variation the the "dark and stormy night" idea, which I confess influenced my reading of the rest of Nicola Cornick's amusing short story about a "fallen woman" who has established herself with some credibility out of the mainstream of English society. It is hard, I know, to create anything entirely new in the Regency genre, so mentioning the "uncle was an absentee landlord" in terms of the raggedy quality of the general neighborhood—and their underhanded "forced guest/patient" scheme—was not unexpected.
However, I love that Cornick flipped a few of the usual tropes on their heads. For example, the hero is the one who is kidnapped!
In this short story, Our Heroine, Lydia, is a Fallen Woman, with a young daughter. Our Hero is Johnny, the new Baron Newcastle, whom Lydia has known her entire life. It is a tale of unspoken love, some misunderstandings, and a sweet, sweet couple underneath it all. There's a hefty amount of backstory covered between Johnny and Lydia, but there is mutual respect between them, and long-held affections. We get to see into both their minds, so that's helpful, and though they both have their "pasts" to manage, they also have a future together.
There are some delightful moments shared as Johnny tries to persuade Lydia to accept him in her life.
He had said that he would protect her and it seemed that was exactly what he was offering, his protection…But she also felt more than a flicker of excitement. It slid through her veins like a heady wine, wicked and wondrous.
Of course, in the Regency era, a man's "protection" generally meant that he would set her up as his mistress. In this case, Lydia believes Johnny is offering such an arrangement to her, as well as Johnny providing a home for her daughter that would be safe. He kisses her, and she welcomes it, until…
"No," she said. "No, I can't do this."

Johnny ran a hand over his disordered hair. He was looking less than his usual immaculate self. "I thought you seemed to be managing quite well," he murmured.

"I can't be your mistress," Lydia stated baldly.

Johnny looked disconcerted. "I wasn't aware that I had asked you."

"You implied it," Lydia said. "You said there was a price for your silence."

She saw the understanding break in his eyes. "I am flattered that you were prepared to consider it for even a moment, but…"

Mortification crashed over Lydia in a wave. She closed her eyes. "I misunderstood, didn't I?"

"I fear so." He was trying not to laugh, damn him.
His actual proposal comes shortly hereafter…but Lydia is quite the stubborn female. I would encourage anyone who enjoys this playful type of story to give this one a read. It's quick and entertaining and will leave you with a smile.
Report Card
Cover
Characters
Plot
Writing
Steam
Overall:
4
Related Posts