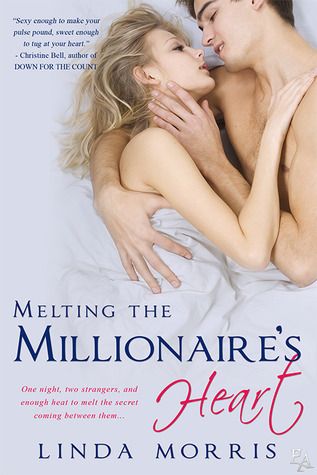 Melting the Millionaire's Heart
by
Linda Morris
Also by this author:
Screwball
Published by
Entangled: Ever After
on December 18, 2012
Genres:
Contemporary Romance
Pages:
94
Goodreads
Buy the Book
Special-needs teacher Kayla Johnston writes off any shot at New Year's Eve romance when she's summoned to a fundraising event for her school at the remote estate of a wealthy would-be-donor. But when a massive snowstorm hits and Kayla careens off the road, the sexy stranger who rescues her brings to mind cozy fireplaces and steamy midnight kisses…among other things.

Reclusive entrepreneur Ryan Langford may be missing his own fundraiser, but being marooned in a cabin with Kayla beats ducking a room full of people after his money any day. Too bad she's so irritated with the gazillionaire who ruined her New Year's Eve that he feels like he has to lie about his identity. But when the sparks fly and they fall into each other's arms, Ryan knows he's made a big mistake. Will she be able to trust him once the snow melts and the truth comes out?

Kassiah: I love Entangled publishing and have been reading everything that I can get my hands on, so when they approached us about taking part in the Blog Tour for Melting the Millionaire's Heart, I was all over it.
This is a short read and a perfect way to spend a couple of hours. Kayla, a teacher at a private school that specializes in kids with special needs, is on her way to a fundraising event when she crashes her car into a ditch in the middle of a snowstorm. She gets out and starts walking toward her destination when Ryan Langford pulls up to her rescue. He brings her back to his parents' house and …well, you know what happens. After all, this is a hot couple all alone in the middle of a blizzard.
Before they met, Kayla had a preconception of the type of man Ryan would be, pretentious and only looking for PR. Add to that the fact that she was recently burned by her ex, and her hesitance to trust anyone is totally expected. Ryan believed that any woman he would meet would be after his money, and after finding out that Kayla was en route to his house to help secure funding for her school, he decides not to tell her who he is. Throughout the course of the night, they share stories, roast hotdogs and s'mores by the fire, and fall into each other's arms.
"The power went out."

She looked around. The floor lamp had gone dark, and the house was utterly silent except for the crackling fire. no hum of a refrigerator or furnace. "So? We don't need lights."
Despite this story being predictable, and don't get me wrong–I wanted it to pan out the way it did–I love how authentic the characters felt. I connected with both of them and understood why each of them felt the way that they did. Their lack of communication about wanting more made sense to me, and I loved their story.
She couldn't regret a thing, except that she'd promised to make this a one night only affair. The more she had of him, the more she wanted. The more he showed her of himself, the more she liked him. Problem was, she was only six months out of a relationship that had wrecked her heart, and she'd told RJ she only wanted one night. Who knew if he would ever want to see her again?
So what didn't I love? I had a hard time getting over the fact that Kayla, an apparently intelligent teacher, would rather venture out in the middle of a storm wearing a tiny skirt and fuck-me-boots than ask her friend to come and get her when she drives her car into a ditch. I realize that that the story couldn't have happened without him coming across her all alone in the woods, but I just couldn't get over that. Though the ending was hopeful, it felt rushed, and I would have wanted a little more about their future.
Melting the Millionaire's Heart was a quick, fun read.
Related Posts